Perhaps the controversy involving cricketer Rishabh Pant and Bollywood actress Urvashi Rautela has ultimately been put to rest.
Following Urvashi's interview, in which she claimed that a person called "RP" repeatedly contacted her and she ignored him, the two were recently in the news for their fiery exchanges on social media.
According to Rautela's narrative, it all started after a busy day of filming in Delhi, she returned to her hotel room and dozed off.
RP apparently spent between 10 and 12 hours in the lobby waiting to meet her.
Urvashi said, "When I woke up I saw 16-17 missed calls and then I felt so bad that someone was waiting for me and I told him to meet me in Mumbai.".
When the two finally met in Mumbai, according to Rautela, they were mobbed by "paps" and it became "big news." It's unknown what breaking news the actress is actually referring to.
The RP in question was quickly identified by the internet as Rishabh Pant, who was rumoured to have briefly been romantically associated with the actress in 2018.
With an Instagram story that has since been deleted, Pant quickly responded.
Then, around the time of Raksha Bandhan, Rautela made the decision to reply to Pant's Instagram story with a similarly snarky (now-deleted) Instagram post, in which she keeps referring to Pant as "Chotu Bhaiyaa" that should play bat and ball and herself as a "munni" who refused to allow herself be "badnaam."
Peculiar hashtags like "Cougar Hunter" and "don't take advantage of a silent girl" were also put in the post's caption for questionable reasons.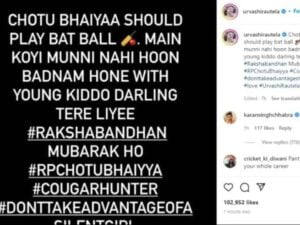 She has now made the decision to apologise in response to the controversy surrounding Pant. It will be intriguing to see how the Indian cricket player responds to the situation.
"All I wanna say is.. What do I say? I don't know what to say. Sorry. I'm sorry," speaking to Instant Bollywood, the actress remarked while folding her hands.
When asked to share a message for Rishabh Pant, Urvashi initially appeared a little puzzled but afterwards apologised.