A post is doing rounds on social media, which claims that actor Aamir Khan took a picture with Pakistan-based Jamaat-e-Ul terrorist maulana Tariq Jameel. Cricketer Shahid Afridi can also be seen in the photo along with them.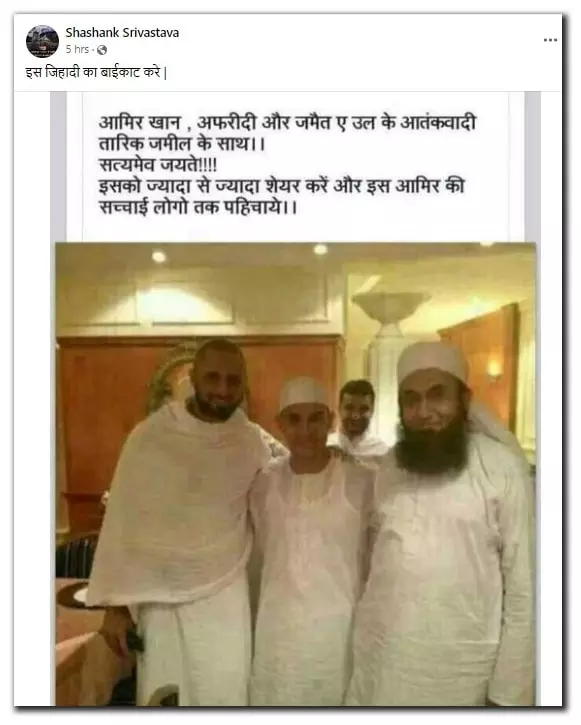 Credits: Facebook
---
This post comes amidst calls for boycotting Aamir Khan's upcoming movie 'Laal Singh Chaddha' with Kareena Kapoor Khan. Comments of the two actors taken out of context are already trending on social media to discourage people from watching the movie.
The caption with the viral photo claimed that Aamir Khan and Shahid Afridi met and posed for a picture with a terrorist and hence his upcoming movie should be boycotted.
Credits: The Quint
---
The Truth
On conducting a reverse image search of the photograph on Google Images, The Quint came across an article by a Pakistan news website Sial News from 23 October 2012.
The report carried the same photo and mentioned that it shows Aamir Khan and Shahid Afridi with a religious scholar of Pakistan, maulana Tariq Jameel.
Credits: Sial News
---
The three met in Saudi Arabia on the occasion of Hajj in 2012. A keyword search using 'Maulana Tariq Jameel Aamir Khan' came across a YouTube video uploaded by 'The Ink of scholars channel' on 24 November 2013.
Furthermore, it is confirmed that maulana Tariq Jameel is an Islamic scholar based in Pakistan, with no known terrorist links! Also, the same incident was also reported in 2012 by another Pakistani website, The Express Tribune, and an Indian newspaper, The Hindu.
Verdict:
Aamir Khan met cricketer Shahid Afridi and spiritual scholar Tariq Jameel, while on Hajj with his mother. The claim that Aamir Khan met a Pakistani terrorist is baseless and false propaganda! 
References: The Quint, Boom Live
Featured Image Source: Boom Live