A great legend Shri. Lal Bahadur Shastri coincidentally shares his birthday with Mahatma Gandhi. He was a great patriot and continues to be a true inspiration for upcoming leaders.
When he assumed the role of the Indian PM, he was mitigating a food crisis. He advised the people to fast for a day to save food. Not only did he preach but also followed the same.
Here are some unknown facts about the prime minister 'who made no money'
1. Staunch opponent towards the caste system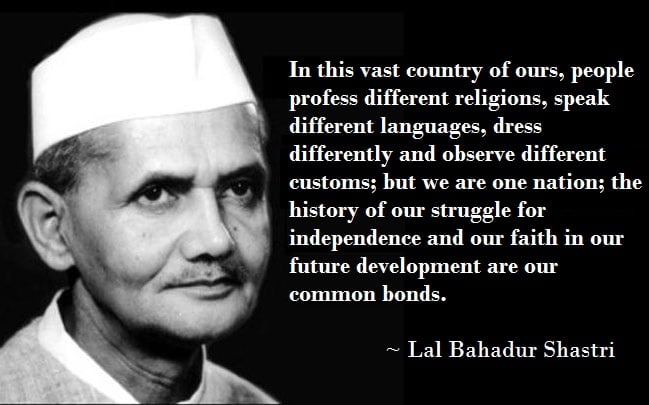 Lal Bahadur Shastri was born on October 2, 1904, to Ramdulari Devi and Sharada Prasad Shrivastava, in Mughalsarai, United Province (Uttar Pradesh). Lal Bahadur was against the prevailing caste system and therefore decided to drop his surname.
The title "Shastri" was given to him after the completion of his graduation at Kashi Vidyapeeth, Varanasi in 1925. The title "Shastri" refers to a "scholar" or a person, adept in the 'Holy Scriptures'.
2. 'Jai Jawan Jai Kisan
In English 'Hail the Soldier, Hail the Farmer' was a slogan given to India by the Prime Minister of India Lal Bahadur Shastri in 1965.
3. Passed away leaving Indians in deep grief with a debatable question of conspiracy
Lal Bahadur Shashti died due to cardiac arrest under suspicious circumstances in Tashkent giving rise to reports of a deep-rooted conspiracy and surrounding this a Movie has been released called the Tashkent Files.
4. He devoted his life for the pride and honor of the country
Shastri was regarded as man of principle, and this was demonstrated when he had offered his resignation as Union Railway Minister, hours after he was made aware of a train accident that had killed around 150 people.
5. Path Finder for modern India
He was a pioneer who laid the foundation stones of innovative schemes such as Green and White Revolutions.
6. A man of great intellect
He spent most his time reading the works of foreign authors such as Marx, Russell and Lenin. In 1915, a speech of Mahatma Gandhi changed the course of his life as he decided to contribute to the Indian freedom struggle.
7. A great freedom fighter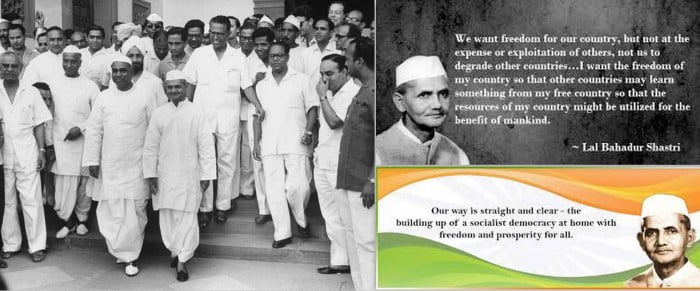 He played a crucial role during the 'Salt Movement'. Shastriji led a door-to-door campaign urging people not to pay land revenue and taxes to the British authority. He was imprisoned for a span of nine years for leading this campaign.
8. First posthumous recipient of the Bharat Ratna.
He is the only Indian Prime Minister to have died in office overseas. Lal Bahadur Shastri was the first person to be posthumously awarded the Bharat Ratna (India's highest civilian award).
9. Several institutions and areas are named after him
Lal Bahadur Shastri International Airport, Babatpur at Varanasi, Lal Bahadur Shastri National Academy of Administration (Mussorie, Uttarakhand), and some major roads in the cities of New Delhi, Mumbai, Pune, Puduchery, Lucknow and Allahabad are few examples that bear his name.
10. A national tournament is annually held in his honour
All India Lal Bahadur Shastri Hockey Tournament is held every year since 1991 and is a major tournament in the field of Hockey.
– Bhargav BV
– Bengaluru