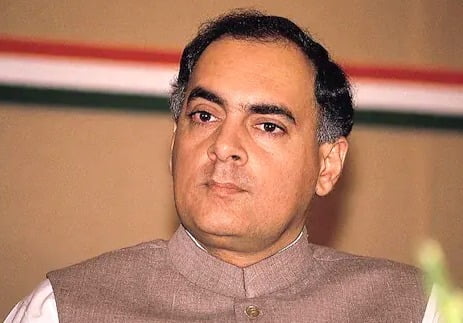 20th August marks the birth anniversary (Sadbhawana Diwas) of India's 7th Prime Minister, Mr Rajiv Gandhi. Born in 1944, he was the first son of former Prime Minister Mrs Indira Gandhi and Mr Feroze Gandhi. Hailing from a family with rich political background, Gandhi never wanted to be a politician. But post his brother Sanjay Gandhi's death, his mother introduced him to the arena. Following Mrs Gandhi's assassination, Rajiv Gandhi had to enter politics full time and took oath as the Prime Minister in 1984. He was married to Sonia Gandhi and had two children, Rahul Gandhi and Priyanka Gandhi.
Here are some interesting but lesser known facts about our former Prime Minister:
1. Mr Gandhi's first name Rajiv was a homage to his maternal grandmother, Kamala Nehru, wife of Jawaharlal Nehru. Kamala refers to goddess Lakshmi as well as the 'lotus' which is used to worship her. Rajiv is another word for the 'lotus' flower.
2. Mr Rajiv Gandhi went to England to pursue engineering at Trinity College in Cambridge. But he dropped out of there to study mechanical engineering at Imperial College in London and dropped out of there too. He had once said that he was not interested in "mugging for exams". Giving into his passion towards aviation (which he said was brought to him by his grandfather J. Nehru), he joined the flying club in Delhi and soon became a pilot. He was recruited by Air India in 1970 and remained in that job till his entry into politics.
3. Although Mrs Indira Gandhi had said that the decision to join politics was left to her son, after the demise of Sanjay Gandhi, a saint from Badrinath, Shankaracharya Swami Shri Swaroopanand ji suggested Rajiv to join politics. While visiting the mother – son duo to give his condolences, he had mentioned that "Rajiv shouldn't fly planes for too long and should dedicate himself to service the nation."
4. On 31st October 1984, Mrs Indira Gandhi was assassinated by her own bodyguards. The same day, Rajiv Gandhi sworn in as India's seventh Prime Minister. He was 40 years at the time and till date, he remains the youngest PM the country has ever had. Under Mr Gandhi's leadership the Congress won its largest majority in the Lok Sabha elections. They secured 441 out of the total 542 seats.
5. Mr Gandhi was given the nickname "Mr Clean" due to his fight against corruption. It is said that the youth were charmed by his young approach and good looks. The opposition also couldn't find anything on him to criticise his ways. In 1985, while speaking about corruption he had said on the record that out of every rupee spent by the government for welfare of the downtrodden, only fifteen paise actually reached the persons for whom it was intended. But the Mr Clean image was tarnished after he involved himself in various scandals like the Bofors.
6. In 1988, Mr Gandhi visited China for a diplomatic meeting with then Premier leader of the country, Deng Xiaoping. This was the first diplomatic visit from either side after 1954 and was considered a bold and historic move to normalise the relationship between the two countries. Mr Gandhi shared excellent chemistry with Deng and had spent 90 minutes interacting with him. This was a rarity as Deng wasn't spending much time with foreign dignitaries. Deng also said to Mr Rajiv "You are the young. You are the future".
7. Mr Rajiv Gandhi was responsible for bringing down the voting age to 18 from 21 in 1988. This led to an additional 5 crore people joining the electorate. He faced a lot of criticism for the move, but he believed in harnessing the power of the youth to build the nation. He was also responsible for introducing Electronic Voting Machines (EVMs) to the electoral proceedings.
8. Rajiv Gandhi was smitten with his wife Sonia Gandhi on his very first sighting of her in a restaurant. He was so charmed that he wrote down a few lines of poetry on a napkin then and there. He was always vocal about his love for her and he also regarded her as the most beautiful woman he had ever known. Stefano Maino, father of Sonia Gandhi hadn't given his approval to their marriage as Mr Gandhi was the son of a Prime Minister.
9. Mr Rajiv Gandhi is said to be one of the only Prime Ministers who drove himself around instead of designated drivers. He drove around the country by himself even during his election campaigns. Journalist Suman Chattopadhyay who had the opportunity to ride along Mr Gandhi had said that he drove like a Grand Prix driver on the state roads. It is also said that his speed was so high that his entourage (security cars) found it difficult to keep up with him and were often left behind.
10. Mr Gandhi was quite a photographer and he clicked pictures of almost everything from nature to wildlife to interiors and pets. He was also very fond of clicking pictures of his friends and his family. His most favourite subjects were herself, Rahul and Priyanka, wrote Mrs Sonia Gandhi in a book carrying the photographs clicked by Mr Gandhi for over four decades which she released post his death. The book is called "Rajiv's world: Photographs by Rajiv Gandhi" and was released in 1995.
– Jahnavi TR
– Bengaluru
References – https://indianexpress.com/article/research/rajiv-gandhi-27th-death-anniversary-five-lesser-known-facts-5185541/
https://www.indiatoday.in/education-today/gk-current-affairs/story/rajiv-gandhi-332474-2016-08-20
https://www.indiatoday.in/education-today/gk-current-affairs/story/rajiv-gandhi-324743-2016-05-21
https://www.thequint.com/news/india/on-rajiv-gandhis-bday-lets-look-at-his-5-lasting-contributions