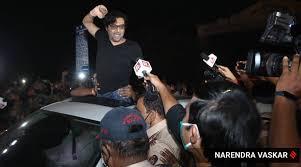 The pursuit of news and information has prompted news websites and services to strive to be politically correct, but at times they aim to be dramatically correct as well. The news of Arnab's arrest sure did ruffle a lot of feathers, especially with the dilemmas concerning the reporting of the developments.
Arnab, the owner and editor of Republic TV was arrested as he allegedly was related to the suicide case of Anvay Naik, in 2018. A tug of war between individuals with opinions up surged last week, what with all the various perspectives about the case. Following his arrest on the 4th of November 2020, the social media platforms went into battle mode. Hashtags such as #Karma, #WellDoneMumbaiPolice, trended on social media platforms from individuals who supported the arrest. On the other hand, #IAmArnab, #isupportArnab and #ArnabWeAreWithYou also trended as a result of raging individuals who were unhappy with the incident.
However, after much debate and discussion, what was clear is that people either really agree to #Arnab's style or they are entirely disturbed; there is no middle ground. His ways of reporting news and information has gained him a lot of loyal followers as well as critics. While some believed that this action by the Mumbai Police is justifiable as #Karma always hits back, the other side of the argument got people to question the ways in which the police allegedly assaulted him during the arrest.
On the 11th of November, 2020, Arnab was released out of Taloja jail and he walked out sporting the victory sign and telling the media that this is indeed the victory of the people of India.
The whereabouts of this case has been fed to us constantly from day 1, minute 0 and no details have been spared. However, while he walked out of jail, it got a little dramatic. Following his release, Arnab spoke a few words in Marathi and chose to single out Uddhav Thackeray and give him an earful. "Uddhav Thackeray, listen to me. You lost. You have been defeated," he said. "Uddhav Thackeray, you arrested me in an old, fake case and did not even apologize to me," he went on to say while he announced that he will be launching Republic TV in all languages. He even exclaimed that the "The game has just begun." Talking about the arrest, he commented that "If you have a problem with our ideology, face-to-face fight on TV, in front of people and do not backstab. You made an illegal arrest and till now not even once you have apologized," and he expressed his displeasure.
The various ways in which this news was reported is noteworthy too. Republic.com said "Arnab Goswami Returns To The Newsroom; Team Republic Roars 'The Game Has Just Begun'" and The Print chose to highlight Arnab's open challenge to the CM of Maharashtra, it said "'You can't touch Republic Network' — Arnab Goswami dares Uddhav Thackeray after getting bail".
Social media users witnessed the intensity of the issue when scenes from Kabir Singh and Mirzapur were used to mock Uddhav Thackarey and such while the section of the society which believes in Arnab's journalism celebrated and rejoiced the news of his release. Hashtags such as #ArnabIsBack and #TheLionRoarsAgain were seen to be trending.
– Ananya N K
– Bengaluru
References:
https://timesofindia.indiatimes.com/viral-news/arnab-goswamis-arrest-karma-welldonemumbaipolice-trend-on-twitter/articleshow/79061069.cms
https://thewire.in/law/supreme-court-arnab-goswami-bail-hearing
https://www.thehindu.com/news/cities/mumbai/arnab-goswami-walks-out-of-taloja-jail/article33077986.ece
https://www.business-standard.com/article/current-affairs/back-in-tv-studio-after-release-from-jail-arnab-dares-maharashtra-cm-120111200007_1.html
https://www.republicworld.com/india-news/general-news/arnab-goswami-returns-to-the-newsroom-team-republic-roars-the-game-has-just-begun.html
https://theprint.in/india/you-cant-touch-republic-network-arnab-goswami-dares-uddhav-thackeray-after-getting-bail/542538/
Image credits:
theprint.in
indianexpress.com