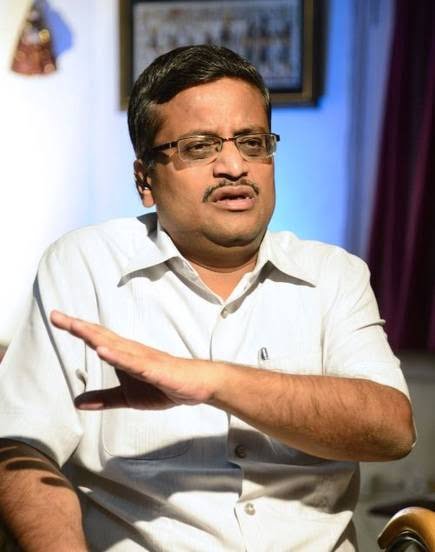 The Chandigarh bench of the Central Administrative Tribunal (CAT) yesterday dismissed the plea of Ashok Khemka, the IAS officer of Haryana cadre in which he sought directions to the Centre to consider his empanelment for holding the post of additional secretary or an equivalent. Khemka, in his petition stated that he had made a representation to the Union of India in 2018 where he had pointed out that he wasn't given an opportunity to serve at the centre for no fault of his own. So he should not be penalised for not being considered for empanelment. He also said that he offered himself for empanelment in 2000 as Deputy secretary, in 2011, 12 and 14 as Joint Secretary. He was also placed in the offer list in 2011 and 12 of the 1991 IAS batch, but he wasn't appointed.
So, who is Ashok Khemka? Why was he denied an opportunity to work at the centre? Read more to find out.
Ashok Khemka was born in Kolkata on 30th April 1955. He graduated from IIT Kharagpur with a Btech degree in Computer science engineering and went on to pursue a PhD in Computer Science and MBA in Business Administration and Finance from Tata Institute of Fundamental Research. He also received a MA degree in Economics from IGNOU. He also holds a LLB degree. He then gave his civil service exams and became an IAS officer in 1991. He is now an Indian Administrative Officer (IAS), computer scientist and an economist who is known for his honest work, integrity and 53 transfers.
Yes, you read that right. Mr Khemka has been transferred 53 times in his work tenure of 28 years. After his 53rd transfer notice, Khemka said "Prize of honesty is humiliation". Ever since his posting in 1991 in Narnaul, Haryana, he has been in trouble for his honest ways which led to his many many transfers. During his first posting, Khemka's superior officer had expected him to collect 'donations' from driving license applicants towards social schemes such as Red Cross or open a savings account, for which Deputy Commissioner would receive some money. Khemka refused to do it. He also dint like cosying up at informal get togethers his superior hosted where he would often invite young artists (mostly women) and would expect Khemka to drop them home late at night. When Khemka expressed his disinterest towards such things, his boss made a reference to the chief secretary to charge sheet Khemka and made adverse noting in his Annual Confidential Reports (ACR), simply to get back at him. Later maybe due to the merits of his case or due to the influence of a powerful person who intervened in the case, the dissatisfactory remarks in the ACR went up to Very Good.
Further down the lane, Mr Khemka dedicated his life to highlighting and fighting corruption in Haryana where illegal allotment and change of land and its usage is a billion-rupee industry. Since his appointment, Khemka had been a whistle-blower in many corruption cases. When he was in the post of Director General of land consolidations and land records – cum – inspector – general of registration, only for 80 days, he found and exposed serious irregularities in land transactions which involved the transfer of panchayat land worth hundreds of crores of rupees to newly created real estate companies. In 2013, he was the Managing Director of Haryana Seeds Development Corporation Limited and deducted several irregularities and just in five months, he was transferred again.
Mr Khemka exposed a lot of scams in 2014 when Bhupinder Singh Hooda was Haryana's Chief Minister. One of them was the Sonepat- Khargoda IMT land scam case where he had said the state's power of eminent domain was abused to force farmers to sell their lands to private colonizers. He also exposed the Garhi Sampla Uddar Gagan case where Bhupinder Hooda illegally acquired and licensed about 850 acres of land from illiterate farmers to builders. His biggest feat was however, cancelling the mutation of the Robert Vadra – DLF land deal (illegal acquirement of 50-acre land). Congress was still in power at the time and Robert Vadra is the Son – in – law of Sonia Gandhi, the then president of the party. Khemka was lauded for his guts and audacity to take on such a big case and going against one of the biggest powers in the country.
For reasons well known to everyone such honest officers aren't exactly politicians' friends and hence, Khemka has been pushed and transferred during both Congress and BJP regimes. In 2014, the Civil Services Board had made a specific recommendation to the appointment committee of Manmohan Singh's cabinet to appoint Khemka to the PM's office. Despite having exceptional performance appraisal reports with an average grade 9.66 out of 10, in the past 12 years, he was still not appointed at the Centre. Even under the present CM Manohar Lal Khattar's rule, Khemka has been transferred 5 times after vexing some powerful lobbies of the state.
After his 53rd transfer in 2019, Mr Khemka tweeted "Transferred again. Same thing again. Constitution Day was celebrated yesterday. Today, the orders and rules of the Supreme Court were violated yet again. Some will be pleased. After all, I have been pushed to final corner. Prize of honesty is humiliation," (originally in Hindi). How true does that seem after knowing the amazing feats of this man.
– Jahnavi TR
– Bengaluru
References – https://indianexpress.com/article/india/cat-dismisses-ias-officer-khemkas-plea-seeking-directions-to-centre-to-consider-his-empanelment-6520575/
https://www.cnbctv18.com/politics/ashok-khemka-53-transfers-in-28-years-but-still-going-strong-4941111.htm
https://www.livemint.com/news/india/-prize-of-honesty-is-humiliation-ias-ashok-khemka-on-53rd-transfer-11574909256873.html
Picture credits – thehindu.com