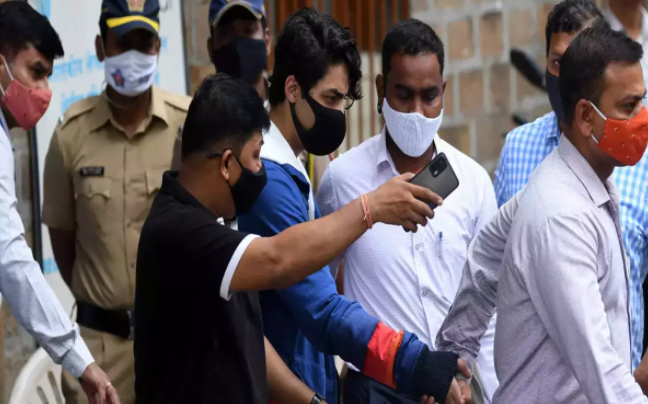 by Divyakshee K.
A new witness in the Mumbai drug bust case has made explosive allegations of extortions and bribes being paid under the table in order to release Aryan Khan, the son of Bollywood superstar Shah Rukh Khan, who has been in custody since 3rd October.
In a notarized affidavit that was first released onto social media, Prabhakar Sail, who claims to be the bodyguard of NCB witness KP Gosavi, said that the alleged demand was made by Gosavi on behalf of Sameer Wankhede, the NCB official in charge of the Mumbai narcotics bust case.
KP Gosavi, whose selfie with Aryan Khan went viral, is one of the case's witnesses and is currently absconding.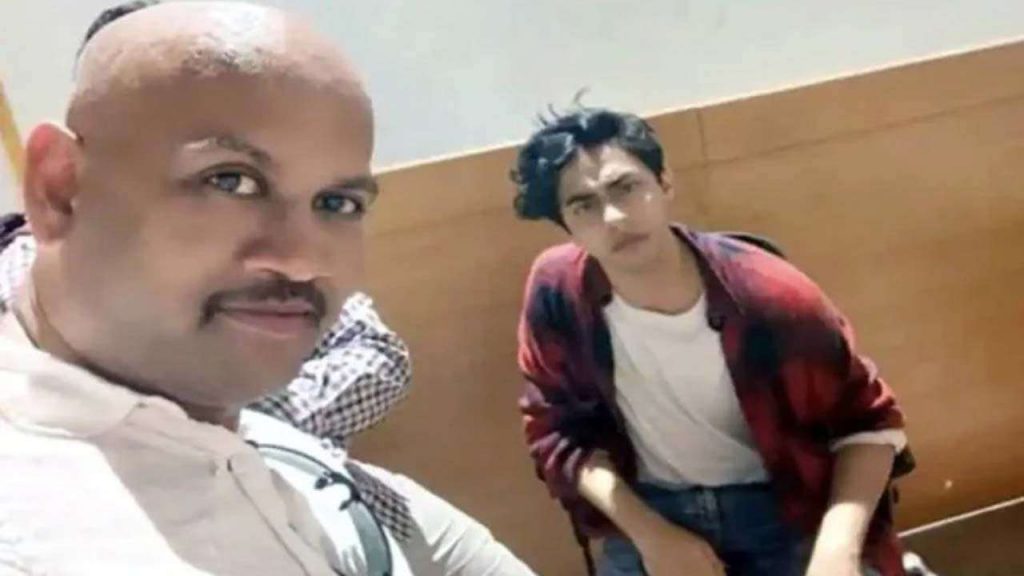 Here's what Prabhakar Sail's affidavit claims:
Gosavi contacted Sail on October 1 and told him to be ready by 7.30 a.m. the next day. On October 2, he is given a location, which turns out to be the NCB office. He was requested to appear the next day. Sail arrived at the NCB office on October 3 (after the raid) to find Gosavi inside with an NCB officer. They both walked away and he was instructed to wait.
When Gosavi returned, he met with someone named Sam D'Souza close to the NCB office. Later on, while on the phone with D'Souza, Gosavi said "…you put a bomb of 25 crores and let's settle at 18 because we have to give 8 crores to Sameer Wankhede…"
Gosavi and D'Souza then met with Shah Rukh Khan's manager Pooja Dadlani and the three had a discussion. Gosavi later asked Sail to collect 50 lakh in cash from an undisclosed location. This cash was then handed to a driver and delivered to Sam D'Souza. However, he claims that when Sam counted the money, he found only 38 lakh.
Gosavi then went missing. Sail was called to the NCB office as a witness, where he claims to have seen Aryan Khan. He said that when he arrived at the NCB office, Sameer Wankhede asked the staff to collect his signature, and one of the NCB employees, Salekar, urged him to sign on ten blank sheets of paper. He was requested for my Aadhaar data as well but wasn't carrying a hard copy at the time. Sail also expressed his fear of being abducted or killed by NCB officials for disclosing this information.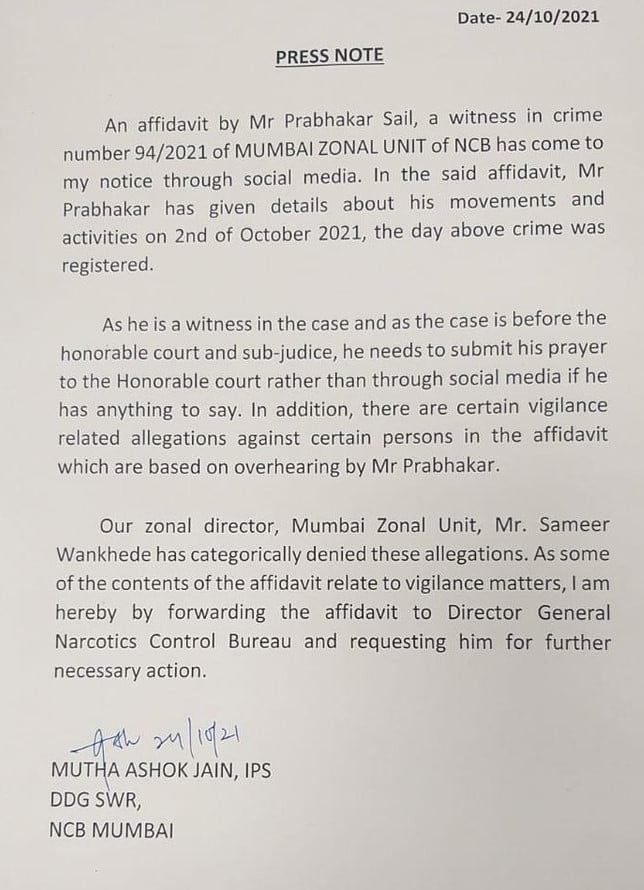 Mutha Ashok Jain IPS, NCB Deputy Director-General, issued a press release stating that Sameer Wankhede has "categorically denied the allegations". However, he also stated that as some contents of the affidavit were related to "vigilance matters", it would be forwarded to the Director-General of the Narcotics Control Bureau requesting him for further necessary action.
Image Source: www.english.jagran.com www.indiatoday.in
Reference: www.english.jagran.com