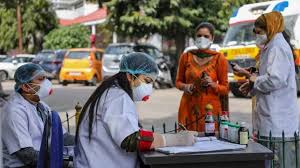 After observing many cases of Covid-19 everyday there is a sudden great decline of covid cases.
On October 17th, Sunday Mumbai reported zero covid deaths after battling with covid-19 since March 2020 for the first time, as per the data released by Municipal Corporation of Greater Mumbai.
According to the Municipal Corporation of Greater Mumbai data 367 cases were reported taking a total of positive cases to 7,50,808. The death rate stands at 16,180 .As per report of the Mumbai Civic body, the city reported zero deaths on March 26,2020 last time .
On Sunday 518 people got cured as per reports of Brihanmumbai Municipal Corporation(BMC).Meanwhile there was an increase in the recovery rate with 518 people getting discharged however death tolls remained the same at 16,180 on Wednesday.
During the pandemic the city reported a total of 60,000 cases per day and nearly 400 deaths daily during it's covid peak days. The recovery rate currently remains at 97% in the country's financial capital, though the positivity rate has plunged to 1.27%.
There are 5,030 positive cases in the city, according to the city's municipal body information. Total of 28,697 tests were directed on Sunday.
Source
Image Source