Comedian Rohan Joshi is under fire on social media for his "good riddance" comment after Raju Srivastav's death. After battling with life and death at Delhi's AIIMS Hospital since August 10, Raju Srivastava breathed his last on September 21.
After the news of Raju Srivastav`s untimely death broke out, comedian Atul Khatri took to Instagram and paid his heartfelt tribute to the late comedian and actor. "RIP Rajubhai. You were such an inspiration to so many. Whenever you went on stage you lit it up. Your presence was such that when people just saw you there was an automatic smile on their faces. You will be truly missed. A big loss for the Indian stand-up comedy scene," he wrote.
Taking to the comment section of his Instagram post, stand-up comedian Rohan Joshi shared some insensitive remarks about Raju Srivastava. He wrote, "We haven't lost a thing. Whether it was Kamra whether it was roast or any comic in the news, Raju Srivastav took every opportunity he ever got to s**t on newer comics especially after the new wave of stand up started."
Further in the comment, Joshi added that "He went on every f***all news channel every time he was invited to go s*** on an upcoming arty form and call it offensive just because he couldn't understand it and new stars were rising. He might have told a few good jokes but he understood nothing about the spirit of comedy or defending someone's right to say something even if you don't agree. F*** him and good riddance."
For the unversed, Rohan is a comedian, writer, actor, YouTuber, performer and television presenter. He is well known for being one of the key people of All India Bakchod (AIB). 
This comment of Rohan has irked the public with many taking to different social media platforms to bash and criticize him for his toxicity. Twitter was enraged after seeing Rohan Joshi's comment. They slammed him and called him jealous for 'spewing venom' after his passing.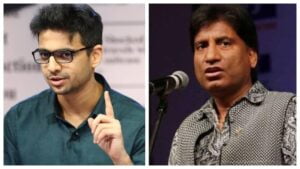 Joshi, after deleting his comment, clarified that he did so because after a minute of anger, he realized that today is not about him. He added in his comment: "Sorry if it hurt you and thanks for the perspective".
Fans, unimpressed with his remarks as they are with his apology, have taken to social media to bash the comedian for his controversial remarks, and even the apology seems to have no effect to simmer down the anger.
Also read: https://www.thenewshamster.com/stalwart-comedian-raju-srivastava-passes-away-here-is-why-he-was-a-legend/