Amid the allegations running between India and Canada, Sikh Activist, Hardeep Singh Nijjar is at the crux of it after Canadian Prime Minister Justin Trudeau made allegations against India saying that the Indian Government is directly involved in his murder. Nijjar was shot and killed by two masked men in British Columbia on June 18, 2023, at the Sikh cultural center, in Surrey, British Columbia.
Nijjar was a Canadian Sikh leader in the Indian-separatist Khalistan movement. He is known as a human rights activist by the Sikh population and a terrorist by the indian government. He was wanted by Indian authorities and was designated a terrorist under India's Unlawful Activities (Prevention) Act, accused of plotting the murder of a Hindu priest in Punjab. 
The former Sikh leader was originally from a village in Jalandhar and finally migrated to Canada around the mid-1900s and became a citizen on March 3, 2015, after marrying a woman who sponsored his application. He has two sons, owned a plumbing business while living in Canada, served as the president of a Sikh temple in Surrey, British Columbia, and was a leader of the Canadian Branch of Sikhs. 
He was alleged by the indian government as the leader of the pro-Khalistan group 'Khalistan Tiger Force' and wanted for multiple targeted killings in India. Nijjar responded by saying that he was too busy to take part in diaspora politics, "This is garbage — all the allegations. I am living here for 20 years, right? Look at my record. There is nothing. I am a hard worker. I own my own business in plumbing," 
Shortly after his murder, the World Sikh Organisation of Canada called Nijjar an outspoken supporter of Khalistan who "often led peaceful protests against the violation of human rights actively taking place in India and in support of Khalistan". In 2016, Nijjar was suspected of masterminding a bombing in the Sikh-majority State of Punjab and training terrorists in a small city southeast of Vancouver. He denied the allegations. Nijjar was briefly detained for questioning, on April 23, by the Surrey unit of the Royal Canadian Mounted Police (RCMP) after Chief Minister of Punjab Amarinder Singh gave his name under the most wanted persons to the Canadian PM in February. He was released within 24 hours by the RCMP without any charges. 
Canada has the largest Sikh population outside of India and has been accused by the indian government of tolerating "terrorists and extremists." Lawyer and spokesperson for Sikhs for Justice, Gurpatwant Singh Pannun, said Nijjar had been a target of threats because of his activism, that he had spoken to Nijjar by phone the day before he was killed and that Nijjar had told him that Canadian intelligence had warned him that his life was at risk.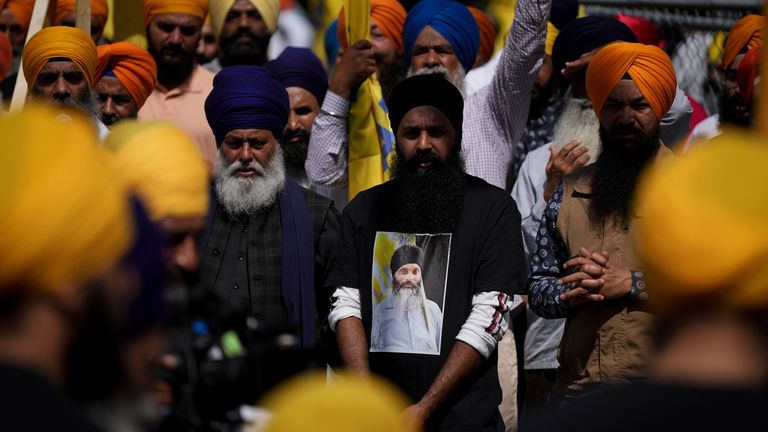 About 200 protesters from Canada's Sikh community gathered in front of the Indian Consulate in Vancouver to demonstrate nearly a week after Nijjar's murder. Many of the protesters were convinced that Nijjar's killing was linked to his calls for an independent Sikh state. One of the protesters, Gurkeerat Singh, stated "He was a loving man, a hard-working man, a family man." Sukh Dhaliwal, a member of Parliament who represents Surrey, said days after the killing "The community is shattered. There are very, very high emotions,"