On September 17, it came to light that a female student of Chandigarh University was allegedly caught by fellow students living in the girls' hostel while filming another student taking a bath. Another claim was made that a few female students found out that their videos that were recorded while they were taking baths have gone viral on social media. 
After the students came to know what had happened at the University, they came out in large numbers and started protesting outside the University gate and around the hostel where the incident took place. The police were forced to use mild lathi charge and even stone pelting was done by the protestors.
Amid the ongoing protests over an alleged online leak of obscene videos of students, the Chandigarh University has declared a two day holiday.
After a massive protest over the alleged leaked videos of Chandigarh University girl students, the Punjab police in its initial investigation have said that the accused girl shared only her personal video with her boyfriend and no objectionable video of other students has been found.
FIR under Section 354 of the Indian Penal Code and relevant sections of the IT Act was registered against the accused. So far, the Punjab Police have arrested 3 people the woman student, Sunny Mehta who is rumored to be her boyfriend, and his 31-year-old friend Rankaj Verma.
According to sources, accused Sunny Mehta and Rankaj Verma allegedly threatened to make the woman student's private videos viral unless she filmed and shared private videos of her hostel inmates.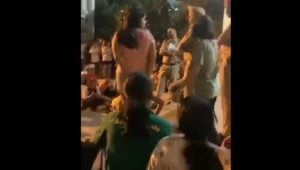 Incidents of misbehavior by the wardens were also reported. A student of the University alleged that the warden misbehaved with them and tried to disperse them while they were protesting. Students also alleged that the accused was provided protection by the college authorities, despite several complaints against her.
The SIT has started investigating the matter since the remand and the interrogation of the accused has been going on since Monday evening. 
It also seems that the strings of Chandigarh MMS leak case are connected with Mumbai and Gujarat. In this case, the fourth person can be arrested at any time. A device has been found by the accused girl, which has been sent for investigation. 
According to police sources, phone calls have also come from Gujarat and Mumbai on the mobile phones of the accused. The SIT team is inquiring about what their connection is with them. According to police sources, there is also a fourth person in this case who was blackmailing the girl. He is yet to be arrested. 
Also read: https://www.thenewshamster.com/chandigarh-university-student-leaks-videos/