A US news reporter, Tucker Carlson, who lauded the benefits of British colonialism in India and stated that the country benefited under British control has enraged Congress MP Shashi Tharoor and many Twitter users. Tucker Carlson, a Fox News anchor, likewise incorrectly noted that India had no architectural wonders before the British colonial era began.
Several users, including tennis legend Martina Navratilova, called his statements "racist" and "very uneducated." Last Thursday, the host came on "Tucker Carlson Tonight," where he went into a rage about the British empire being "more than just genocide."
In a viral clip, he said, "Strong countries dominate weak countries. This trend hasn't changed. At least the English took their colonial responsibility seriously. They didn't just take things, they added. We (the United States) left Afghanistan, we left airstrips, weapons and guns."
He further added, "When the British pulled out of India, they left behind an entire civilization, a language, a legal system, schools, churches and public buildings, all of which are still in use today."
He then mentioned Mumbai's Victoria Terminus station, which was renamed the Chhatrapati Shivaji Maharaj Terminus in 2016 and said, "And after 75 years of independence, has that country produced a single building as beautiful as the Bombay train station that the British colonials built?"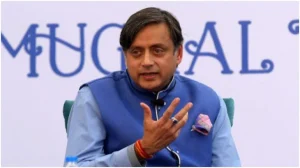 Twitter was unhappy with Tucker Carlson's remarks, and even Shashi Tharoor became involved. The Congress Member of Parliament made a sharp remark. He said, "I think Twitter ought to have an option for something to press when you can't respond without losing your cool. For now I will content myself with."
I think @twitter ought to have an option for something to press when you can't respond without losing your cool. For now I will content myself with😡 🤬 https://t.co/6tWpUuSuMR

— Shashi Tharoor (@ShashiTharoor) September 13, 2022
Here's what Twitter has about his remarks:
I mean… pic.twitter.com/Ss7P5b4k2j

— Arnaud Bertrand (@RnaudBertrand) September 12, 2022
Dear apologist of the empire @TuckerCarlson. Brits put systems and buildings in place for themselves – coz they had never envisioned leaving. The 'benign' brits left India's economy in a shambles, left us with border disputes we are fighting to this day. And killed millions. https://t.co/CDJWMoZNQW

— Sanket Upadhyay (@sanket) September 13, 2022
Hey @TuckerCarlson – your utter ignorance of history is quite staggering. I suggest you read the book "Inglorious Empire" by Shashi Tharoor and then try again. Your racism is off the charts and your stupidity on this particular issue is of Olympic proportions!!! https://t.co/7Xrd97NpwT

— Martina Navratilova (@Martina) September 12, 2022
Dude has a very specific post-colonial Calcutta Club Geriatric Uncle energy https://t.co/IXVLbUc0Tc

— Samit Basu (@samitbasu) September 13, 2022
British "built" — with Indian money and Indian labour. https://t.co/cog8N0SQV1

— naresh fernandes (@tajmahalfoxtrot) September 13, 2022
What a combination of ignorance, colonial pride, racism, religious extremism, and hubris Tucker is. Add to that one of the most eminently punchable faces on TV, and you have a perfect caricature come to life. https://t.co/IwY5dBQ6j0

— Shantanu (@shantanub) September 13, 2022
Ill-informed propaganda. They perceive India as a land of serpents and elephants. Wake up! https://t.co/sI0lXwUanO

— Zeba Warsi (@Zebaism) September 13, 2022
"Benign"?!?!?!

I never took a course on British history and even I could rattle these off:

The Partitian of India
The Bengal famine
The Mau-Mau uprising
The Boer War concentration camps
The Amritsar massacre

The examples must be legion from ever corner of the empire… https://t.co/dJyoO2JVN3

— Nick Turse (@nickturse) September 12, 2022
white people so unserious 💀 no way they think Mumbai train station is the most beautiful building in India stfu https://t.co/5IWkeyfAqy

— Hadeel (@jenniflopbrady) September 13, 2022
What do you think about his remarks? Let us know in the comments!