International Women's Day is celebrated on 8th March every year. It is a global day celebration of social, economic, political, and cultural achievements of women. Every year there is a theme for women's day, this year the theme of women's day is to create an equal world, celebrate success and raise awareness against unfairness. The hashtag for this year is #ChooseToChallenge and #IWD2021. Interesting fact about Women's Day which is unknown to many is that, there are particular colors for this day, Purple, Green, and White are the three colors. Purple signifies "Justice and Dignity", Green signifies for "Hope" and White simbolized for "Purity". In United Kingdom, 1908, these colors originated from the Women's Social and Political Union (WSPU). International Women's Day is celebrated every year but many of us don't know in which year all this started and what were the difficulties women had to face in order to get recognized in the society. During 1908, women, for the first time raised their voice against abuse, ill-treatment, and inequality. The campaign for change became vocal when 15000 women expressed their support for the campaign and marched through the New York City demanding for better pays, shorter hours, and voting rights. Socialist Party Of America declared the first National Women's Day on 1909. In 1910, Clara Zetkin during a conference proposed the idea to make the day as an "International Women's Day", and there were 100 women present from 17 countries who supported the idea. In 1911, International Women's Day was first celebrated on 19th March in Germany, Switzerland, Austria, and Denmark. From 1913-1914, Russian Women, on 23rd February celebrated their first Women's Day. It was decided later that the globally accepted day for celebrating IWD should be March 8. In 1975, International Women's Day was celebrated for the first time on 8th March in the United Nations. In 1977 UN official recognized Women's Day and that day was ment to create awareness about women issues. The theme adopted by the United Nations in 1996 was "Celebrating the Past, Planning for the Future". This is the 110th year celebration of the International Women's Day.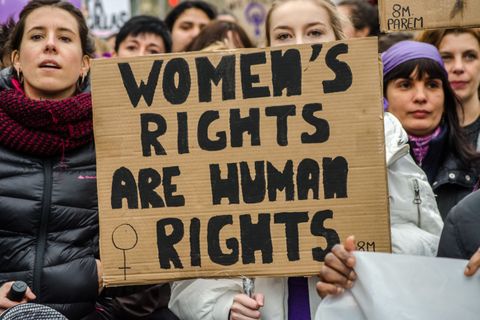 The celebration of women's day started in the Victorian era, the women were not allowed to have any rights, live on there own terms. It is 2021 now and women are still deprived of the rights and are abused. Some of the examples such as, in Iran, a women should take her husbands permission to travel abroad and in Saudi Arabia a women needs a man's permission to leave the prison if she is detained. Many women are forced to kill themselves for reasons like dowary, rape shame, ect. In India women are burnt alive by their own family if they want to marry out of the cast or religion. In Israel, a 35 year old women was killed by her husband who was a police officer, and when he was asked about the same he claimed to not know what happened to him or what caused him to take such action. Six women are killed every hour by men around the world. As many as 137 women are killed every day by a partner or family member. During the pandemic, violence against women has increased and women are discretely seeking help over Zoom calls. According to the World Economic Forum (WEF), 45% of women in West Asia and North Africa are victims of physical or sexual violence, 38% of women in South Asia suffer from sexual harassement. In North America 32 %, ; Sub-Saharan Africa 31%, Latin America and the Caribbean – 27% and West Europe 22%. In a few countries, women do not even have the basic sexual and reproductive rights, and in some countries abortion is prohibited. 41% of women live in countries with restrictive abortion laws. Women today are still fighting for their need and most importantly education.
Even in 2021 girls are still fighting for their right for education. Only 66 per cent of countries have gender parity in primary education. On October 9, 2012, Malala Yousafzai 15 years old was shot at by the Taliban because she was outspoken. In Afghanistan 210 girl's schools were closed in the year 2016. Today, at least 132 millions girls are out of school. They are being denied a future, basic right to education, financial independence. This Women's Day people should support girls and women to fight their battles and give them therights they deserve. It's time for a meaningful change.
A very happy International Women's Day .