Oscars 2022 will be soon be remembered as the one where Will Smith slapped Chris Rock hard in the face. Mr Smith had gotten on the stage after Mr Rock joked about Mr Smith's wife during the Oscars. Mr Smith's act left viewers stunned and many of them asked if it was genuine or scripted.
Mr Rock was presenting the best documentary prize with a short comedy routine. He compared Jada Smith's tightly cropped hair to Demi Moore's appearance in the film G.I. Jane during his skit. Mr Rock even asked her to appear in the sequel.
Warning: Profanity and violence ahead
#badboys3 #gijane2 #willsmith #chrisrock #oscars #besttvever

Can't believe what I just saw live on screen pic.twitter.com/YiijPRQENt

— Guy Springthorpe (the pistol slug) (@GuySpringthorpe) March 28, 2022
Will Smith appeared to be laughing at the joke, while his wife sat there looking uneasy. However, soon Mr Smith got up from his chair and walked up to Mr Rock and slapped, before returning to his seat alongside his wife.
After he sat, he could be heard shouting profanities at Mr Rock. Mr Smith's yelling forced producers to censor out several seconds of audio from the televised broadcast in the US.
Jada Smith is also a fellow actress who publicly revealed in 2018 that she suffered from alopecia. According to a reporter, Mrs Smith was 'tearful' and had to be comforted by Denzel Washington and Tyler Perry during a commercial break.
Twitter was quick to react to the incident
Andrew Garfield texting the other Peter Parkers to see if Will Smith slapped Chris Rock in their universes too . #Oscars pic.twitter.com/FRGzaxKDb9

— Verskriklik (@Vreeslik_) March 28, 2022
Will smith got the hardest album cover of 2022 #Oscars #Oscar2022 pic.twitter.com/mRaMdlLMZh

— Benji (@Cule_Ben) March 28, 2022
Everyone at the Oscar's when Will Smith assaulted Chris Rock on national television #Oscars pic.twitter.com/VX7EzFyJ22

— LORRAKON (@LORRAKON) March 28, 2022
What really happened with Chris Rock and Will Smith in The Slap at the Oscars 🤣#Oscars #Oscars2022pic.twitter.com/AqzlVUU2c8

— Benji (@Cule_Ben) March 28, 2022
Will Smith sat there and laughed at the joke then realized oops I messed up so to make it up to my wife I'm going to go on stage and physically assault Chris Rock. The GI Jane II joke was in poor taste but Will could have just had a conversation backstage #Oscars pic.twitter.com/UEVtSigTrn

— Godwin (@DBA_Godwin) March 28, 2022
chris rock and the boys showing up to the Oscar's after party for war with will smith #Oscars pic.twitter.com/jq9EJzuARE

— Tommy Basciano (@tommybasciano) March 28, 2022
Team News Hamster made a meme for this incident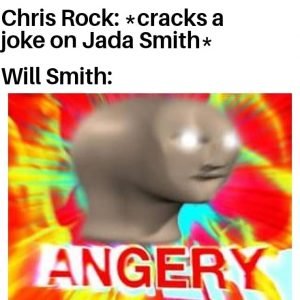 What do you think of this incident? Please let us know in the comments!
References: NDTV
Featured image source: Marca