#Leavebengaluru: On ground zero, Bengaluru at this point is sinking. Water supplies and electricity have taken a hit, traffic jams snuff out the life in you.
Evacuations, in full swing, reveal bewildered citizens, rich and poor hosting themselves up on boats and tractors, in a situation now concerning to environmentalists and industrialists alike.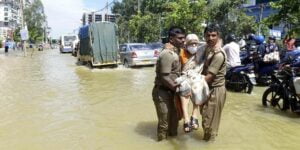 However, in the face of tragedy, another war brews, cracks deepening inside the very diverse social fabric of Bengaluru we were once so proud of.
That is the blame game on outsiders.
True Bangaloreans, as they call themselves, have been angry that outsiders have been complaining about the flood situation in the city.
#Leavebengaluru has been now trending on Twitter, where netizens demand those who have a problem with the city to leave!
shocking right? well, no.
It has been through decades. The torrential rains now, however, has exposed the blatant discontent that has been moving around secretly in gossip circles until now.
People who come from other parts of India to Bengaluru better learn Kannada or #LeaveBangalore #GetLostMigrants#ಬೆಂಗಳೂರು_ನಮ್ಮದು#Dboss #Appu #KicchaSudeep #Yash
pic.twitter.com/0Kt9nUZq6K

— ಬಬ್ರುವಾಹನ (@Par_matma) September 8, 2022
Migrates who stay in Bengaluru,we have tolerated all your nonsense these many days.
Now it's your turn to move out of Bengaluru.#LeaveBengaluru #ಬೆಂಗಳೂರು_ನಮ್ಮದು #GetLostMigrants #Dboss #Kranti #D56 #bengalururains pic.twitter.com/aFiQSf6ef1

— DBoss_fc (@Dboss_elite_fc) September 7, 2022
If you feel Bengaluru is worst then Better go back to your state and build your career there#LeaveBengaluru #GetLostMigrants #ಬೆಂಗಳೂರು_ನಮ್ಮದು pic.twitter.com/1F8wTnCADg

— Muttu ms (@muttu1745) September 7, 2022
Another hashtag #Getlostmigrants is gaining momentum on social media meant specifically for people to leave the city if they don't like it.
These people can't develop their own city,migrate to other cities and earn their bread and butter.#LeaveBengaluru #ಬೆಂಗಳೂರು_ನಮ್ಮದು #GetLostMigrants #Dboss #Kannada #Appu #bengalururains #KicchaSudeep #Yash pic.twitter.com/j2fG0bPoDS

— ಬಬ್ರುವಾಹನ (@Par_matma) September 7, 2022
After enjoying Bengaluru environment for these many days,now in this difficult situation you feel it's worst and slum city.

Better go back to your state#LeaveBengaluru #GetLostMigrants #ಬೆಂಗಳೂರು_ನಮ್ಮದು pic.twitter.com/vVA0pDuDIO

— ಬಬ್ರುವಾಹನ (@Par_matma) September 7, 2022
Why are Bangaloreans so angry?
Apparently, Bangaloreans do not seem to like being criticized incessantly by 'outsiders' for issues that are legit!
While it's true that the civic bodies in the city have not given enough attention to the problems caused due to monsoons every year, the neglect and apathy by the State government towards rampant concretization of the city and encroachment of ecologically sensitive lakes have now triggered locals.
Some jokes on social media were on how Bangaloreans justify everything with the weather but is it really true?
Here's how some users expressed their opinion.
Truth. 5% is not entire Bangalore. #bangalorerains #bengalururains pic.twitter.com/4hHERPM8qR

— Rajashekara Reddy🇮🇳 (@Rajashekara_DR) September 6, 2022
You People Should Troll Politicians and Officers Not Our Bangalore 😌❤️#bangalorerains #bangalorefloods #bangalorerain #Bangalore #Trending #bengalururains #Karnatakarains pic.twitter.com/bIN6ttbvRj

— Chandan Arya Kannadiga 🇮🇳 (@Chandanarya8055) September 6, 2022
As we sow, so shall we reap#bangalorerains #bangalorefloods pic.twitter.com/EzFoF73H3D

— 𓃵 BadWolf  (@BadWolf_Blue) September 5, 2022
South Indian states pays higher tax and Modi govt using the tax money to develop UP and Gujarat 🤦🏻‍♂️

We need good roads in Bangalore first ! #bangalorerains pic.twitter.com/R2u5z5oIo8

— ರಾಕಿ Joshi ➐ (@rockyrocksnow) August 30, 2022
Social media users, regardless of the native state they belong to, took to Twitter to highlight the dire state Bengaluru has been, calling out authorities for poor infrastructure and heavy traffic. Some also pointed out the rising pollution levels in the city, rallying with the sole intention of creating awareness of a city built on an unsteady foundation of greed and concrete.
Some took to memes, taking out their everyday frustrations of living in a congested environment, cumbersome fast life that is legit ruining the collective silicon valley life it was once fantasized for.
This year #Onam boat race will be held in ORR, Bengaluru
🚣‍♂️ 🚣‍♀️ #bengalururains #bangalorerains pic.twitter.com/06zrjFxCR5

— viggytweets (@vigytweets) September 4, 2022
The future of travel in Belan-duru 🚣@sagarcasm #OLA #uber #bangaloretraffic #bangalorerains #bangaloreweather #Bangalore #Bengaluru #bellandur #belandur @Uber_India @olaindia pic.twitter.com/m2qJ5fwZWG

— Zoheb (@phnxme7) August 31, 2022
It is understandable how the debate slowly steers away from important issues to the 'You and I' debate, however, it is crucial for citizens across the states to realize that this might be the 'new normal for Bengaluru, and their respective cities too.