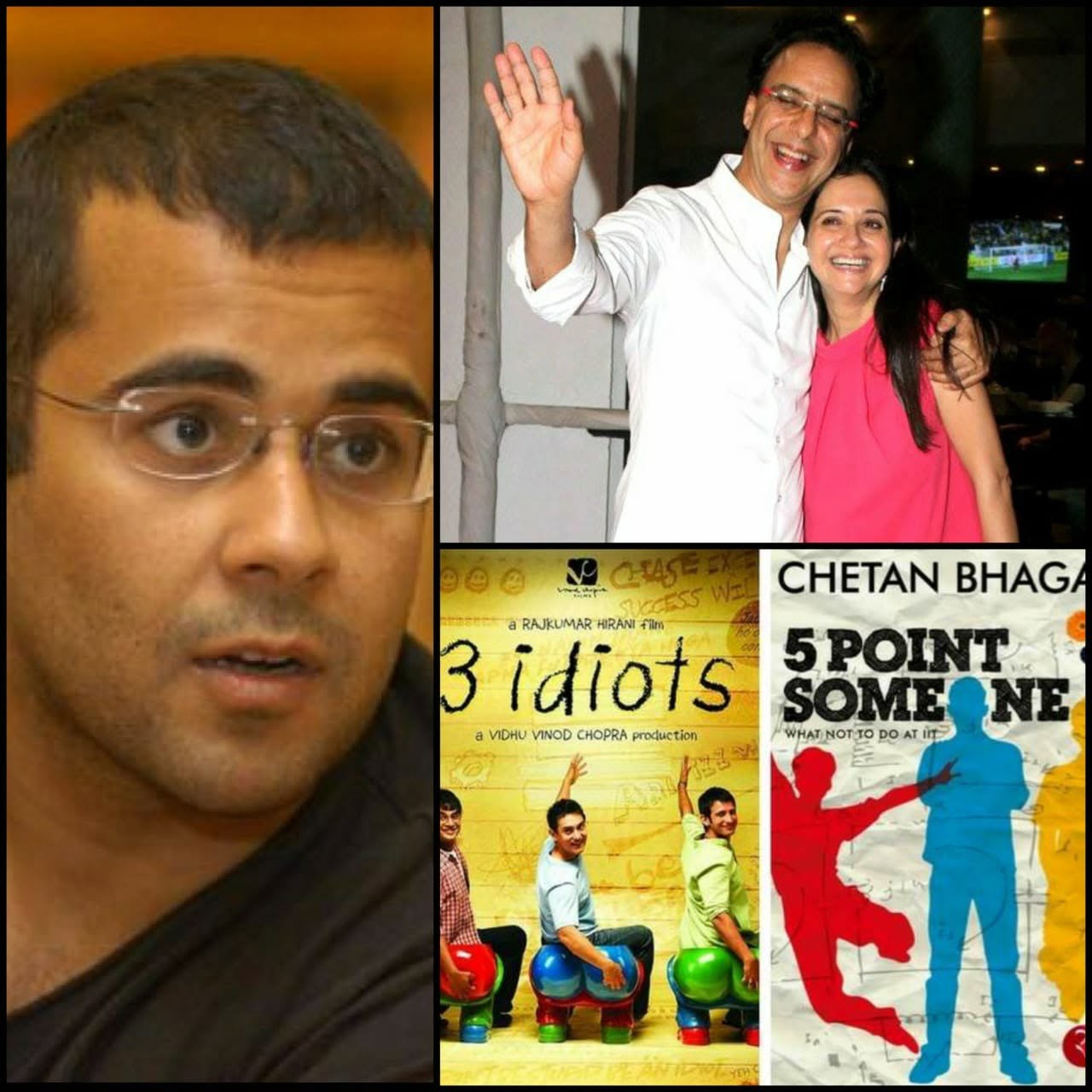 Mr Chetan Bhagat is in the news again. This time not for his book or anything, but for his tweets. Yesterday (21st July) Bhagat took to twitter to speak to film critics. He asked them to be sensible and not write rubbish while reviewing late actor Sushant Singh Rajput's last movie, Dil Bechara. Popular film critic Anupama Chopra (wife of Bollywood producer Vidhu Vinod Chpora), then replied how discourse couldn't get any lower. In a tweet war, Mr Bhagat accused Vidhu Vinod Chopra of bullying him and driving him close to suicide.
Mr Bhagat's original tweet read "Sushant's last film releases this week. I want to tell the snob and elitist critics right now, write sensibly. Don't act oversmart. Don't write rubbish. Be fair and sensible. Don't try your dirty tricks. You have ruined enough lives. Now stop. We'll be watching."
Ms Chopra's reply said, "Each time you think the discourse can't get lower, it does!"
This is when Bhagat tweeted " Ma'am, when your husband publicly bullied me, shamelessly collected all the best story awards, tried denying me credit for my story and drove me close to suicide, and you just watched, where was your discourse?"
Of course, very soon, both for and against arguments started on twitter and Bhagat said "one tweet and the whole ecosystem gets rattled"
Okay, enough with the tweets, for those of you interested please head to Mr Bhagat's page and you can see more for yourself. Now let us get some context. Of course, we all know who Chetan Bhagat is. We were all teenagers once, we read at least one of his books. Why is he now calling out Mr Chopra, the producer of 3 idiots and many other movies? We have to go back a decade when 3 idiots was the movie of the year. For those who don't know, 3 idiots was an adaptation of Bhagat's book Five point someone and for those of us who were enthralled by the movie, there is no need for further explanation.
After the release of the film, Bhagat took offence as his name appeared in the end credits and not in the opening credits along with the script and story writers' names. Later next year, during the awards season Mr Raju Hirani (director of the movie) and Abhijat Joshi collected several awards for 'Best story', 'Best screenplay', 'Best scriptwriting' etc. All the while, none of them acknowledged Mr Bhagat. When questioned about the same in a press conference, Mr Chopra asked the journalist to "shut up". In the movie team's defense, although they bought the rights for the turning of the book into a movie, they changed most of the story and there was only little similarities between the movie and book, hence Bhagat's name appeared in the end credits. Mr Amir Khan, the protagonist of the movie also berated Bhagat as "publicity hungry".
Was Bhagat in the wrong in his claim? Apparently not. In the Hollywood film industry, even when the movie scripts are 90% different from the book, the author still gets due credit. Their names appear in the opening credits and below the title and every trailer and teaser. While Bhagat wasn't receiving his credits, at the same time, Slumdog millionaire went on to win the Oscars and Simon Beaufoy who won the award for best adapted screenplay thanked the book's author Vikas Swarup, wholeheartedly even though the script differed significantly from the book. Then why was Mr Chopra being so petty about giving Bhagat his credits? We will leave it up to you to figure it out.
Bhagat's latest tweets come in the backdrop of social media blaming film critics like Rajeev Masandh and Anupama Chopra for being overly critical and harsh about Sushant's movies. In a series of tweets, Bhagat calls these film critics elitist snobs and alleges that they all have a WhatsApp group and even before movie releases, they decide to trash it. Nobody speaks about them as they cannot survive in the industry upon doing it. He further says that these people have had the privilege to learn good English and thus everyone seeks validation from them. They don't know or respect Indian entertainment, they are brown from outside, but whites from inside. In of the tweets, he has also asked Indian movie stars if the love from a billion audience not enough for them and if they really need validation from phony critics whose critics led to a star's death. Is Bhagat trying to tell us that people who speak good English are phony and has only bad to say in their writing?
Obviously, when someone like Mr Bhagat speaks about rubbish writing, twitterati cannot keep calm. Some laughed at the irony and some asked if Bhagat has given a thought about how a public figure like him threatening other people look. Some have contradicted his point reminding him of the famous "right to freedom of speech and expression". Anyway, like Bhagat has asked in his tweets, it was evident that some people were obviously triggered by his accusations, even though he dint take any specific names.
A new wave of calling out popular directors, producers, actors, critics started in Bollywood after the suicide of Sushant Singh Rajput. Ms Kangana Ranaut, as always is leading the movement from the front with her even vowing to give back her Padmashree if she can't prove her claims about the late actor's death. Popular actor, Saif Ali Khan has claimed that he too was a victim of nepotism. Manoj Bajpayee of Gangs of Wasseypur fame said that commoners will soon lose their respect for Bollywood if they don't mend the ways they function. Streaming platform Disney Hotstar received severe backlash when they did not invite actors Kunal Khemu and Vidyut Jamwal to their virtual meet to promote the 7 new movies slated for release this month on the platform. Abhay Deol too, took to social media to point out how him and Farhan Akthar weren't recognised as lead actors in the movie Zindagi Na Milegi Dobara during awards season.
So, Bhagat joined the train. He tried to speak up for someone who isn't present to speak for himself. He received support, as well as backlash. But was it right to bring up his own personal case from which he had claimed to "move on" a few years ago? Sure, social media wasn't as active back then and Bhagat has a right to call out those who have previously wronged him, but could the approach have been more graceful? Could he have taken the high road instead of using words like 'elitists and snobs'? Maybe he could have, maybe he couldn't. However, the point is, one mustn't forget that while standing up for one person's mental health we should be kind enough to not ruin someone else's. As for Bollywood, the industry really has to make some amendments to make sure that everyone receives the recognition they deserve based on their talent and not their background or karma.
– Jahnavi TR
– Bengaluru
References – https://www.hindustantimes.com/india/it-s-about-behaving-with-grace-you-idiots/story-klTY8XKwQAm9ZMcX9M1MPO.html?s=09
https://www.ndtv.com/entertainment/vidhu-vinod-chopra-drove-me-close-to-suicide-claims-writer-chetan-bhagat-2266452