Here are some lesser-known facts about Maheep Kapoor!
Bollywood actor Sanjay Kapoor's wife Maheep Kapoor is a multi-talented mother-of-two. After trying her luck in showbiz, Maheep took up jewelry design and also runs a boutique with her Bollywood BFFs. Maheep also made a fabulous digital debut with the reality show 'Fabulous Lives of Bollywood Wives'. Maheep Sandhu, who is married to actor Sanjay Kapoor, was an NRI of Punjabi origin. Born on April 29, 1982, she had been living in Perth (Australia) before she came to India to try her luck in Bollywood. Before stepping into the modeling profession, Maheep Sandhu Kapoor studied fashion design and jewellery designing in Australia. However, only after having a failed showbiz career, Maheep decides to start her own business. Very few know that Maheep Kapoor was featured in Ila Arun's pop video Nigodi Kaisi Jawani Hai. The video was released in 1994. 
Maheep Kapoor runs her own jewelry store 'Satyani Fine Jewels' in India and the UK as well. Apart from being a successful jewelry designer, Maheep Kapoor also runs a boutique. It's a luxury retail boutique called Bandra 190, which is run by Maheep Kapoor in collaboration with Shah Rukh Khan's wife Gauri Khan and Sohail Khan's wife Seema Sachdev. After a courtship lasting for a couple of years, Maheep Kapoor got married to Sanjay Kapoor in 1998. They have two children, Shanaya and Jahaan. While Shanaya is already one of the popular star kids of Bollywood, Jahaan is still kept away from the paparazzi's attention. 
Maheep designed the jewelry for the blockbuster movie ''Om Shanti Om" [ 2007 ], and Karan Johar's film "Kabhi Alvida Na Kehna" [2006], which made her win many accolades.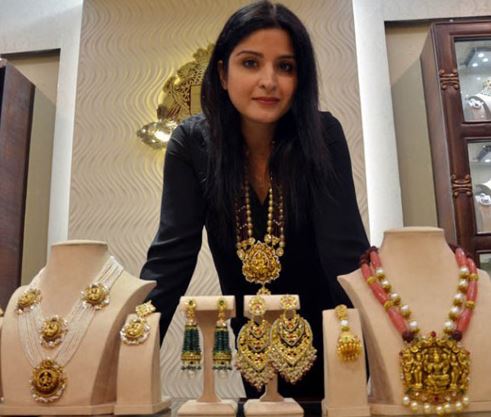 The Fabulous Lives Of Bollywood Wives star Maheep Kapoor's age has become one of the most talked-about topics after the show was released. The Internet says she's 38 years old, but many fans believe otherwise. Some are even speculating that Maheep is trying to hide her real age to look younger. Now, the Fabulous Lives Of Bollywood Wives cast member is being called out for lying about her age. According to the internet, she was born on April 29, 1982. If she was actually born in '82, many things don't make sense. Fans have dissected her life events and compared them to her age to build some interesting theories. A Reddit user wrote, "Internet shows she was born in 1982 and got married in 1997. Sanjay Kapoor is 1965 born so he was 32 and she was 15 when they got married." It seems highly fishy, especially because Maheep does not look like she is 15 in her wedding pictures. 
Maheep's friends, Neelam Kothari and Seema Khan are 51 and 43, respectively. It's sort of strange that she is still in her 30s and hanging out with women so much her senior. Still, knowing that India has a history of young marriages, it's not impossible that she was a teen at the time of her wedding. Another Fabulous life Of Bollywood Wives cast member, Bhavana Pandey's, age doesn't appear anywhere on the internet, further contributing to fans' theories that the women may not be entirely honest. 
For more updates, stay tuned at this space TheNewsHamster