by Divyakshee K.
World No. 1 Novak Djokovic revealed on Wednesday that he submitted false claims on his immigration paperwork before his detention and release over the weekend, only days after an Australian court permitted him to stay in the country despite his unvaccinated status.
Just days before he competed in the Australian Open for a record 21st Grand Slam triumph, Immigration Minister Alex Hawke used his personal authority to overturn the court's decision. The visa was cancelled for health and public safety reasons, as well as because it was in the public interest, he said in a statement on Friday.
"In making this decision, I carefully considered information provided to me by the Department of Home Affairs, the Australian Border Force and Mr Djokovic," Hawke said in the statement. "The Morrison government is firmly committed to protecting Australia's borders, particularly in relation to the Covid-19 pandemic."
In a court hearing on the 10th of January, Judge Anthony Kelly had overturned Djokovic's visa cancellation, claiming the player wasn't given enough time to react adequately to officials who refused him admission to Australia. Any effort by Minister Hawke to exercise his personal cancellation powers might result in Djokovic being barred from returning to Australia for three years, he warned.
However, this court verdict was overruled after it was discovered that Djokovic had fabricated his travel declaration form about not travelling elsewhere 14 days before arriving in Australia. Before travelling to Australia, the tennis player travelled to Spain from Serbia. 
Djokovic responded to the false declaration claims with an Instagram post aimed at "clarifying misinformation." Djokovic claimed that his agent made a "human error" on the paperwork, which stated that he had not travelled abroad in the 14 days leading up to his arrival in Australia on January 5.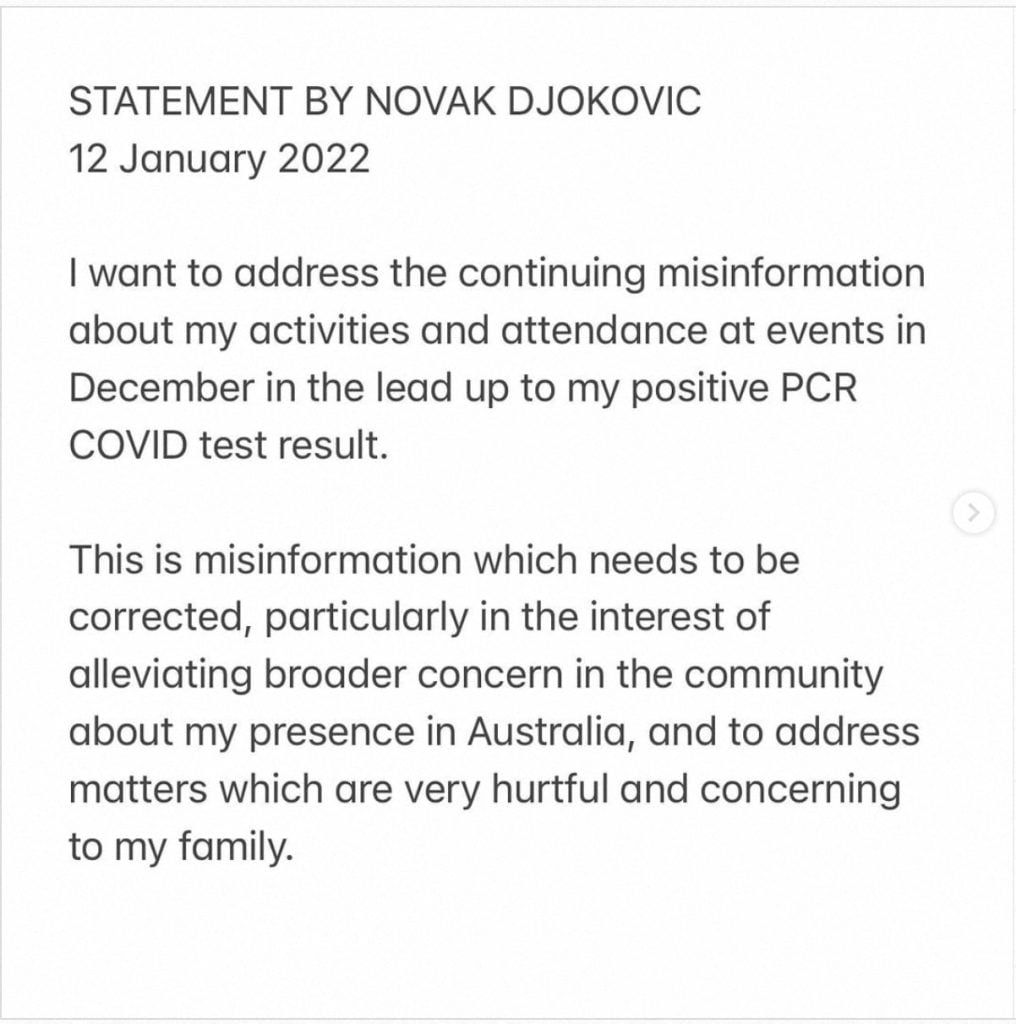 He had tested positive on December 16, according to the paperwork he submitted. On December 17, however, he was spotted at a tennis event in Belgrade, where he presented prizes to children, and on December 18, he posed for a picture for a French sports publication. He claimed he "had not received the notification of a positive PCR result" until December 17 on Instagram.  While this meant that he posed for the photograph knowing he was positive — which he labelled an "error of judgement" — a copy of his medical certificate for his PCR revealed it was returned to him on December 16, barely seven hours after it was administered.
While the state of Victoria had granted Djokovic a medical exemption before boarding a plane to Australia, his visa was revoked by federal officials upon his arrival, sparking public outrage that a sports star was receiving preferential treatment. Over 90% of Australian adults are fully vaccinated, yet the country has faced some of the most severe restrictions in the world throughout the epidemic.
Most indoor venues in Victoria are closed to anyone who has not received at least two doses of the vaccination, as the state, which includes Melbourne, seeks to reduce the spread of the omicron variant and relieve pressure on hospitals. 
Just days after Djokovic arrived, the nation reported more than 100,000 new Covid-19 cases in a single day for the first time.
When Djokovic landed in Melbourne on January 6, his visa was cancelled for the first time after Australian border authorities declared the World No. 1 men's tennis player had "failed to provide proper evidence" for a medical exemption. 
After winning a legal battle against the Australian government's decision to cancel his visa, he was detained and spent days in an immigration hotel in Melbourne before being released earlier this week.
Officials in Spain, after stating that they have no record of his being in the country in December, are probing Djokovic's stay to see how he entered the country without a vaccine exemption. Djokovic's activities were a "clear breach" of Serbia's COVID protocol, according to Prime Minister Ana Brnabi, who added that she will contact "relevant authorities and medical people who are in charge of implementing these regulations."