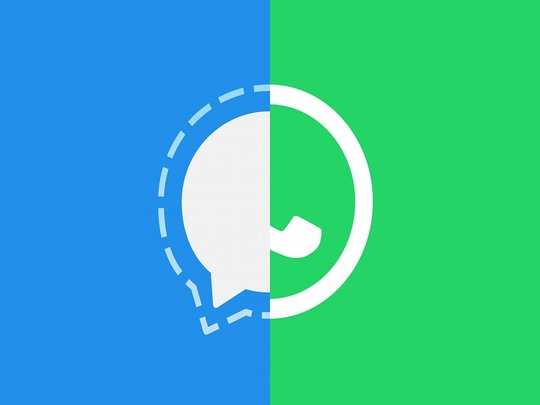 Adelle Fernandes| January 11, 2021| Mumbai
In the middle of last week, WhatsApp users received a pop-up about a new privacy policy that must be accepted, unless users wish to forgo using the app. This policy has caused a serious uproar of agitated users, some of whom have decided to deactivate their WhatsApp accounts and move to Signal, a similar messaging platform.
This happened when WhatsApp's privacy policy stated it would now be sharing commercial user data with its parent company, Facebook. The privacy policy will come into force from February 8 and will allow WhatsApp and Facebook to share user information with businesses and third-party service providers that transact on these platforms. Privacy experts and anti-trust bodies have also raised alarm at WhatsApp's new policy.
On January 10, Signal, a platform that focuses on privacy and security became the top free app on App Store in India and many other countries. WhatsApp's loss can turn into a boon for Signal and also other messaging apps like Telegram. Signal has drawn a lot of attention from WhatsApp users since the information about WhatsApp's privacy policy came to light. About 100,000 users installed the Signal app across Google and Apple in just two days.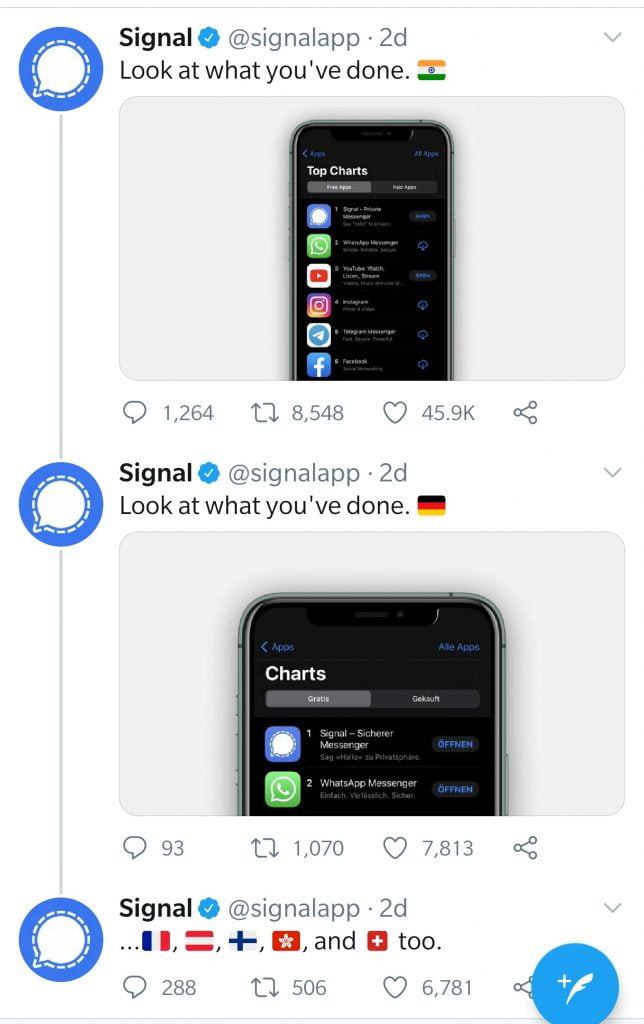 Along with switching, users also took to social media to share memes and jokes about the matter.

Taking advantage of the situation, Signal has shared a guide on how to invite friends and family from other chat groups to its own platform via sharing a simple link. Signal did not use WhatsApp's name explicitly, but it is evident what is meant by the last picture it shared on its guide. "A lot of people have been asking how to move their group chats from other apps to Signal, and Signal group links are a great way to get started. Drop a group link into your former chat app of choice like you're dropping the mic on the way out," Signal tweeted. The four easy steps explained by Signal make moving to the app a seamless experience.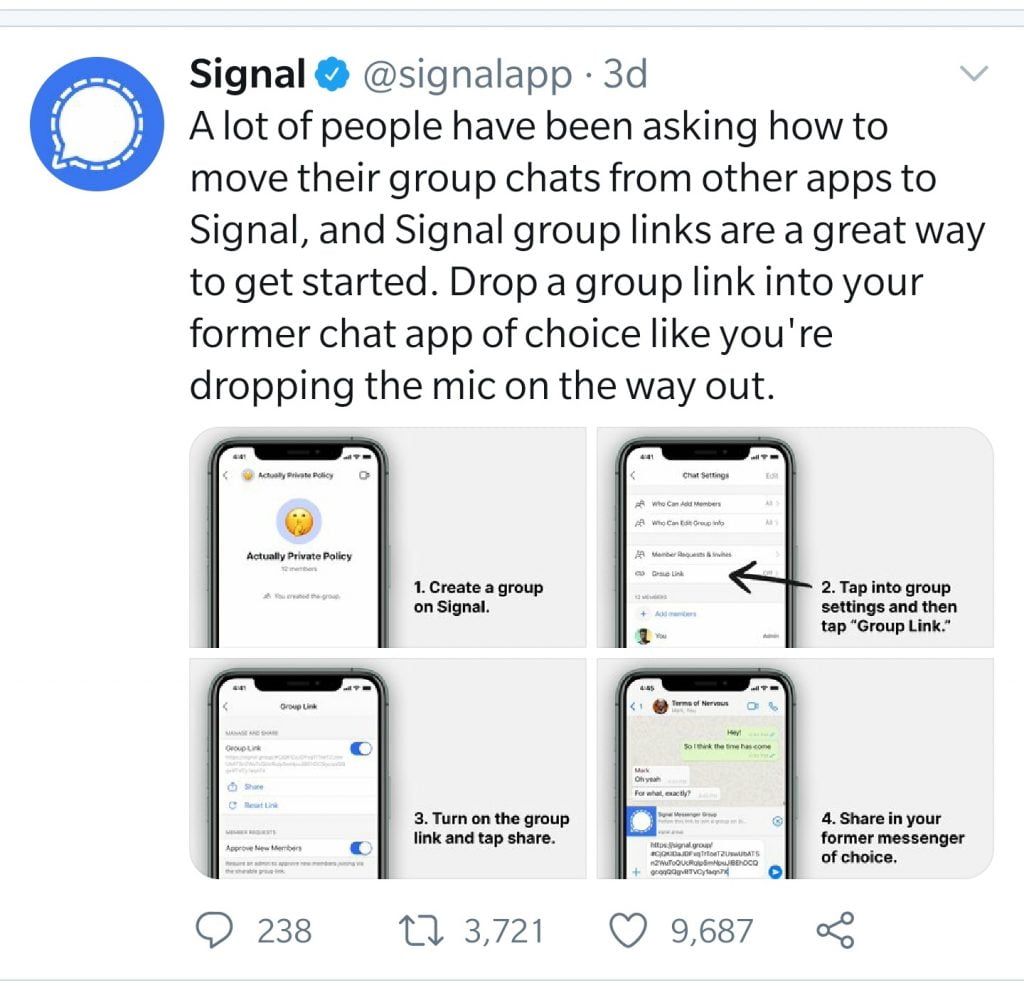 The world's richest man, Elon Musk also tweeted, "Use Signal." The American whistleblower, Edward Snowden, famously known for leaking highly classified information from the National Security Agency (NSA) in 2013 when he was a Central Intelligence Agency (CIA) employee has also vouched for the app. A Twitter account, 'Astral Wars' then questioned Snowden asking if Signal can really be trusted. "Do we really trust Signal? Cause I see zero reason to." Snowden replied saying, "Here's a reason: I use it every day, and I'm not dead yet." Snowden has been known for using Signal since its launch in 2015 and has stood by it ever since.
After WhatsApp announced its new policy, Signal tweeted that verification codes were delayed across several providers, as many new users were trying to join the platform. The Signal app is available for Android and iOS users, as well as on the iPad, and users can also download and install the app on Windows, Linux, and Mac devices as well.
References:
https://www.financialexpress.com/industry/technology/data-privacy-concern-over-whatsapps-new-policy/2167935/
https://indianexpress.com/article/trending/trending-in-india/whatsapp-users-are-moving-to-signal-app-memes-7139777/
https://www.indiatoday.in/technology/news/story/how-secure-is-signal-it-s-good-enough-for-edward-snowden-so-good-enough-for-you-1757596-2021-01-10
https://www.indiatoday.in/technology/news/story/signal-shares-guide-to-get-out-of-whatsapp-for-users-not-happy-with-new-whatsapp-policy-1757125-2021-01-08
Picture Sources:
Twitter