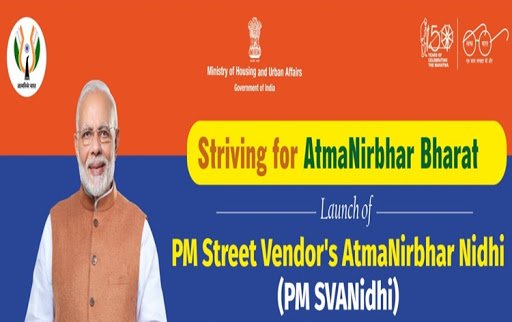 #PMSVANidhi (Pradhan Mantri Street Vendor's Atmanirbhar Nidhi Yojana) scheme was launched on 1st June, 2020 by the Ministry of housing and urban affairs in India. The aim of this scheme is to empower #street vendors, by extending loans to them and also provide #holistic development and #economic upliftment. This primarily focusses on aiding vendors who were affected during the #Coronaviruspandemic.
Under this scheme, the Indian Prime Minister will virtually distribute and facilitate loans to nearly #3lakh street vendors on October 27. It also enables the street vendors to get working capital of up to ₹ 10,000 at a subsidised rate.
The interest subsidy on timely or early repayment of the loan is at 7% and the vendors are permitted to repay the loan in monthly instalments. There is no penalty on early repayment of the loan. If someone is able to repay the loan before time, then a subsidy of 7% per annum will be credited to the respective bank accounts of the beneficiaries.
The scheme also includes the incentive of #monthlycashback up to INR 1200/- on digital payments. Banks like: the Scheduled commercial banks, regional rural banks, small finance banks, cooperative banks, Self Help group banks, Non-banking Financial institutions (NBFCs) and Micro finance institutions are responsible for providing loans under the PM SVANidhi Scheme.
This is available for beneficiaries belonging to only those Indian states and Union territories, which have registered rules and scheme under the #Street Vendors (Protection of Livelihood and Regulation of Street Vending) Act, 2014. While applying for the loans, the documents required for #KYC are: Aadhar Card, Voter's identity card, driving license, MNREGA card and Pan card. One may apply for the loan in the website, www.pmsvanidhi.mohua.gov.in or by visiting any nearby bank correspondent or through agent of Micro finance institution.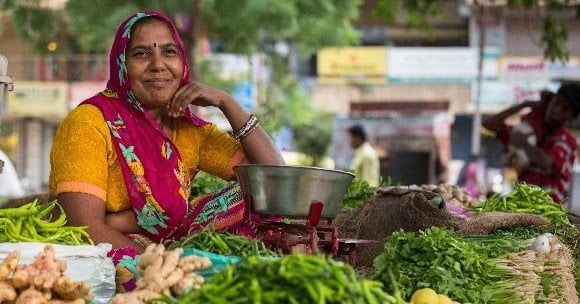 The government has already received over 24 lakh applications under this scheme. Among which, a majority of 5,57,000 applications are from vendors in #UttarPradesh. In fact, the state has ranked first in applications, sanctions as well as disbursements. As PM Modi tweeted on Monday:
"Will interact with my brothers and sisters from Uttar Pradesh who sell goods on roads. It will be an opportunity to know how Pradhan Mantri Swanidhi Yojana gave new strength to them."
The Hindustan Times reported that, "Seven cities of UP also find place in the list of top 10 cities of the country with latest additions of Ghaziabad and Kanpur. Varanasi, Lucknow and Aligarh are the top three cities in the list while other cities of the state include Allahabad (4th), Gorakhpur (7th), Ghaziabad (9th) and Kanpur (10th). Other Indian cities in the list are Indore (5th), Bhopal (6th) and Hyderabad (8th)."
According to the list, #MadhyaPradesh is in the second slot with loan disbursements of over 1.25 lakh beneficiaries. This statistical information also reveals the specific states, where the vendors or hawkers in urban, pre-urban and rural areas, were and still continue to face the brutal setbacks of the nationwide #lockdown.
– Arishmita Aditya
– Silchar
Sources:
1) https://www.hindustantimes.com/india-news/pm-svanidhi-scheme-for-street-vendors-benefits-loan-amount-tenure/story-oPK5gtff1ZgX2pQIbWyqbK.html
2) https://www.india.gov.in/spotlight/pm-street-vendors-atmanirbhar-nidhi-pm-svanidhi
3) https://www.hindustantimes.com/india-news/pm-modi-to-virtually-distribute-loans-to-300-000-street-vendors-under-pm-svanidhi-scheme/story-qWXAP8AJlvH7igekRNSPsL.html#:~:text=PM%20SVANidhi%20Scheme%20was%20launched,due%20to%20the%20coronavirus%20pandemic.&text=Under%20PM%20SVANidhi%20Scheme%2C%20street,Rs10%2C000%20at%20subsidised%20rates.
4) https://www.hindustantimes.com/india-news/up-tops-in-loan-disbursal-to-street-vendors-under-pm-svanidhi-scheme/story-0ps3JzOENAC4igCHTjYccI.html
5) https://www.financialexpress.com/economy/narendra-modi-to-interact-with-street-vendors-benefitted-from-pm-svanidhi-scheme-in-up/2113907/
Picture Source:
1) News On Air
2) Weigo