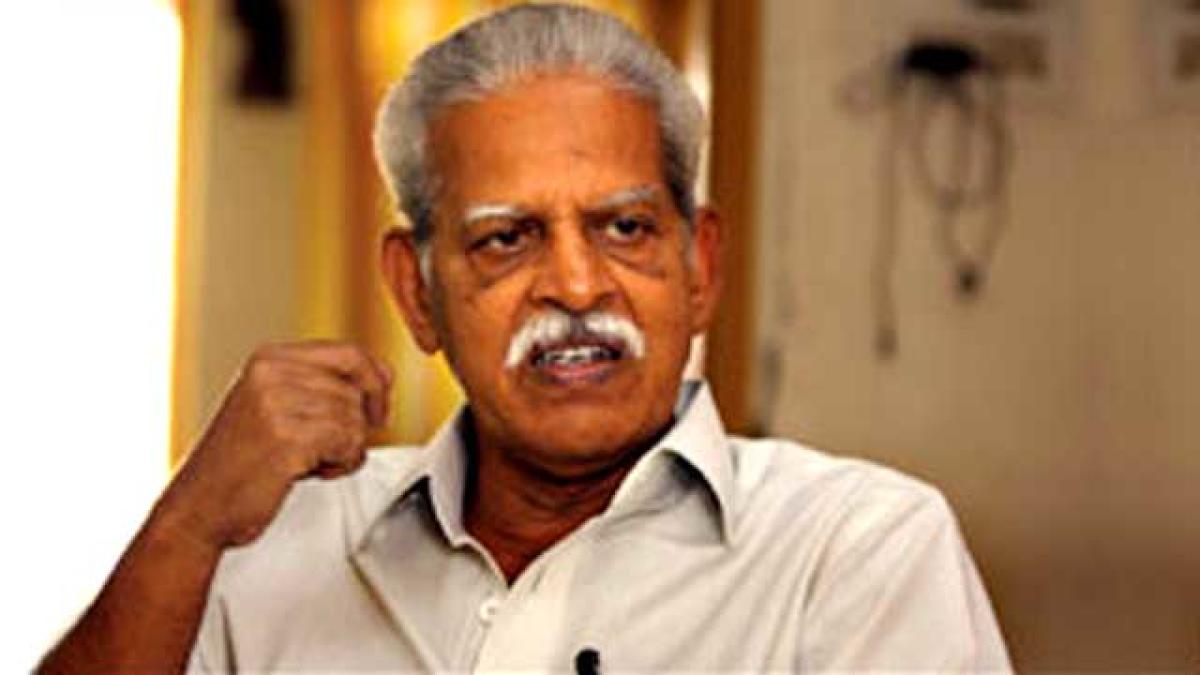 Poet, litterateur and Political activist Varavara Rao (81) was admitted to JJ Hospital in Mumbai from Taloja jail on 13th July as he started feeling giddy and hasn't been feeling well in the past few months. After his call to his family on 11th July, they were genuinely concerned about his health condition as he was delirious and hallucinating about his parents' deaths and funerals which happened decades ago. In a press conference, his wife broke down and requested the police and the government to not kill him in jail. Soon after, #releasevaravararao which has been trending on twitter for a couple months, now gained more momentum with people from all over the world urging the government to release Mr Rao.
The doctors of JJ Hospital have said that Mr Rao's general conditions are fair, and his vitals are stable. His daughter Pavana said that they were not informed by the police about his shifting to the hospital, either this time or the first time in May. In the meantime, Rao's advocate has filed an appeal before the Bombay High Court for an urgent hearing of Mr Rao's appeal against the rejection of his interim medical bail. The hearing is scheduled for 17th July.
Who is Varavara Rao?
Born on 3rd November 1940, Mr Rao is a poet, political activist, journalist, litterateur, critic, public speaker and a convicted extremist from Telangana. He has been an active poet since 1957. He worked as a college lecturer and taught Telugu to Undergraduate and Post graduate students for 40 years. He also headed 'Srujana' a literary magazine, highly energetic in nature, for decades. He has 15 poetry collections to his name and is considered as one of the greatest critics of Telugu literature. He wrote a thesis on 'Telangana Liberation Struggle and Telugu Novel – A study into interconnection between society and literature'. It is known to be a landmark in Marxist literary criticism in Telugu.
When Naxalbari movement was started in Bengal in 1967, Warangal (in Telangana) was one of the first places to provide their support. Mr Rao was one of the pioneers in 'Thirugubatu Kavalu' (Rebel poets) a literary group associated with the armed struggle which was happening in Srikakulam in Andhra Pradesh at that time. He was also a part of Virasam (a Telugu writers' revolutionary association) and was a member of its executive committee since the beginning. He toured the whole of Andhra Pradesh with the group and continuing his literary engagements.
Mr Rao was highly inspired by the proletarian Cultural Revolution and the Naxalite movement in the national political scene. His political engagement was deeply intense, and he was committed to his work greatly. Mr Rao has always spoken fearlessly in many matters and this led to him landing in jail several times and a plethora of cases against him.
His first arrest was in 1973 under Maintenance of Internal Security Act (MISA) after his political and literary engagement enraged the AP government. He was released after a month and a half. But a few months later, conspiracy cases were filed against many Virasam writer and he was arrested again in 1974. He was again arrested on the eve of National Emergency in 1975. He was not released even after the emergency ended, unlike other prisoners. A fresh MISA warrant was filed against him and he was in jail until the Janata Government repealed the MISA. There were a lot of attempts to kill Mr Rao post Emergency, but he survived them. He was even beaten up on stage by a policeman.
After 1983 elections, INC came to power in AP with N.T. Ramarao as their Chief Minister. He did not keep up the promises he had made to the Naxalites. His government in fact tried to suppress the movement and Varavara was a primary target. 6 cases were filed against him in 1985, post which he took an All India tour to create awareness about the repression happening in AP. He was one among the many people accused in Secunderabad conspiracy case and went to jail, again in 1985. While in jail he was accused of another case called Ramnagar Conspiracy case and he was acquitted in that case after 17 years of long trial in 2003. Post the ban of Virasam in 2005, he was arrested under AP Public Security Act and was sent to Hyderabad Central prison. Since the formation of Telangana state in 2014, he has been arrested 4 times.
In 1985, when he returned from his tour to attend the cases, his life was greatly at risk. Policemen openly announced that it was their aim to kill Mr Rao. He couldn't move freely in AP, even in Warangal. Police in civilians' clothes, both armed and unarmed attacked his house in Warangal. His near and dear ones also faced the brunt of this. They were harassed or attacked physically and mentally. This led him to cancel his bail and go to jail.
Mr Rao was an emissary for the People's War Group during AP govt and Naxalites peace negotiations. After many rounds of negotiations proved unsuccessful, Virasam and CPI were both banned. He was also an active protestor in the Telangana Movement since 1969. He was also with people during the last round of protests for separate Telangana State and did not stop until the news state was formed in 2014.Mr Rao's movement, speeches, protests, meetings have always been under the eagle eyes of the governments. But none of this ever stopped him from doing what he believed.
Recently, in 2018, he was arrested with four other people for having links with the Elgaar Parishad event (a violent clash between Dalits and marathas in Pune). The activists were accused of still being members of the banned party, CPI. Varavara Rao was accused of giving 'inflammatory speeches' which was a contributing factor to the violence of Koregaon Bhima war memorial. He was also accused of plotting with other activists and lawyers to assassinate PM Modi. He was charged under various sections of IPC. Dr Rao and his family have denied the claims of plotting for assassination of the PM. He was taken into custody by Pune police in 2018, but Rao was still protesting. There has not been any trial, yet.
These are some of the key highlights from Dr Varavara Rao's life, although this space is too less to speak about him. He has always remained true to his causes and been a complete revolutionary all his life. He wasn't scared of anything or anyone even when his life was under threat. Today, he is appreciated by all generations, irrespective of age. Intellectuals from all around the globe have been continuously asking the Central Government to release him. We can all wish for his speedy recovery and hope that he gets out of jail post that.
References – https://indiacivilwatch.org/issues-b12/varavara-rao/
www.karvaanindia.com/2020/05/30/who-is-dr-varavara-rao-a-look-into-the-activist-who-has-been-charged-under-the-uapa/
Picture credits – deccanherald.com