The UP State Law Commission has released the first draft of the proposed Uttar Pradesh Population (Control, Stabilization and Welfare) Bill, 2021, which is open for public suggestions till 19th of July,2021, according to which the two-child norm is to be adopted by the state with incentives as well as punishments threatening the livelihoods of those who fail to comply with the law. The draft suggests, a person with more than two children will be debarred from,
Government-sponsored welfare schemes.
Contesting elections to the local authority.
Eligibility to apply for State Government jobs.
Promotion in Government Services.
Subsidies provided for the welfare.
Ration card units will be limited to four persons.
The incentives include, (for public servants)
3% Increase in the employer's contribution fund under national pension.
2 additional increments during the entire service.
Subsidy on plot purchase/ house site/ build house.
Rebate on charges for utilities (water, electricity and house tax).
Soft loan for construction or purchasing a house at nominal rates of interest.
For all the citizens of UP with only one child,
Free health care and insurance coverage to the child till it turns 20.
Preference to the child in admissions.
Free education till Graduation.
Scholarship to the girl child in higher studies.
Preference in government jobs.
A BPL couple undergoing sterilization after one child will be eligible to receive a one-time sum of Rs.80,000 for the first boy child or Rs.1 Lakh for a girl child.
Justice Aditya Nath Mittal said there were limited ecological and economic resources at hand in Uttar Pradesh. It was necessary to control and stabilize the population to promote sustainable development with more equitable distribution.
UP has over 200 million inhabitants, it is the most populous state in India as well as the most populous country subdivision in the world. After China revised its two-child policy, the Population Foundation of India had issued a statement saying that India must learn from China's failed experience with enforcing coercive population policies. It said religion has little to do with fertility levels, but the difference is "education, employment opportunities and accessibility of contraceptives".
As per NITI Aayog and Macrotrends, Data suggests that India's Total Fertility Rate (TFR) and Annual Population Growth Rate, which are used to quantify population growth, are declining.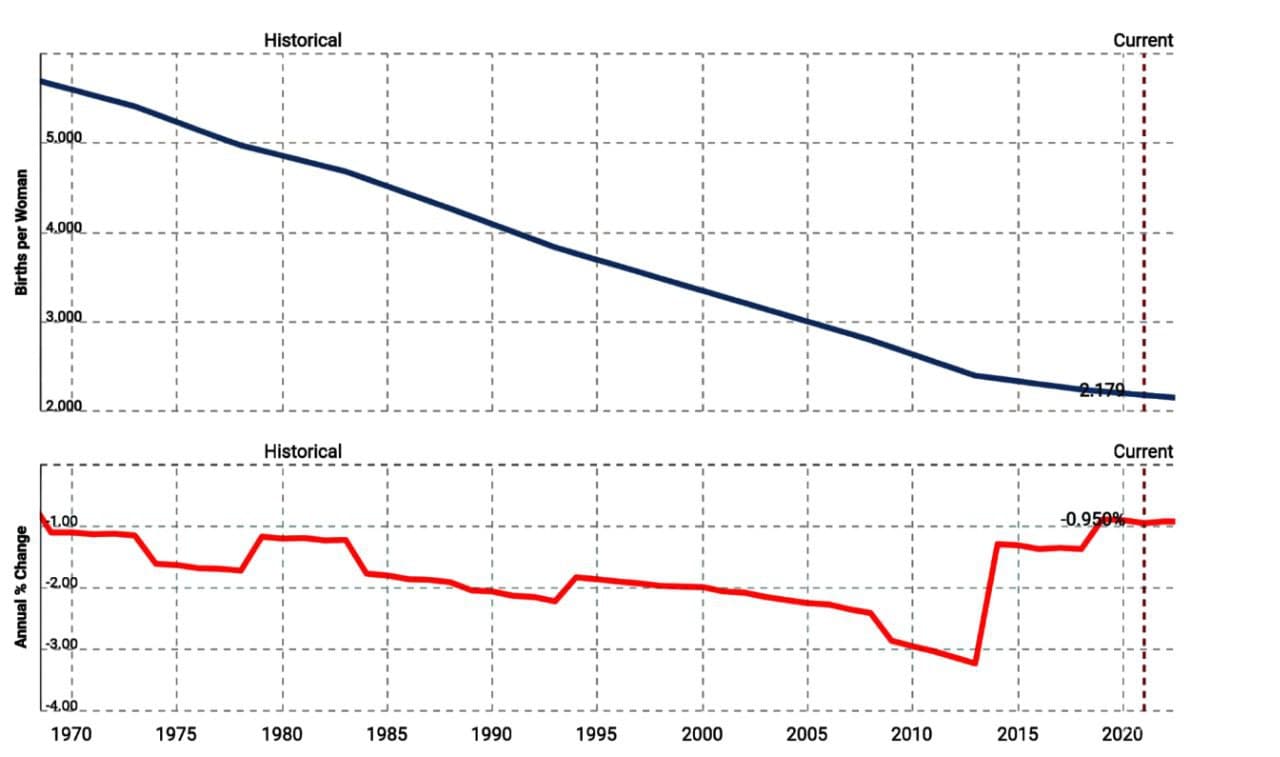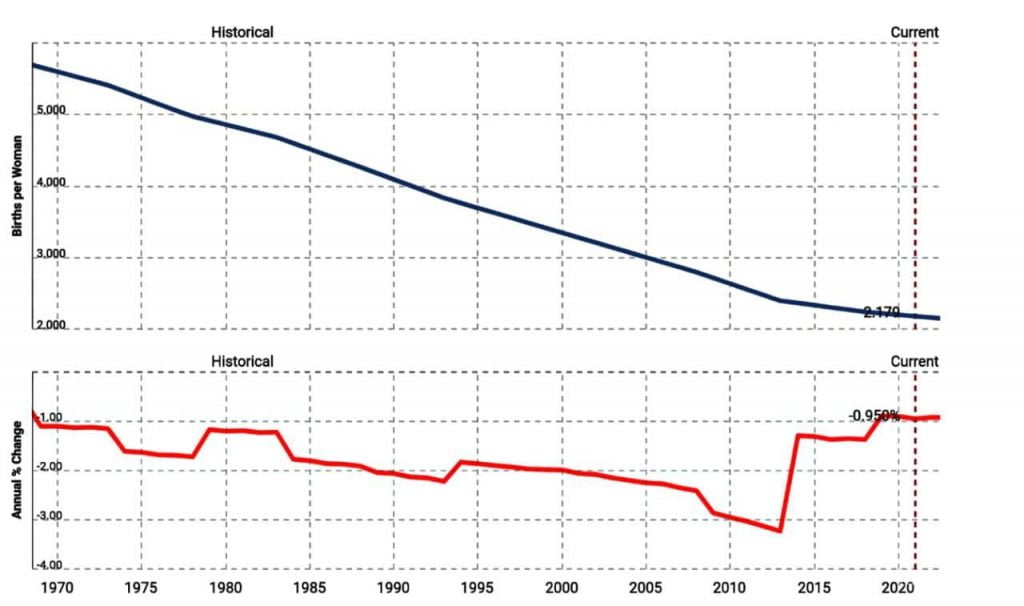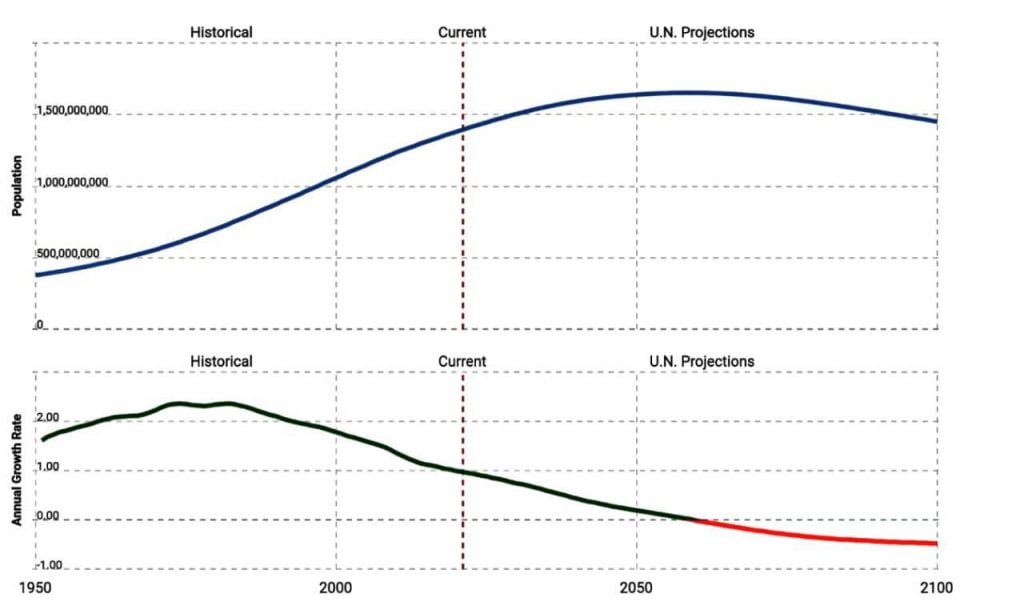 These graphs by Macrotrends predict that India's population would start declining if trends hold. In 2020 Ashwani Kumar Upadhyay, a Bharatiya Janata Party (BJP) politician and lawyer, had asked for a law that would deny access to government jobs, subsidies, and certain rights to those with more than two children. The denied rights, as per the petition, would include the right to vote, to property and to free shelter, Indian Health Ministry in response to the petition said that it will not implement a mandatory two-child policy by denying government jobs, subsidies and certain rights to larger families. With fertility rates falling across states, India does not need a law enforcing a two-child norm. Instead, this implementation can cause unintended impacts like sex-selective and unsafe abortions and a further skew in India's sex ratio.
"The Family Welfare Programme in India is voluntary in nature, which enables couples to decide the size of their family and adopt the family planning methods best suited to them according to their choice without any compulsion," said the affidavit by the Ministry of Health and Family Welfare. "In fact, international experience shows that any coercion to have a certain number of children is counter-productive and leads to demographic distortions."
So awareness and proffering contraceptives, better education policies, and increase in the transition rate from primary to upper primary school and effective governance could help tackle the issue rather than take away the people's needs.
Reference:
Image Credits: