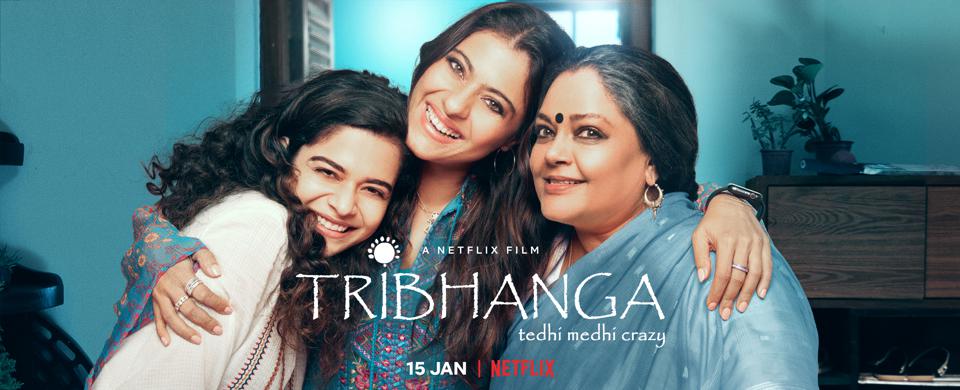 Source : Netflix India
In 2020, when Anu Menon presented the life of Shakuntala Devi, there was more focus on the imperfect mother that she was for her daughter Anupama Banerji, rather than on the life of the mathematical wizard herself. The film came under criticism for over-emphasizing the shortcomings of Devi as mother, and for failing to capture the essence of her achievements as a woman. Imperfect mothers seems to be the new trope for Bollywood and unlike the film Shakuntala Devi, Renuka Shahane's Netflix release Tribhanga – Tedhi Medhi Crazy not only talks about a flawed mother and an equally flawed daughter, but it also tries to normalize the imperfect motherhood. Though the storyline of the film seemed solid enough, the narration met a roadblock and the three complex women and their dysfunctions as mothers and daughters were not explored enough.
Nayanthara Apte, (Tanvi Azmi) is an acclaimed Marathi novelist who is not made for a domestic life. She challenged the societal conventions and went on to bring up her kids and career with great amount of support from Vimal, the house help and none from her husband. Her daughter Anuradha Apte (Kajol Devgn) is a Bollywood actress and Odissi dancer who is a single mother as well. Unlike Nayan, Anu is an overprotective mother to Masha (Mithila Palkar) but a non-conformist, like Nayan. Masha, the member of the third generation settles into a 'normal' family and wants to lead a stable and normal life unlike her Aayi (Mother) and Ajji (Grandmother).
At one point, Anu describes the three of them with Odissi dance metaphors. Nayan as Abhanga which is slightly off-centre pose, Masha as Sambhanga, a completely balanced pose and Anu herself as Tribhanga, the asymmetrical yet mesmerizing pose. Though the metaphors describes the characters in a simple manner, Shahane while portraying the imperfect characters, doesn't expect the viewer to feel for the characters and their choices, but rather hopes to show how lives of women who stray away from the 'regular' looks like.
The very sensitive subjects of domestic violence, sexual abuse, bullying and professional aspirations of a woman made the film heavy and did not allow it to delve deep into the characters and their sense of self. Shahane tries to present the imperfections of motherhood which is often not explored by the Indian cinema. While on one hand Anu blames Nayan for being an absent mother, she herself fails to recognise her own failings as a mother. A moment of truth happens to Anu when Masha describes about the bullying that she had to go through because of Anu's lifestyle. Anu realises that she was Nayan, maybe a better version of Nayan but still flawed as a mother.
The film manages to show the perspectives of both the mothers and daughters and it doesn't justify just one side nor does it say that the other is wrong or wronged. While Anu doesn't agree with the idea of marriage, she is also the one who stands by Masha's arranged marriage and Nayan chooses to stay away from that marriage. Each character has made their own choices in life but they do not force those choices on each other and this is where Tribanga speaks volumes.
Tanvi Azmi, as the unapologetic mother who also feels that she has wronged her kids somewhere along the line has given a spectacular performance. Kajol, with her loud and heightened emotions to mellow and classic deliverance of dialogues and gaalis (which seemed unnecessary at times) makes a perfect badtameez daughter and mother. Mithila Palkar's plays the traumatised but yet balanced character well though the character needed some more polishing.
The film succeeds in putting across the idea of the imperfect motherhood and it also succeeds in humanizing these mothers. It says a lot more than any other film in the near past which dealt with the same subject. What it fails is to explore is the complexities of Nayan, Anu and Masha. The viewer would definitely thank Shahane that her characters stayed as they were even when the movie ended unlike several other films where the characters were forced to reform themselves.
References