The film 'Liger' has hit the screens around the world and the scenario does not seem like 'Watt Lagao' in any way. Rather the film has 'Watt Lagao'-ed itself.
On the first day, the worldwide collection was at ₹24 crores, the Telugu version made about ₹15 crores but the most dismal was the Hindi version which made just 5 crores. Some critics have called it a cringe-fest and a waste of talents.
Here are some top controversies surrounding the movie and of course the leading man, Vijay Devarakonda
Vijay's attitude…?
An array of statements he made have put him in hot soup. It started with Vijay taking on the boycott trend where he said when people boycott the films, they are impacting the livelihood of about 2-3k families. This did not sit well with Netizens.
It became worse when he said that the industry is paying too much attention to the boycott trends and added that it is optional for the audience if they want to watch the film or not. He added that those who do not want to watch it will do so through their phones or TVs. This further angered the audience and they resorted to further boycotting.
LIGER Movie True Review Hit or FLOP ? #liger #ligermoviereview #BoycottLiger #BoycottbollywoodCompletely #ligerflop#VijayDevarakonda #AnanyaPandey
⚡👇👇👇👇 pic.twitter.com/i6rq6R0dzQ

— Review Point (@NikunjPatidar78) August 25, 2022
Arrogant @TheDeverakonda this is for you. Enjoy! pic.twitter.com/BrBntfqwol

— Kamal Rashid Khan (@kamaalrkhan) August 25, 2022
Super stardom?
Shah Rukh Khan in one of the interviews had said he was the last of the super­stars. In an interview, when Vijay was asked what he will do when he meets Shah Rukh Khan, he said "…When I saw his interview, I remember wanting to say, 'Shah Rukh, you're wrong. You're not the last. I'm coming.'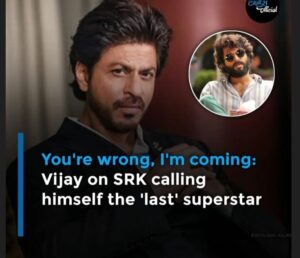 When the news came out that Liger had received an offer of ₹200 crores from OTT and satellite, Vijay tweeted that he would do more in the theatres.
But sadly, the film has done horribly and has been touted as a flop.
The LIGER review is a tight slap on the face of arrogant Vijay Deverkonda

It's a BIG FLOP😂 pic.twitter.com/bxgcRRgKxf

— Sheetal Chopra 🇮🇳 (@SheetalPronamo) August 25, 2022
Best review ever 😂😂#Liger#ligerreview#VijayDevarakonda#AnanyaPandey pic.twitter.com/6Qx4m9JKNb

— Kannan (@Anonymo69426558) August 25, 2022
Bhai liger dekhne chale kya 😭#Liger pic.twitter.com/WgQ51pgxH0

— Raga (@Raga_07) August 26, 2022
Aafat's Aafat
Netizens have called out the song that it is normalizing rape and stalking.
The lyric uses a dialogue often said by female leads in the 80s/90s while in distress pleading with the bad guy to leave them alone. The song uses "Bhagwaan ke liye muje chod do", in a comic style trying to make fun of it, however, it only makes the song harder to watch.
#Liger songs lyrics
#Aafat uses 70's rape sequence dialogue in fun way and #AkdiPakdi using child's vocals for singing F ( F..K) word..
I am the only one who found this problematic

— Neha Khullar (@Npunjabibyheart) August 18, 2022
Recently came across this song called 'aafat' from liger. Excuse me what were the composers and singer thinking while creating this.. it's disturbing.. #Liger #AAFAT

— Sneha Chandra (@sneha_chandra) August 10, 2022
This #Aafat song 😂😂😂😂🤦🤦🤦🤦 what are you even trying? @sonymusic @DharmaMovies … Bass karo yaar itne bekaar songs mat le aao 🤦🤦🤦🤦

— Nishita Mehta (@ItsNM_92) August 11, 2022
TW: sexual harassment.

Wanted to get an idea of Puri Jagannadh's "school of film-making" before watching #Liger & wow. WWWWow. Oh and the girl gets fridged 8-minutes after all this.

(BTW the scene has been edited to fit Twitter's video upload limitations) pic.twitter.com/62a0ZVZpWy

— Pramit (@pramitheus) August 20, 2022
What are your thoughts on the film?!