The Grand Old Party of Indian politics, the Congress, appears to be going through an internal crisis at the moment.
The sudden resignation of prominent politician Ghulam Nabi Azad from all party positions, including the party's primary membership, came as a significant shock to the Congress.
This occurs after Azad, the top campaign officer for the Jammu and Kashmir Congress, resigned on August 16.
One of the "G-23" leaders, Azad pressed for reforms and a change in the party's leadership.
This is not the first setback for the Congress this year, with several other party leaders choosing to quit.
Kapil Sibal
Kapil Sibal filed his Rajya Sabha nomination as an independent candidate with support from the Samajwadi Party from the state of Uttar Pradesh, ending his three-decade history with the party this year.
Luizinho Falerio
Just before the state elections in 2022, Luizinho Falerio, the former chief minister of Goa, decided to quit the party.
The veteran congressman attacked the state leadership and claimed the party had turned into a "cruel parody of what the Congress stands for" after quitting on Monday and joining the Mamata Banerjee-led Trinamool Congress on Wednesday.
Sunil Jakhar
Stating that it was not an easy decision to make, Jakhar said "From 1972 to 2022, my three generations considered Congress as their family. Stood with the party in every good and bad time. But an attempt was made to suppress my nationalist voice in the Congress. I was given a notice for speaking in the interest of Punjab and the country."
Hardik Patel
Hardik Patel, a prominent Gujarati Patidar, recently heavily criticised the party over the Hindutva issue and claimed that the Congress party is attempting to offend the sensibilities of the public. He stated that the party constantly works to damage Hinduism.
Ashwani Kumar
Ashwani Kumar, a former law minister, was angry with the party's leadership and left, stating, "I was feeling uncomfortable, helpless and ignored for the last many months and I understood that now I am not needed in the party. Therefore, I distanced myself. I was not able to do whatever I wanted to do by staying inside the party."
RPN Singh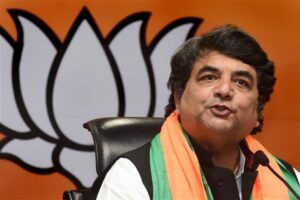 A jolt to the grand old party came when Congress leader RPN Singh switched to the BJP just weeks before the assembly elections in Uttar Pradesh. Singh claimed that the Congress was no longer the same party where he had spent 32 years working and that he now wants to support Prime Minister Modi as the country develops.
Lalitesh Tripathi, the vice president of the Congress in Uttar Pradesh and the great-grandson of former UP Chief Minister Kamlapati Tripathi, as well as Abhijit Mukherjee, the son of former President Pranab Mukherjee, and former Congress MP from Assam's Silchar Santosh Mohan Dev also made the decision to resign from the party.