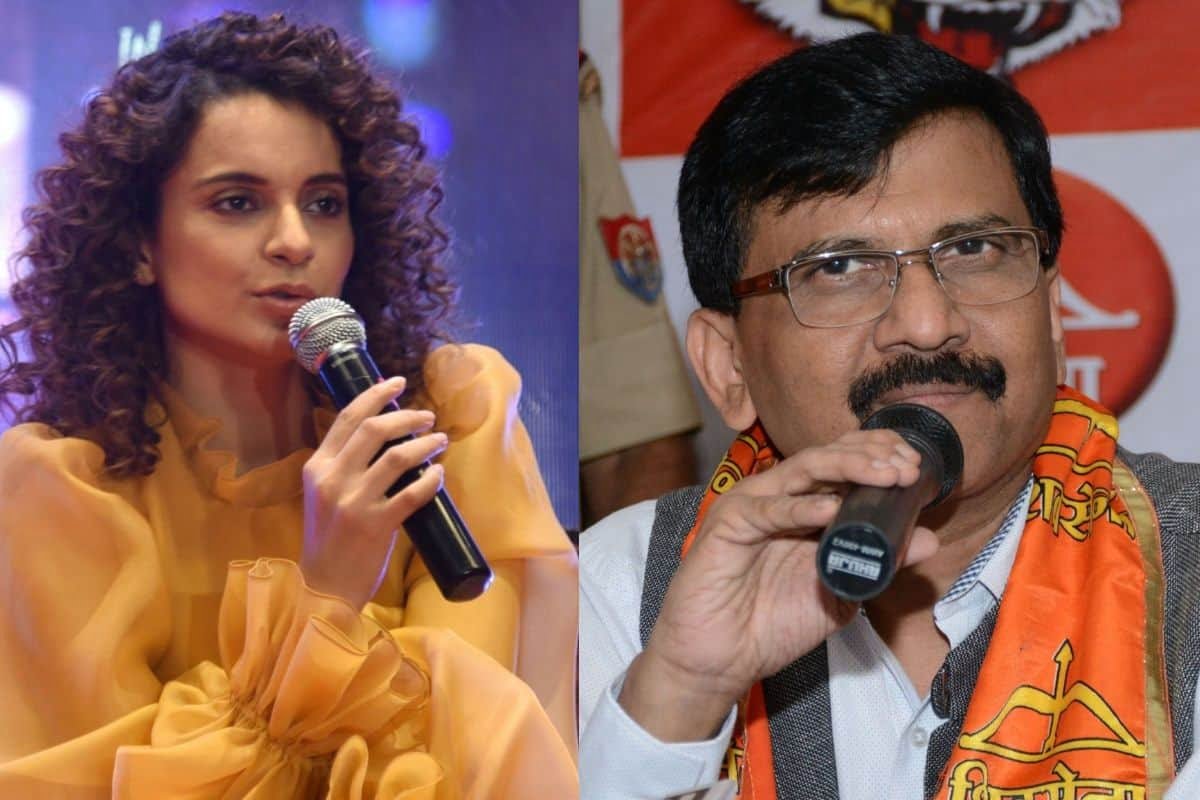 Kangana Ranaut compares Mumbai to Pakistan Occupied Kashmir
While the debate surrounding #nepotism and the death of #SushantSinghRajput continues to rage across the country, #KanaganaRanaut, the actress who has been at the forefront of the nepotism debate found herself in midst of a controversy when she tweeted the following on 3rd September : "Sanjay Raut Shiv Sena leader has given me an open threat and asked me not to come back to #Mumbai, after Aazadi graffitis in #Mumbai streets and now open threats, why Mumbai is feeling like Pakistan occupied Kashmir?"
Reaction to Kangana Ranaut's statement
The tweet was met by outrage from several celebrities and #Mumbaikars like Ritesh Deshmukh, Taapsee Pannu and Urmila Matondkar. Soon after the hashtags #AmchiMumbai and #ILoveMumbai began to trend on twitter as Netziens condemned Ranaut's statement comparing Mumbai to Pakistan Occupied Kashmir. Most notably, Anil Deshmukh, the Home Minister of Maharashtra also said that he condemned Kangana Ranaut's comparison of #Mumbai to #POK and tweeted this in response – "I strongly condemn allegations levelled by an actress on Maharashtra & Mumbai police force. Our Police forces are brave & capable in executing their duties & maintaining law & order across the state. Whoever doesn't feel safe here has no right to live here."
Senior ministers in the Chief Minister #UddhavThackeray's cabinet including Anil Deshmukh alleged that Kangana Ranaut was doing the #BJP's bidding. "The common public of Maharashtra will never forgive those who are insulting Chhatrapati #ShivajiMaharaj's Maharashtra using someone like Kangana. The people of Maharashtra know who has hatched this plot to defame Mumbai police and Maharashtra with an eye on the Bihar election. Those who were hatching conspiracies against the MVA government, are now doing the same against Marathi Manus and Maharashtra," tweeted Balasaheb Thorat, Maharashtra's revenue minister. However, the BJP has distanced itself from the controversy. In a tweet addressing Kangana's link to the ruling party, senior #BJP leader Ashish Shelar said "It is unfortunate to connect #KanganaRanaut's statement about Mumbai and Maharashtra with the BJP. BJP doesn't agree with her. #Kangana Ranaut should not try to teach anything to Maharashtra. Also, no one should try to attack #BJP through Kangana in the Sushant Singh Rajput case,".
A war of words ensue between Kangana Ranaut and Sanjay Raut
Sanjay Raut, a member of the #ShivSena also went on to call Ranaut "haramkhor ladki" in an interview. Kangana Ranaut retorted saying "In 2008 Movie Mafia declared me a Psycho, in 2016 they called me a Witch and Stalker in 2020 Maharashtra Minister publicity gave me the title of Haramkhor Ladki, because I said after a murder I feel unsafe in Mumbai, where are INTOLERANCE debate warriors?"
Kangana Ranaut announces that she will be travelling to Mumbai with Y plus security
However, on 4th Septembrer (Friday), #KanganaRanaut in a series of tweets claimed that many people were threatening her to not come back to Mumbai. "I see many people are threatening me to not come back to #Mumbai so I have now decided to travel to #Mumbai this coming week on 9th September, I will post the time when I land at the Mumbai airport, kisi ke baap mein himmat hai toh rok le", she tweeted. She also said that she would be arriving in Mumbai with Y plus security given by the Centre.
BMC's demolition drive at Kangana's Mumbai office
Amid this controversy, the BMC paid a visit to Kangana's production house – Manikarnika Films office in Bandra. They issued her a notice for illegal construction and on Wednesday, BMC carried out a demolition of what they claimed were illegal structures. However, later on the Bombay High Court ordered a stay on BMC's move. In her tweets, Kangana compared her office space to the #RamMandir in #Ayodhya and said, "The first film in Manikarnika films, Ayodhya was announced, it is not a building for me but #Ram temple itself, today Babur has come there, today history will repeat itself Ram temple will be broken again but remember Babur this temple will be built again, this temple will be built again, Jai Shri Ram, Jai Shri Ram, Jai Shri Ram." She also tweeted "There is no illegal construction in my house, also government has banned any demolitions in #Covid till September 30, Bullywood watch now this is what Fascism looks like."
Kangana Ranaut also posted a series of videos on Twitter, to show the damage done by BMC's demolition at her Bandra property. She took to Twitter to share a clip that directly addressed Maharashtra Chief Minister Uddhav Thackeray. She said, "My home was demolished today, your ego will be destroyed tomorrow. This is the wheel of time, remember, it never stays the same. You have done a favour to me. I knew what Kashmiri Pandits had gone through but today I felt it too. I vow to this country that I will make a film not only on Ayodhya but also Kashmir."
Kangana Ranaut arrives in Mumbai with Y plus security
On 9th of September, #KanganaRanaut arrived at Chhatrapati Shivaji Maharaj International Airport accompanied by Y plus security and her manager and sister Rangoli Chandel. Both Shiv Sena workers and #KanganaRanaut's supporters gathered at the airport to protest, the former against and the latter for. #Social distancing norms were not followed, and police enforced security surrounded the airport trying to keep the crowd under control.
A day after Kangana Ranaut's arrival, the Shiv Sena in an editorial criticised the centre's decision to provide Kangana Ranaut with Y plus security. They also alledged that there was conspiracy "to separate Mumbai from Maharashtra." On the same day, Kangana Ranaut criticised the Chief Minister Uddhav Thackeray for misusing his power. She said "The ideology on which Shri Bala Saheb Thackeray built Shiv Sena, today they have sold the ideology for power, becoming Sonia Sena from Shiv Sena. The goons who broke my house behind my back, do not call them a civic body. Don't insult the constitution."
Meanwhile the Bombay high court has adjourned the hearing of the case till September 22nd.
– Nikhitha Raaj
– Bengaluru