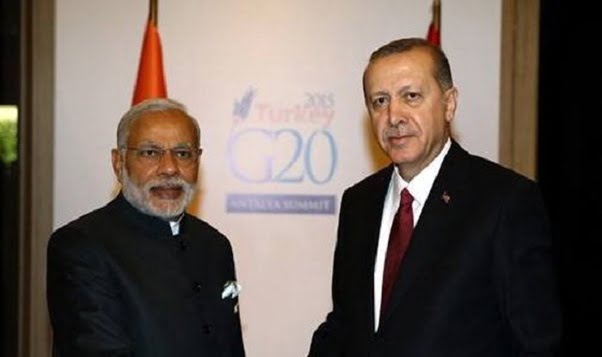 Recently, Amir Khan made news for meeting the #first #lady of #Turkey while in the country for a film shoot. This move was termed as "#anti–#national" considering the existing tensions between the two countries in the recent past with Turkey openly supporting Pakistan and passing comments about the Kashmir situation. But before the relationship started to go south, #India and #Turkey shared a good relationship in the past, since the Nehru regime.
Read ahead to find out more about the changing equation between the two countries and understand what factors contributed to these changes.
The common factor which makes the countries 'natural allies' is their developing economy and secular status. Their diplomatic relationship was established as early as 1948, almost immediately after India got freedom. But the relationship failed to turn into a close partnership mainly because of two reasons.
– Turkey's #pro-Pakistan stand on #Kashmir #issue
– Differing #cold #war strategic orientations
The first Prime Minister of India, Jawaharlal Nehru admired Turkey for its secular nature which was a rare occurrence for an Islamic nation at the time. He was also impressed by the founder of modern Turkey, Mustafa Kemal Pasha's political philosophy. What started as a cordial relationship, was disrupted slightly during the aftermath of cold war as Turkey chose to support USA and as a member of the Non-aligned Movement (NAM), India chose to stay away from the whole situation, but remained close to USSR. The relationship was almost ruined in the 1960s and 70s as Turkey chose to support Pakistan in the 1965&71 Indo-Pak wars. It has been alleged that they also supplied weapons of American origin to Pakistan during the wars. Turkey also attacked #Cyprus, a NAM country which led the next PM Indira Gandhi to join a campaign against Turkey in the matter.
After the cold war ended, during 1980s and 90s, it looked like the relationship was gaining pace again. In 1980s, Pakistan was sending terrorists to Kashmir Valley and promoted jihad, but during these times, India found Turkey as an ally in the Islamic world. Turkey's new PM Turgut Ozal, with his Pro-West and liberal ideologies decided to repair the relationship with India. He also visited the country in 1986 and during the visit decided to open #Defense–#attache offices in the two nations' capitals. Former PM Rajiv Gandhi also visited the country in 1988.
The Turkish PM Bulent Ecevit who visited in India in 2000, the first Turkish leader to visit in 15 years is deemed as a Pro-India leader. Ecevit highly admired India and it is said that he translated Rabindranath Tagore's Gitanjali to his language when he was just 19 years old. He openly disapproved Pervez Musharraf becoming the military leader of Pakistan and had also declined an invitation to visit the country during his trip to India. He said that Musharraf trampled upon democracy. By this time #Ankara (capital of Turkey) had also brought in some changes with regard to its stand on Kashmir and advocated UN supervision to resolve the conflict. This led to the #de–#hyphenation of Indo-Turkey relations from Pakistan.
This relationship was further strengthened when PM Atal Bihari Vajpayee visited Turkey in September 2003. He spoke about a lot of things including the promotion of a more open and non-discriminatory global trade regime and the collaboration for the development of Central Asian energy resources in his keynote address to the Ministry of Foreign Affairs. The two countries also took a pledge to establish a Joint Working Group on Terrorism.
In 2002, Recep Tayyip Erdogan became the Prime Minister (who is also the current President) and massive political changes were brought about in Turkey. In 2008, he visited Indian and endorsed the Turkey-India #Free #Trade #Agreement and in 2009 their first nano satellite, #ITUpSAT1 was launched into space on a #PSLV C-14 rocket by ISRO. In 2010, then President of Turkey, Abdullah Gul joined hands with India for cooperation in space research and biotechnology and since then the partnership between the two nations has sizzled. In 2018, the bilateral trade volume was a whooping $8.7 billion which was a massive hike from the $505 million value in 2000. We are now Turkey's second largest trade partner in east Asia (after China).
Despite such excellent relations in the past, what went wrong for the two nations in the recent times? One of the main reasons is the influence of US and changing relations of Arab countries with Israel. Turkey wanted India to pick sides but given its #NAM position, India decided to improve its relations with Saudi Arabia as well as Israel. Another reason is India's refusal to share nuclear technology with Turkey, which led Erdogan to take up anti-India stance again. He pushed the cause aggressively during his visits to the country in 2017&18, but India has been very conservative about the matter as opposed to Pakistan who is ready to share its nuclear technology with other countries for political, economic and religious causes.
An unhappy Erdogan returned home and decided to strengthen his ties with Pakistan while limiting cooperation to India. Powered with the rise in hardcore Islamist streaks in their politics, he now picked up the issues of Kashmir and the state of Muslims in India to speak against the country while shifting the support to Pakistan. Erdogan also has an issue with the trade relations between the two countries as he believes that India is at the higher end of receiving benefits than Turkey, he has been urging to improve these relations. Especially in the last year, Turkey's policies towards Pakistan and Erdogan's unfavorable statements about Kashmir has led the relationship further downhill. It has worsened to such an extent that PM Modi's visit to Turkey was cancelled recently.
With #border #tensions increasing between India and China and India and Pakistan, Turkey has to carefully make its moves if they want to maintain their relationship with all the 3 countries. While their strategic relations with Pakistan is important for them, their trade relations with both India and China is also of prominence.
– Jahnavi TR
– Bengaluru
References – https://www.mei.edu/publications/turkey-and-india-natural-allies
https://www.indiatoday.in/news-analysis/story/aamir-khan-emine-erdogan-meet-india-turkey-relations-1712832-2020-08-19