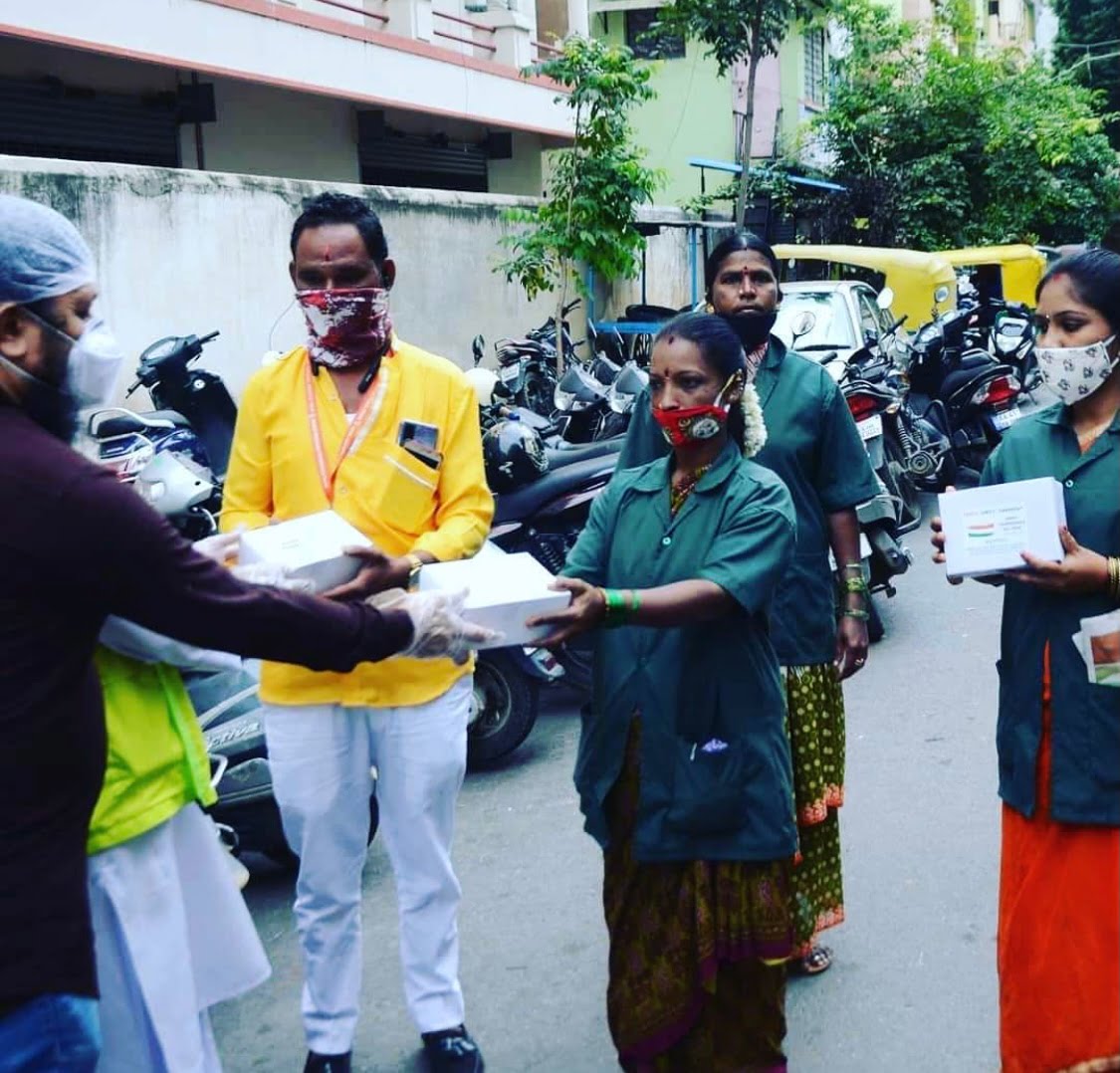 The second wave of Covid-19 continues to claim lives of loved ones in India, placing unfathomable pressure on healthcare professionals and infrastructure in the country. While the healthcare system is crumbling, there is still little hope since some organizations like Mercy Mission are doing all they can to minimize the general public's struggles in this crisis.
Mercy Mission is a coalition of more than 20 non-profits organizations working together to tackle the medical emergency in the state.
It was launched in March 2020 and since the last year, the organization has been dedicated to assisting people in obtaining hospital beds and oxygen cylinders across Karnataka.
Recently, Mercy Mission has also been sending Covid care starter kits to North Karnataka that includes Davanagere, Hubli, Dharwad, Gadag, Belgaum, Ballari, Raichur, Bidar, Gulbarga, and Bijapur.
While explaining it to NewsHamster Mr. Ali Shariff, Director of the Mission's operations said that "We have sent a total of 97 concentrators and 85 cylinders along with oximeters and other Covid care kits this month."
The Covid care starter kits include oxygen cylinders, concentrators, pulse oximeters, PPE suits, masks, gloves, and face shields.
Not only just that since last year volunteers of the organization Mercy Angels (08047191134), have stepped in to give Covid-19 victims a respectful send-off. These volunteers are working relentlessly to perform the last rites of those killed by the deadly disease.
While expressing the horrors of the pandemic, Mr. Shariff further explains "In April, due to a spike in deaths in the city, we had to scale up Mercy Angels activities."
Last month the volunteers were instrumental in facilitating dignified burials for 250 Covid-19 victims whose families were unable to perform the final rites. They perform the final rites regardless of the deceased's caste or group, and they never allow religious boundaries to get in the way of their duties.
While also an 18-member volunteer crew oversees the six oxygen centres. Their Mercy Oxygen initiative (08047191133) has been providing and helping a lot of patients seeking Oxygen. "We now run six Mercy Oxygen centres in Bengaluru. A massive rise in demand has transpired since April 14th, with 9,654 requests and a total of 837 cylinders delivered in April," adds Mr. Shariff.
These oxygen centres are located in Basavanagudi, Bhoopsandra, Frazer Town, MG Palya, Mysuru Road, and Koramangala.
Mercy Mission has a fleet of seven ambulances, all of which are fitted with oxygen to assist and help patients suffering from Covid-19. Their ambulance services (7676881882) have saved the lives of a lot of patients battling this dreadful disease."In April, 127 trips were completed, and two ambulances are presently being outfitted to provide inter-city ICU transports," said Mr. Shariff.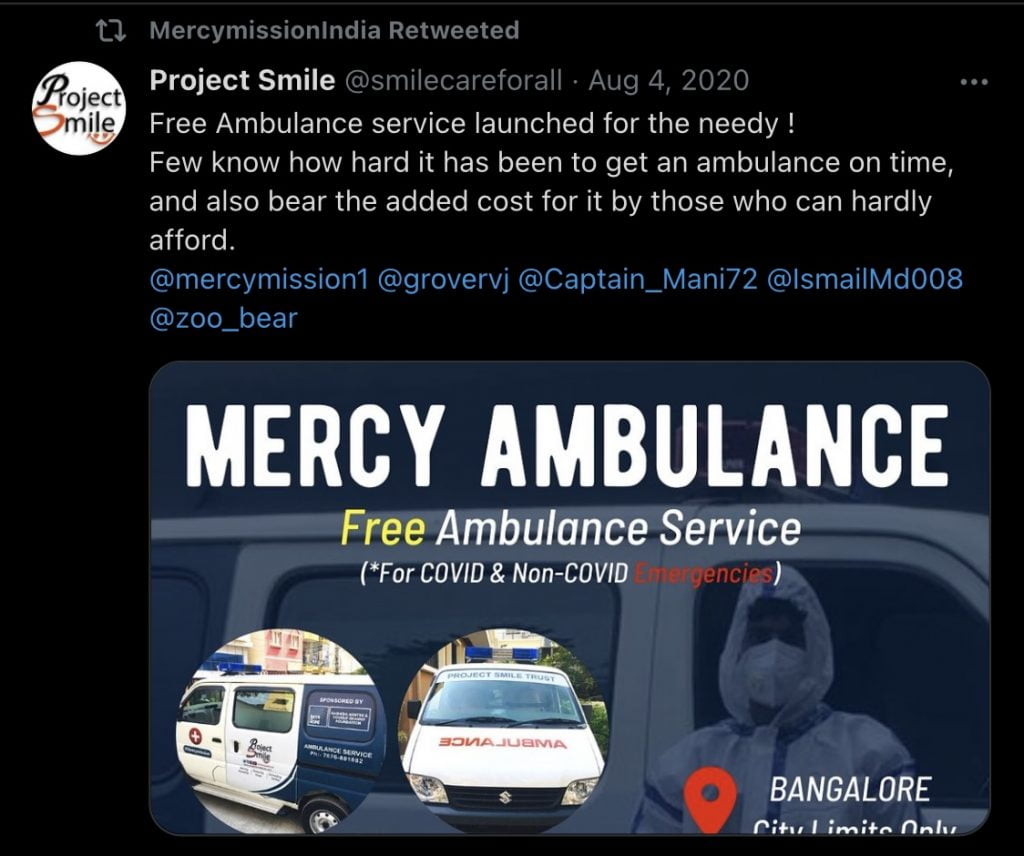 They have also launched a centralized public helpline to reach out to patients in need of an ambulance, oxygen, plasma, and other medical assistance. Their helpline number (08047185566) links individuals to Mercy Mission's Emergency Response Teams. The helpline is run by a group of 50 volunteers and 20 staff members. "In April, we received 51,943 calls and were able to answer and help 8,177 of them," explained Mr. Shariff.
To help the general public they have also launched a free Mercy Clinic Mobile App to offer medical advice, information, and guidance to individuals. Eleven doctors have signed up to provide online video consultations. In April, 108 free consultations have been done benefitting 64 patients.
Furthermore, Mr. Shariff expresses that "The greater problem now is figuring out how to enhance our healthcare facilities. More and more hospitals should be established. We should also come up with ways to help the impoverished in the future. Many people have lost their families as a result of the disease. A support structure for them should be established by society. A large number of people should join NGO's and other non-profit organizations. Individuals cannot fix the problems; nevertheless, as a community, we can do much more."
"We must work together to accomplish this and all segments of society should work together to make our country a more generous place to live in. Now is the moment to give back and help the less fortunate," said Mr. Shariff
Image Source:
Mercy Mission
Twitter