On Saturday, 6 persons were arrested in the Bareilly district of Uttar Pradesh for throwing dirty water and pelting stones on Kanwariyas, who belong to the Hindu community.
Kanwariyas are devotees of Lord Shiva, who take water from the Ganga and are mandated to travel barefooted and in saffron robes with their Kanwar.
A batch of Kanwariyas was on their way to collect water from Kachla Ganga Ghat. The dispute happened in the Cantonment area of Bareilly, allegedly because the Kanwar pilgrims were playing DJ music. On the other hand, Kanwariyas complained that people, mostly from the Muslim community, threw stones at them along with dirty water.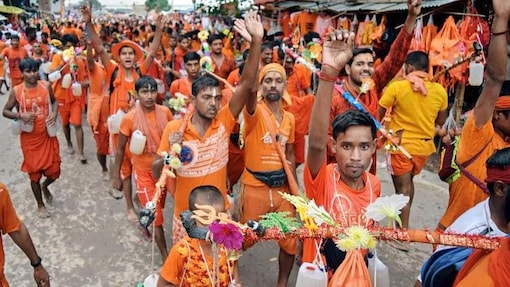 Credits: News 18
---
Angered by the incidents, the Hindu community protested on the streets demanding strict action. The top police officers reached on the spot after hearing this information.
Superintendent of Police, Ravindra Kumar said that, "In this regard, six persons have been detained". Additional District Magistrate (Administration) VK Singh said that the Kanwar pilgrims have been provided security, and action will be initiated against those who tried to stop them.
6 main accused have been arrested, and a case has been registered on 20-25 unidentified people which also includes women. However, the police have pacified the situation, as the six main accused were sent to jail.
The police are also trying to ease tensions created due to a footage of the incident, by sending personal informers to verify the footage. The video was repeatedly shown on the news channel India TV, which tried to raise controversial questions.
Link for watching the video
https://www.reddit.com/r/IndiaSpeaks/comments/wdcim8/in_bareilly_people_of_muslim_community_pelted/
The incident adds to a series of communal clashes and events that question India's secularism and tolerance on the eve of our country's 75th year of independence.
References: News 18, Reddit, The India Print
Featured Image Source: Jagran English