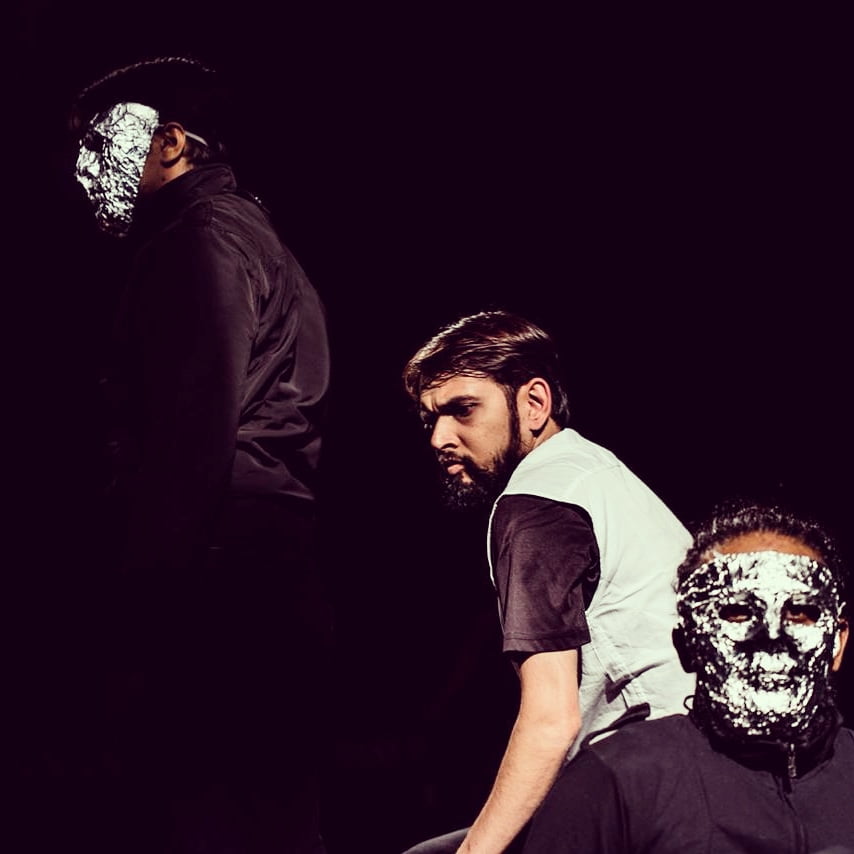 Picture Credit – Ravi ramakanth
"We are moving in the right direction but we need to stay focused."
As India opens up, many industries are trying to rejuvenate and reform their approaches. Theatre has a long and rich history in India. While many claim the rise in OTT platforms and other entertainment providing platforms to be a challenge to theatres, there remains a huge mass supporting the tradition.
We talked to Vinay Dhruvkumar regarding the state of theatre in the country, impact of the pandemic, and why he thinks it is not necessary for an actor to always be political? Mr. Dhruvkumar is a professional theatre actor, singer, and a voice-over artist. Besides working with Spandana and Wemove theatre groups, the 'Magadi Days' actor also conducts workshops for the youngsters.
We, in India, have a rich culture of theatre. However, there have been several challenges at every juncture. Before 2020, how was theatre coping with those challenges?
Theatre has always been challenging, notwithstanding the timeline of the pandemic. Whenever a director takes up a new play, there is always an apprehension whether the audience will like it or not. It is challenging for the writers and directors, as they need to reinvent their techniques. There is also a need on the financial ground to support theatre. When given a budget, those involved are supposed to diligently use that sum of money, especially in performing arts. 
On the 24th of March 2020, we went under lockdown due to the outburst of the COVID 19 virus. As an artist, what was your first reaction to it, and how did it affect the theatre business at first?
We had never thought that we would see a day like that in our life. It was difficult to be locked down in a place. It was suffocating.
Alike, every industry, no one in theatres anticipated the magnanimity. There were many things we had to do. However, there was no choice but to stop. The dreams got postponed, and all the hard work came to a halt. Going back to the same dream is also an effort because it cannot happen in a blink of an eye. All the plans became stagnant.
Would you call that period the most challenging one in your professional career?
Yes, indeed. This period is perhaps the most challenging period for our generations, but there have been veterans in the business who have seen an equivalent of this; the World wars, the plague outburst, etc.
As India started opening up in phases, theatres had to wait for the longest. How was that period like?
Finally, as theatre were set free by the government, I saw a positive response from the audience. Whatever we do, is for the audience. The response from them is a victory for us. We were apprehensive about the audience coming back to watch in the theatre. We were unsure of even 50% of occupancy on their part. Luckily the response was heartening, people stormed to watch the plays, and the shows went housefull. 
A mammoth production like 'Parva' had an audience of 800 people. We had two shows, and both were housefull. The show, unlike any movie, is not for an hour or two but went on for 8 hours. Our apprehension about the audience coming back to the theatre was wrong when we saw that even the people were looking forward to it.
A major chunk of our audience consists of youngsters. Many of them do not have a language barrier. It is not about language for them, but the experience of theatre.
Are you aware of the political and social consequences of your work as a theatre artist?
Theatre is an art, and we need to see it as an art. Sometimes we might become liberal, and sometimes not, it all depends on the demand of the script. The script being politically driven or not is a secondary aspect. A play is a form of expression, and through it, we express our feelings. It should be consumed as it is. There is no need to make the content you are writing political all the time. 
What things would you want to change in the theatre industry?
Theatre has evolved, and it always will. We have to adapt to the changes and move on, rather than using the same tried and tested formulae. At the same time, adaptability should not be confused with letting go off the theatre genres of the past. For example, we have a rich history of theatre songs, but unfortunately, not many seem interested in doing it. People are not aware of many of the yesteryears' theatre songs.
We as a theatre community need to unite. We don't know what will hit us again. Although it is challenging, thats the only way to preserve theatre.