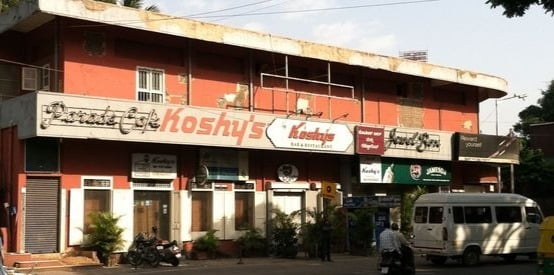 Bangalore conveys its true cosmopolitan nature through its food. The city loves its food as much as it loves start-ups, gardens, and traffic. From piping hot filter coffee savored with Masale Dose to an English breakfast with tea; extravagant lunch buffets to regional spreads on a banana leaf; quite international cuisine dinners to pubs with beer fountains and fast food – Bangalore has it all. The pandemic has managed to hit us where it hurts the most and has begun to take away our favorite bars and restaurants one by one.
These places were not just home to delicious food and beverages. They narrated stories of love, friendship, sorrow, and much more. They were books through which the experience of being a Bangalorean could be understood and experienced. With a series of lockdowns and the fall in social gatherings affecting business – pubs, bars, restaurants, and cafes in Bangalore have been affected the most. Here is a list of few places that we loved that have been shut down temporarily or permanently due to the pandemic.
House of Commons and 1331 Bar is loved by every Bangalore student. The 2 bars decided to temporarily remain shut until the curve is flattened and it is safe for their customers and staff. House of Commons shut down all their locations in HSR, JP Nagar, and Koramangala. The party life at hotels and nightclubs has suffered from a complete ban on them since the initial lockdown. Nightlife for Bangaloreans who loved partying still remains a question mark.
However, many pubs in Bangalore use a loophole in the orders passed by the government to remain open and function. The government had asked places with a CL-4 license to shut down. However, places that sell alcohol with a CL-7 (hotels and boarding houses) and CL-9 (bars, restaurants) licenses which form the bulk of the establishments in Bangalore remain open. Microbreweries were given permission to sell their brews for consumption outside their premise, there is an air of ambiguity about their functioning – with each following a different rule.
Every North Bangalorean's go-to breakfast place – Veena stores in Malleshwaram recently pulled their shutters down sending a wave of sadness amongst people. What started as a condiment store in 1977 and morphed into a legendary eatery, serving consistently good South-Indian fare, unfortunately, closed indefinitely due to the pandemic. Owner Pradeep Suryanarayana stated to The Hindu, "We closed operations early this month. Health concerns trumped business. It was a very hard decision, but we had no other choice."
An equally famous breakfast place in the Central district of Bangalore – Koshys, which has been serving hungry customers since 1952 shut its operations down in July for the first time in decades due to the pandemic.
Darshinis which formed the heart of Bangalore suffers due to lack of customers and staff who are unable to return from their hometowns. MTR and Vidyarthi Bhavan which functioned for a few days after the curfew ended have started taking a toll. MTR has reported shut down two of its branches and Vidyarthi Bhavan has decided to close its dine-in service due to lack of customers.
Many restaurants are shutting down due to a lack of customers. Forage and Phobiden Fruit in Indranagar, 13th Floor, Ebony, and ASEAN on MG road and La Casa in Jayanagar and Anna Kuteera in multiple locations are few amongst the many restaurants that have chosen to remain shut till the situation betters in the city.
Chat centers, Pani Puri stalls, Chinese food stalls, and roadside fast food stalls have started to disappear as laborers who run these establishments migrate to their home town or start new businesses that will bring in money.
Many cafes shut down due to the high maintenance costs and lack of footfall for months. Atta Galatta in Koramangala, which was one of its kind library café and The Bangalore Café in Shantinagar which is known to be an exquisite vegetarian place shut down temporarily to ensure the safety of their staff and patrons and also cut down on maintenance costs.
With cases increasing exponentially every day and the curve bulging, Bangalore is fighting tooth and nail with the pandemic to get back on its feet again and walk towards normalcy. With every Bangalorean praying to see their city back in full steam and glory, only time will decide the fate of the city's bars, restaurants, breweries, cafes and foodies.
Picture credits – wikipedia.com