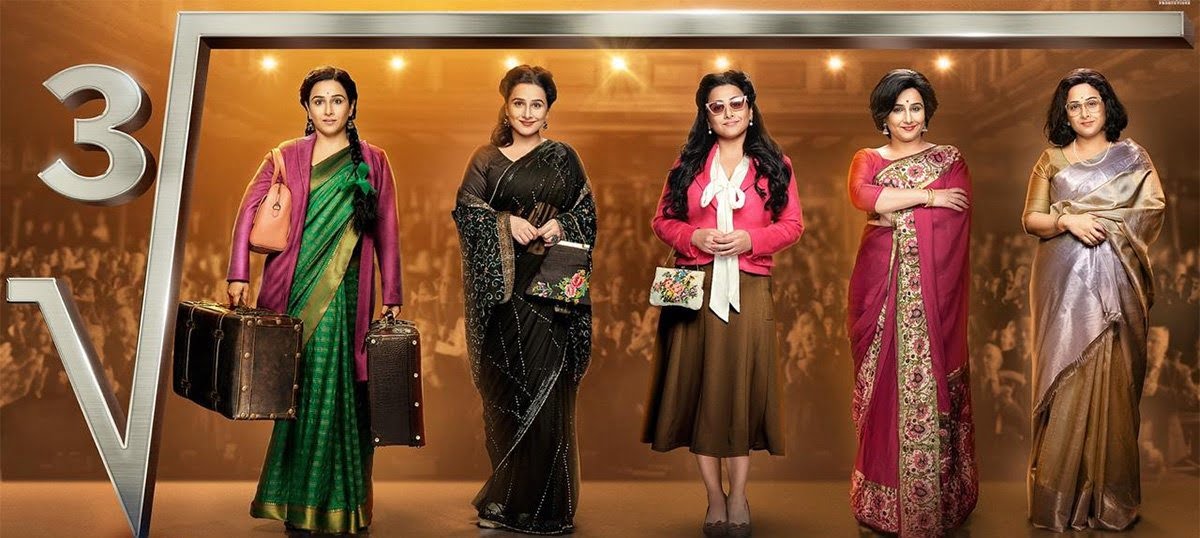 Shakuntala Devi was a woman of many and unexpected talents – born in a small village in Karnataka she was a mathematical genius (often called the human computer), an astrologist, a politician and a woman who kept her feet firmly rooted to her values and convictions – refusing to bow before a society that favors a docile, tired archetype of a woman, clad in a saree ready to submit to domesticity. The film shows Shakuntala Devi, a sari-clad, woman , fierce, feisty and unafraid to live life on her own terms. Someone who did the math (no pun intended) to figure out the terms by which she wanted to live her life.
You get the first taste of the fun the film has to offer when Shakuntala finds out that her lover is going to be married to someone else and she picks up a revolver and shoots at him. When she tells this story in London, miles away, surrounded by men who are engaging with her in conversation for the first time, she masks it in a matter-of-fact tone that gives way to instant laughter. Vidya Balan nails the scene with a comedic incisiveness that stays long after the sixty seconds of the scene.
What follows after carries the feminist punch well enough but the movie also manages to portray the story of a woman much celebrated in her time but ultimately fallible- this proves to be the movie's greatest asset. We not only see a woman racing against the numbers in her mind but also racing against the expectations of both fame, pressure, her own ambition as well as her own private life. The conflict between being a woman as defined by society – a wife and a mother and setting up her own definition of motherhood.
Vidhya Balan carries the film on her shoulders. She seamlessly transitions between the the wide-eyed girl who came to London after ditching her paramour in India, and the more polished, learned and experienced Shakuntala Devi in the prime of her career to being in love and starting her family, all while wearing her character like a second skin, unwilling to slip up even when the character calls for complexity and a myriad of emotions on her part.
Sanaya Malhotra (Devi's daughter Anu in the film) does her part well – a daughter who is at odds with her mother's fame and her celebrity lifestyle that she has unwittingly been dragged into. The latter half of the film deals with this mother and daughter conflict that seems to overlap into every aspect of Shakuntala Devi's and Anu's life.
The rest of the cast is pleasant, Paritosh Banerji being played by Jhissu Sengupta and Ajay Abhaya Kumar played by Amit Sadh compliment the film and its overall tone well.
The film overall is charming with a multifaceted Devi and the woman she was. The film also manages to portray the intersection of race and gender in which Devi found herself in and one that she had to constantly work against in 1950's London.
If a little on the nose, the film is enjoyable and is ultimately designed for a lazy Saturday afternoon. It's bound to leave you with a little more insight into this mathematical genius, her private life, her struggle with fame and her complicated personal relationships with her family.
Most of all Vidhya Balan's stellar performance in this film is bound to leave you a enchanted at the end of the two hours. I'd suggest you watch this film on a Saturday afternoon with plenty of time to mull over the film as it is bound to stay with you even after the movie ends.