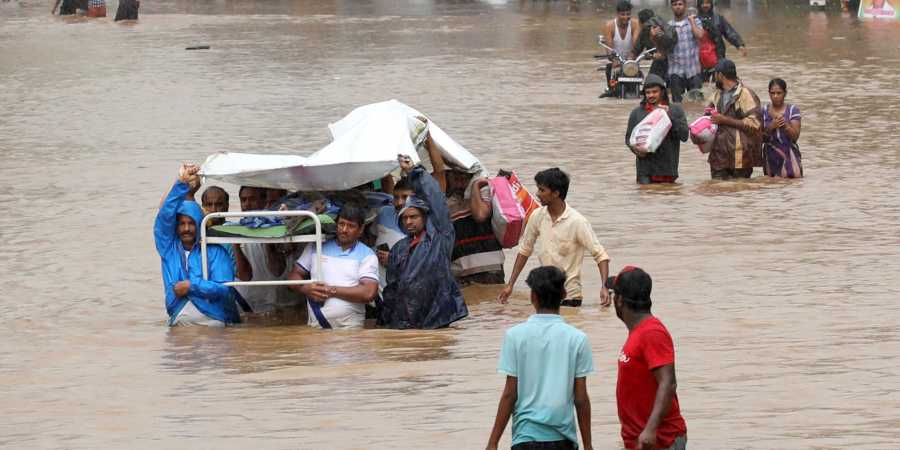 Sometimes all it takes is a heart that is willing to go extents to serve the people without expectations, unlike many politicians out there who show up to the needy only during their rallies. Meet Fr. Jijo Kurian, the priest whose heart recognized the plight of the people devastated by Kerala's 2018 havoc, the floods.
The Kerala Floods 2018
India was reliving the day it freed itself from the barbaric Britishers, and as the day progressed Kerala saw itself succumbing to heavy showers. It was on August 16, 2018, that Kerala witnessed the worst flood ever since 1924, almost a century ago. 
The flood left no city untouched. About one million people were evacuated from red zones including Chengannur, Kozhencherry, Ayiroor, Ranni, Pandalam, Kuttanad, Malappuram, Aluva, Chalakudy, Thrissur, and other 7- 8 districts. All five overflow gates of the Idukki Dam were opened at the same time, and for the first time in 26 years, 5 gates of the Malampuzha dam of Palakkad were opened. According to the Kerala Government, this calamity was declared as Level 3 Calamity, or "calamity of a severe nature. One-sixth of Kerala's population had been directly impacted by the floods. 




Fr. Kurian is a priest living in Kerala's Idukki district. Being a Keralite by heart, facing the wrath of nature was extremely disheartening for him.  What affected him more was how a flood impacted the lives of thousands, leaving them without a roof, longing for a place to call home. And of course, while the economically secured strata paved their way through this turmoil, this incident cost the poor an arm and a leg. 
While promises and elections come and go, the poor suffered by the hour and struggled to make ends meet in the absence of a secured place. In such a crucial moment, Fr. Kurian and his friends reached out to these vulnerable people out of sheer humanity and a desire to offer a decent quality of life. The determined Fr. Kurian and team set out to build small, low-cost, yet beautiful cabin houses that accommodated small families.
The cabins that were constructed were typically around 300 square feet, with about two bedrooms, a kitchen, and a bathroom, depending on the size of the family. The cost ranged from 1.5 Lakh to 4 Lakh depending on the size. Kurian says these cabins were specially constructed for those who cannot claim shelter under government schemes. 
At first, Kurian started building these cabins in the Idukki district, but as time passed and his sheer act came into the public eye, Kurian received the support of like-minded people who fueled his project.

"Many people have approached me, offering to financially help build the house. So, we connect the sponsor directly to the beneficiary. We haven't done any fundraising programs yet…  To do this, there are masons and local workers, and five teams of social workers to oversee the construction. Together they build around 5-7 houses a month"
According to Fr Jijo, they have not faced any major challenges in the mission as many kind-hearted people have helped them. However, an unexpected hike in the price of the materials and unplanned expenses are some of the small challenges that they sometimes encounter along the way.
"This mission moves ahead with some liabilities. Such construction projects can be done only as a social service because this is not a business pattern as nobody can get profit from this," said Fr Jijo, adding, "The sponsor usually gives a fixed amount. However, unexpected expenses will get us into financial trouble. But some friends and strangers offer to help us."
Source:  The News Minute.