The image of Tipu Sultan, the Tiger of Mysore in the eighteenth century, has long captivated India. Some people portray the Sultan as a nationalist hero who modernised Mysore's economy and society. Many also identify Tipu's name with a past marred by tyranny and persecution. What's especially fascinating is how his image has been used in modern politics to split the vote bank down the middle. 
Tipu Sultan was born on November 20, 1750, as Sultan Fateh Ali Sahab Tipu to Fatima Fakhr-un-Nisa and Hyder Ali, the Sultan of Mysore, at Devanahalli, present-day Bangalore. In 1782, Tipu Sultan succeeded his father to the throne. 
Many technological and administrative advances were made during his rule. The introduction of new coin denominations and coin varieties was one of them. A lunisolar calendar was also introduced by him. Tipu financially aided several temples and was instrumental in the repair of the Sringeri Sharada Mutt, which had been vandalised by the Marathas. He established a land revenue system, which boosted the silk industry in Mysore and helped to establish Mysore as a great economic force. He had a deep fondness for horticulture and gardening. His father and him are credited with developing Bengaluru's 40-acre Lalbagh Botanical Garden. He also created other architectural landmarks, including the Daria Daulat Bagh Jama Masjid and Gumbaz in Srirangapatna.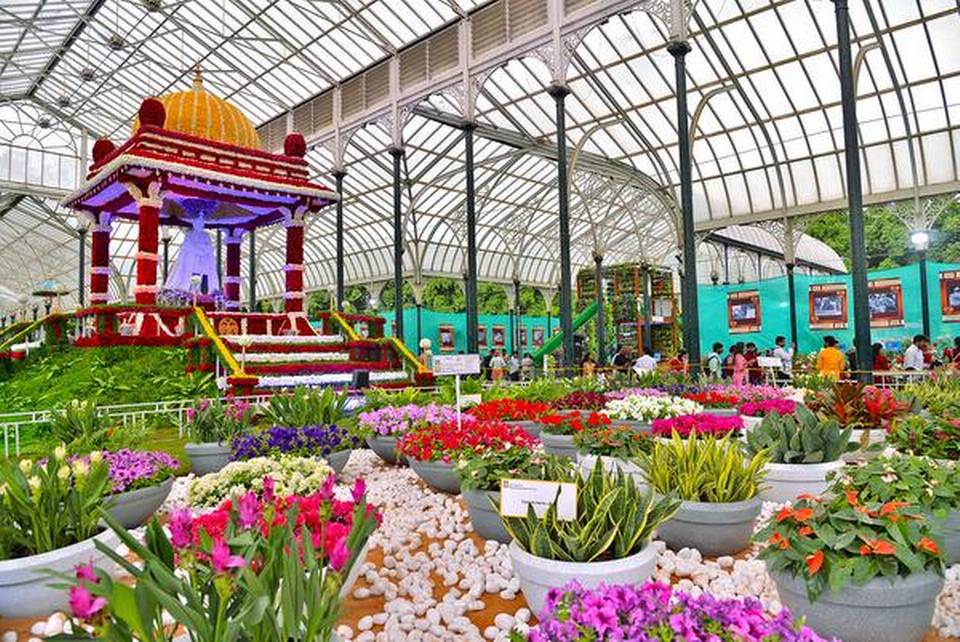 He was a ferocious fighter against the British, as well as a diplomat and strategist who solicited the help of the French and even American revolutionaries to put the East India Company out of business. Tipu Sultan is also credited with being the first to utilise rocket artillery. He employed Mysore rockets, which were far more advanced than those used by the British. The British were able to defeat him only after three decades and four wars known as the Anglo-Mysore wars. In the Fourth Anglo-Mysore War (1798-1799), he was defeated when the British East India Company, the Marathas, and the Nizam of Hyderabad joined forces. 
Despite the passage of two centuries and two decades since his death in 1799, opinions on the Tiger of Mysore's legacy continue to be highly divided. The 18th-century maharaja has remained a contentious figure, especially in Karnataka, with controversies in his name refusing to die down. "In India, Tipu's image is ambiguous. For some he is the first Indian nationalist; for others, particularly more recently, he is a Muslim persecutor of Hindus," writes historian Kate Brittlebank. While some laud Tipu's 'secular' ideas and contributions as a 'freedom fighter,' opponents frequently highlight his alleged forced conversions and exploits in the Madikeri – Malabar region, among other matters. Tipu was also accused of being "anti-Kannada" by several Kannada organisations since he conducted his administration in Persian. 
In 2015, the Siddaramaiah-led Congress administration extended its consent to Tipu Sultan's birth anniversary celebrations, reigniting controversy. Since then, the incident has become a point of disagreement between the administration of Karnataka and the opposition Bharatiya Janata Party. While Karnataka has officially commemorated 'Hazrat Tipu Sultan Jayanti' on November 10 since then, huge protests and intense arguments led by leaders of the Congress and BJP have become a recurrent occurrence in the state's politics. When the Congress government prepared for the official festivities to be conducted in various regions of the state in 2015, violent demonstrations erupted across the state. The BJP, Vishwa Hindu Parishad (VHP), RSS, and Bajrang Dal held protests across Karnataka, resulting in clashes between supporters of both parties. The clash in Kodagu claimed the lives of at least two persons, including a VHP leader.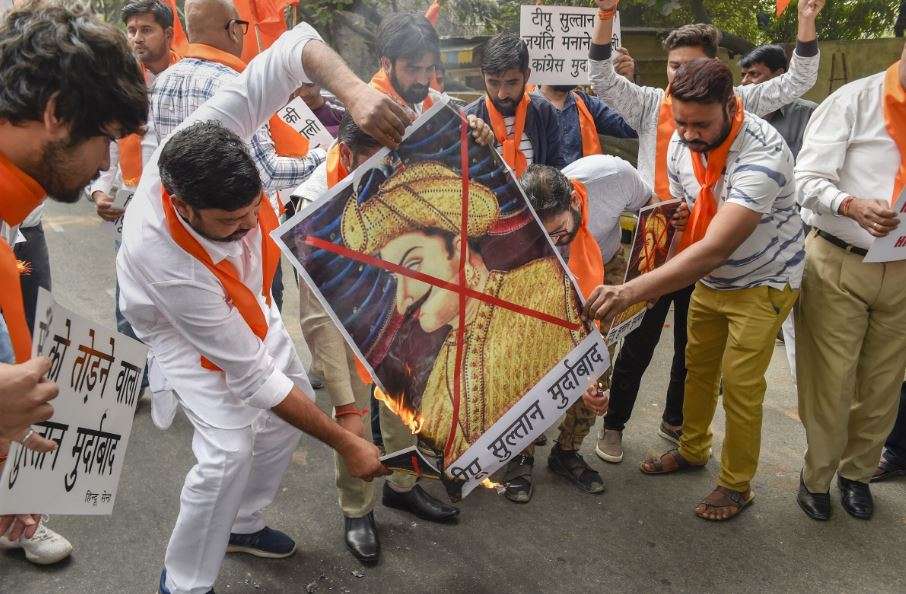 In 2019, Siddaramaiah slammed then-BJP Chief Minister B.S. Yediyurappa for refusing to commemorate Tipu Jayanti in the state, saying, "Chief Minister Yediyurappa has a hatred for Muslims. I don't know why he hates that religion. I have started Tipu Jayanti as I started Kanakadasa Jayanthi and Kempegowda Jayanthi. Tipu was a king like other kings and he fought four battles against the British. Why Yediyurappa hates only one community, it shows their communalism." 
According to V Nagaraj, a senior RSS pracharak, "Tipu was a ruler of Mysore but he was also the most intolerant king recorded by history. You can go through recorded history, his statements, and what was written on his sword. On his sword, it was clearly mentioned that it was meant to kill the kafirs (infidel)."  Union Minister Ananthkumar Hegde of the BJP called Tipu Sultan a "brutal killer, wretched fanatic, and mass rapist." 
President Ram Nath Kovind's presentation to the Karnataka legislative assembly the following year, days before Tipu Jayanti, became a matter of discussion as he hailed the 18th-century Mysore emperor. "Tipu Sultan died a heroic death fighting the British. In his speech, the President noted that "he was also a pioneer in the development and use of Mysore rockets in warfare." The Karnataka BJP, which had previously accused Tipu of being "anti-Hindu," attempted to cover up the incident by saying that the speech for the President was written by the office of then-CM Siddaramiah. However, it was stated that the address was written by Rashtrapati Bhavan personnel with input from the Karnataka Assembly office. 
Controversy resurfaced again in 2020 when the BJP regime in Karnataka partially removed Tipu Sultan and Hyder Ali's history from the education curriculum. DK Shivakumar, the Karnataka Congress President, commented on the issue, saying that the BJP government was making choices with a political goal in mind. He said, pointing out that Tipu was a historical character, "history is history…you cannot change history. We will not accept it. Congress will take it seriously by setting up a committee to look into it." 
Tipu had two faces, one of unbounded compassion and the other of excessive harshness, like all other monarchs across history. In Melkote, the Mandyam Iyengars do not celebrate Deepavali in honour of their 800 ancestors who were slaughtered by Tipu. During the eighteenth century, most kings fought to keep or expand their kingdoms, not for India, which did not exist in its current form, or for freedom from the British. "Tipu ruled with great efficiency and imagination during peace, but with great brutality in war." historian William Dalrymple writes in his book, The Anarchy. Instead of seeing what happened over 200 years ago via the current political lens, history should be embraced in its totality, with an appreciation of the conditions of the time. 
Historian Dilip Menon, in an interview with Times of India, said that "Historically, Tipu is a complex figure: supporter of the French revolution; anti-colonial warrior dying in battle against the East India Company forces at Seringapatam; enlightened monarch and supporter of scholarship. In short, one of the best of the 18th-century monarchs in India…….However, amidst his campaigns, there were also stories of forced conversions of Hindus and destruction of temples which to modern eyes fit too well into a Muslim monarch in a Hindu society frame….. Interestingly, the ideal monarch, Ashoka, an ancient exemplar for modern India, self-confessedly killed hundreds of thousands of Hindus in war before converting to Buddhism. So will the BJP reject Ashoka? History means knowing the context and not subscribing to polarising myths,".