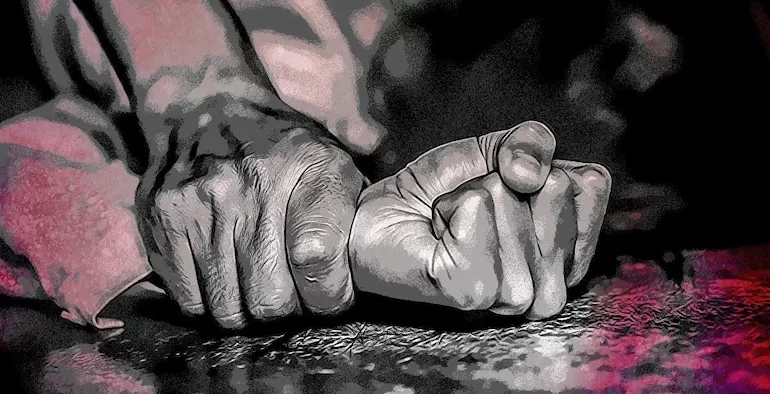 Image Credits- India Today
by Divyakshee K.
In a statement to the Child Welfare Committee, a 17-year-old girl alleged that she was raped by 400 men over the course of six months, including her father and two police officers. Hailing from Maharashtra's Beed, she said that she was married off to a 33-year-old man, who sexually abused her. She fled, only to be molested by her 'own father, strangers, and police officers.'
A resident of Kumbephal village in Beed district, the girl lost her mother when she was eight years old. In her police complaint, she said that in May 2018, when she was still in Class 7, her father took her out of school and married her off to a man named Vishal Bhagwat Somvanshi, who was 33 at the time.
"My husband used to work in Dharur while I stayed with my mother-in-law and grandmother-in-law. He would come here often and forcefully have sex with me and also physically assault me," she claimed in the complaint.
She fled to her parent's house in January 2019 but said that her father offered to allow her to live there on the condition, that he could rape her. "When I informed my father about the abuse I was facing at my in-laws, he said if I wanted to live with him, I'll have to have sexual relations with him. He used to touch me inappropriately and sexually and physically assault me. So I moved out in June 2021," she stated in her complaint.
Traumatised by the violence, the 17-year-old girl moved out of her father's house and began living at the Ambejogai bus station, where she was reportedly raped by men who offered her food. "Fifteen days ago, Rishikesh Dattatreya and Hari Darade promised me food, and they brought me to a ground near the bus stop and sexually assaulted me repeatedly," she said.
According to Abhay Wanve, chairman of the Beed district Child Welfare Committee, which falls under the Union Women and Child Development Ministry, a lady noticed the child smoking at Ambejogai bus terminal at 6 a.m. on November 7 and reported her to social workers, who then reported her to the CWC. The girl, who is two months pregnant was then brought to the district hospital, where CWC members are currently assisting her in arranging an abortion, according to Wanve.
On November 11, the girl made another testimony to the Child Welfare Committee, alleging that a police officer approached her at the bus stop and repeatedly raped her. The girl said the police constable handed her Rs 500 every time he raped her, according to Wanve, who had recorded her statement.
"She needed to make money, therefore she became a victim of human trafficking." Wanve, who taped the girl's testimony, told ThePrint, "Here she says 400 men have had sex with her."
"On November 11th, we obtained a four-hour statement from the child," Wanve stated. She said she was raped 2-3 times in Ambejogai by a police policeman, but she was unable to identify him. She has given it in writing that she was raped by 400 people, but can't identify all of them. We're in touch with her and the police, and dealing with the case sensitively at this point."
Her startling revelation was recorded just a few days after the police had registered her case. "Four days after the FIR (First Information Report) was filed, the victim claimed she had been raped by 400 men. Raja Ramasamy, Superintendent of Police, Beed district, had told the Times of India, "We are confirming the claim and will respond accordingly."
"The girl was rescued by an NGO (Non-governmental organisations) and brought to us, following which an offence was registered on November 8. Nine males have been arrested so far, and a minor boy has been detained and sent to a correctional facility." Kavita Nerkar, the investigating officer and Additional Superintendent of Police (ASP), stated.
According to local authorities, the girl was initially hesitant to file a complaint but eventually accepted after several counselling sessions.
"Looking at the sensitivity of the case, we've made a team comprising two female officers and a male officer to investigate the case, which is being headed by Additional Superintendent of Police, who will work alongside the Child Welfare Committee and investigate this case further so the victim can get swift justice," Raja Ramasamy said.
Vishal Bhagwat Somvanshi, Rishikesh Dattatreya, Hari Darade, Ramchandra Solanki, Ashok Solanki, Sonali Surdase, Rani Solanki, Suraj Solanki, and an unnamed priest have all been charged under various sections of the Indian Penal Code. Vishal, Ramchandra, Ashok, Sonali, Rani, Suraj, and the priest are accused of orchestrating the marriage of the underage victim, according to the FIR obtained by ThePrint. Rishikesh Dattatreya and Hari Darade are accused of raping the girl, while Ashok is accused of assaulting her physically and sexually. Vishal has been accused of having sex with a minor on several occasions.
The accused have been booked under Indian Penal Code section 376 (2) (penetrative sexual assault on a child below 16), section 376 (rape), section 354 (a) (outraging a woman's modesty), various sections of the Protection of Children from Sexual Offences Act (POCSO), and Prohibition of Child Marriage Act (2006).