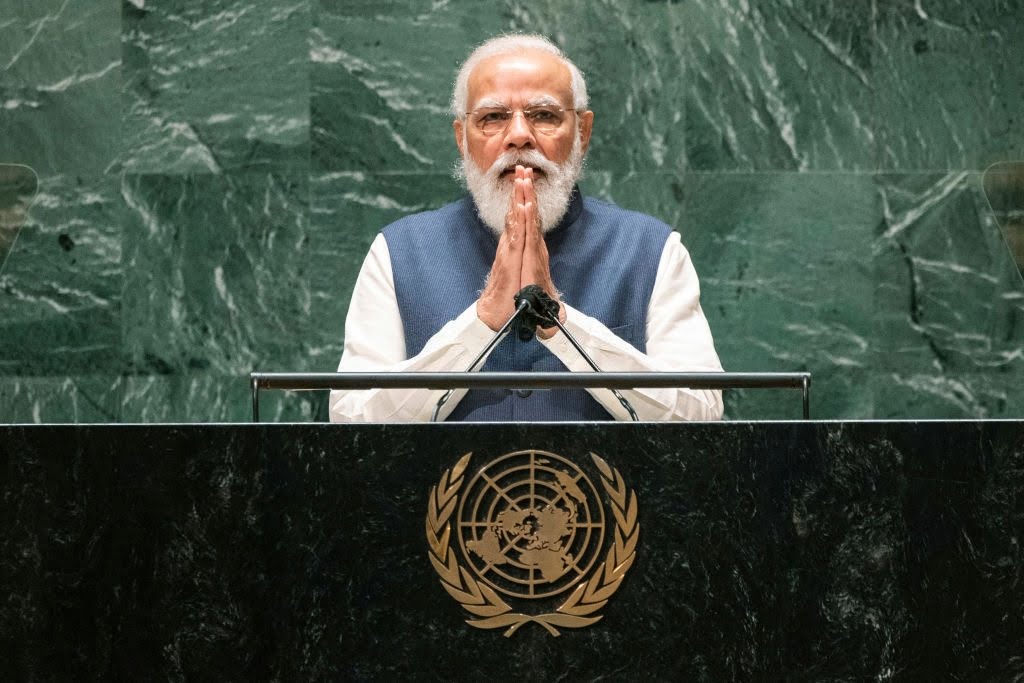 The coronavirus pandemic has changed a bunch of casual things which people used to do in their lives like socializing and traveling. But with time citizens are getting aware of the fact that some relaxations have been provided to them so they can live their usual life again.
Everyone is taking a step ahead to come to their regular lifestyle and so are our ministers. Talking about our leaders, how can we miss the Prime Minister of the nation and his foreign trips? We as the aware citizens of India, know for a fact that our PM loves to travel which brings us to acknowledge his recent trip to the United States. Lately, PM Modi began his five-day visit to the United States on Wednesday which is also his first visit to the US since Biden has taken the charge. To accompany him in his, including external affairs minister S Jaishankar and national security advisor Ajit Doval.
During his trip, he will carry out some of the crucial meetings and discussions where he will address the UN General Assembly, attend the Quad Summit, and will hold a bilateral meeting with US President Joe Biden at the White House. As articulated by foreign secretary Harsh Shringla, "The Quad is a pluriliteral grouping with a vision for a free, open, transparent and inclusive Indo-Pacific."
In the course of his visit, he will discuss and try to tackle some key challenges that have emerged in the last few weeks. This is also one of the many reasons which are making people more curious and concerned about the meetings that are going to be held in the US in these couple of days. The highlights of this visit will definitely be the first in-person Quad summit. Another reason for this trip to be a matter of discussion is because of some steps taken by America some days back. For instance, America's withdrawal from Afghanistan and the signing of the AUKUS trilateral defense pact have raised some questions in Indian strategic circles about the Biden administration's commitment to the larger India-US bilateral project.
PM Modi in his statement before leaving for the US said that he will conclude his visit with an address at the United Nations General Assembly focusing on the pressing global challenges including the COVID-19 pandemic, the need to combat terrorism, climate change, and other important issues.
"My visit to the US would be an occasion to strengthen the Comprehensive Global Strategic Partnership with the USA consolidate relations with our strategic partners — Japan and Australia — and to take forward our collaboration on important global issues," he said in his departure statement.
Besides all the huge meetings on an international level, the visit also included a meet with several top global CEOs in Washington DC. The Heads of Qualcomm, Adobe, First Solar, General Atomics, and Blackstone had taken part in the meeting. Some also believe that this meeting has resulted in the Stock Market of India reaching its highest level till now.
This visit of PM will also involve his first meet formal interaction with the US Vice-President. In their meeting, both of them have exchanged their views on bilateral, regional, and global issues of mutual interest.
The words of Foreign Secretary Harsh V Shringla on PM Modi's visit to the US will tell us clearly about the success rate of this trip.
"It has been a comprehensive and useful visit that allowed for high-level interactions," Harsh V Shringla on PM Modi's US visit. He also said that It's the 1st time an Indian PM has shared a meeting at UNSC. It's also the 1st time that India, or any country, has successfully steered a UNSC debate on maritime security & come up with an outcome document that is being referred to as a guiding principle on this issue.
Reference:
Image Source:
Getty Images