In the midst of a full-fledged campaign led by the Congress Party against the state government, the Congress in Karnataka intensified its campaign targeting Chief Minister Basavaraj Bommai by putting up 'PayCM' posters at Bharatiya Janata Party's Nelamangala office on the outskirts of Bengaluru on Friday. The party later shared the pictures of its PayCM campaign with the media.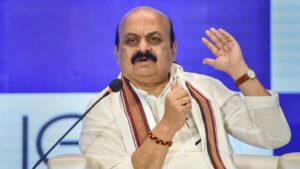 The PayCM poster bears a QR with the photograph of the chief minister. When scanned, it gets directed to a website – '40% Sarkara' – which alleges that the Bommai-led BJP government is charging 40 per cent commission on public works.
The website was launched a few days ago by the Congress. Reacting to the campaign, Bommai told news agency ANI, "No allegations are true. They've given no evidence."
Its members pasted the posters at public places in Bengaluru, seeking to embarrass the chief minister and the ruling BJP. The code also provided a mobile number, urging citizens to miss-call it to raise their voice against corruption. Posting the 'PayCM' QR on Twitter, the Karnataka Congress invited the public to scan the QR code on the "PayCM" banner and file complaints against bribery and frauds.
A contractors' body had recently alleged that contractors had to pay 40 per cent commission to get public work contracts, an allegation strongly denied by the Karnataka government.
Congress is attempting to raise the subject of a contractor named Santosh Patil who killed himself at a Udupi hotel earlier this year.
Patil had accused, the then state Rural Development and Panchayat Raj Minister KS Eshwarappa of demanding a 40 percent cut in public work in his district. Eshwarappa had resigned following the charge. However, an investigation carried out by the police gave him a clean chit.
The BJP decided to duck the police route and chose to back the Congress in its own coin. The party's state unit president Nalinkumar Kateel released a 28-page booklet called Scam-Ramaiah, calling the Congress government under him `a 100% loot regime.' The booklet highlighted reports of the alleged scandals during the five-year rule of Siddaramaiah from 2013.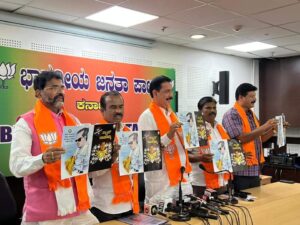 Chief Minister Bommai dismissed the Congress' allegations as a smear campaign and has ordered an investigation to book those involved in this act. Calling the Congress' corruption charges baseless, Bommai said that the campaign is a bid to tarnish the image of Karnataka and its honorable Chief Minister.