by Divyakshee K.
On Sunday, December 19th, Bengaluru's LGBTQ community and allies came together to show their love and support for the 14th edition of Namma Pride.
It was scheduled to take place from the Majestic Railway Station to Samsa Bhavan between 2 and 5 p.m.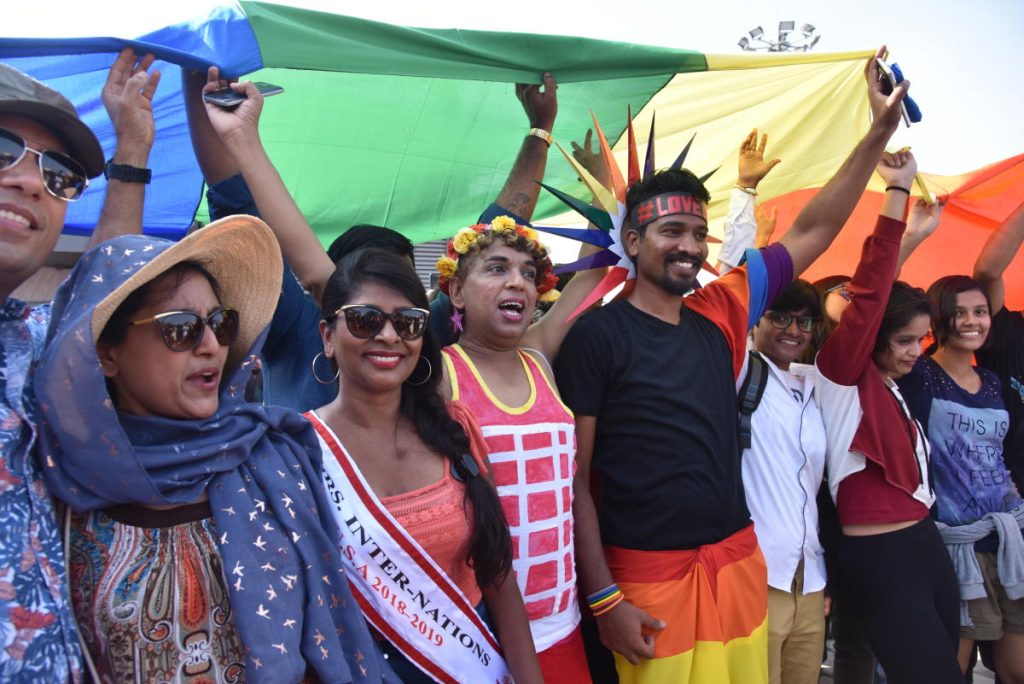 The most fundamental thing to remember, according to Priyank (he/him), who is a part of the Namma Pride 2021 organising group, is that Pride is a protest. "That's the first thing I take pride in, the fact that it's a protest," he said. "Yes! It's celebratory, it's a great way of coming together for the community, but in a country where queer identities are still stigmatised, marginalised and discriminated against, it still remains a protest and it will forever be a protest until complete equality has been achieved,".
The Transgender Protection Act 2020 will be opposed by members of the LGBT community and allies this year. This Act states that a person can only identify as transgender when the transition is complete, making gender affirmation surgery a requirement rather than a choice. They also oppose the removal of transgender and LGBTQIAP+ studies from the NCERT curriculum, as well as the implementation of the NALSA ruling, which recognises gender identities that are not cis-binary as "third gender" and denies them individual identities such as transmen, transwomen, and non-binary people.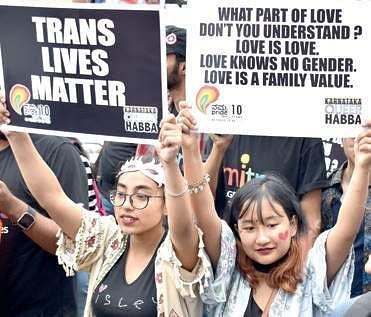 "We want to highlight the fact that there is absolutely no access to quality health care from people from the marginalised and queer community, especially the transgender community. The fact that we have lost so many people last year as well as this year owing to the pandemic. The trans-community suffered as their daily means of livelihood was sex work and begging, both of that shut down for about six to seven months. It still remains a protest, but it's also a celebration as the community hasn't seen each other for a long time," says Priyank.
Ayaan Syed, another member of the organisation committee, who has been associated with Coalition of Sex Workers, Sexuality, and Sexual Minority Rights (CSMR) and Namma Pride for more than 6 years, added that "Section 377 was struck down 2 years ago but we are still fighting for civil rights like the legalization of same-sex marriage, adoption, a joint account for same-sex couples, insurance and inheritance rights, marriage, cohabitation, adoption and parenting rights, medical insurance nominations and property and financial rights."
Pride began fourteen years ago as a grassroots movement led by Famila (she/her), a trans-rights campaigner. Bangaloreans now celebrate her legacy as Pride on the final Sunday of November or the first Sunday of December, as she is no longer alive. An organisation named the Coalition of Sex Workers, Sexuality, and Sexual Minority Rights organises Pride in Bengaluru.
Bengaluru was the first city in the country to adopt this module; it's a coalition of all LGBT organisations, sex worker movements, Dalit movements, communists, and other marginalised communities that got together in 2008 to organise and promote the Pride.
This year, given that Pride happened with the overarching fear of COVID, especially the new OMICRON variant, Ayaan made sure to add that they distributed masks and sanitisers at the Parade and had COVID-19 protocols and guidelines enforced.
Going into the new year, when talking about the biggest challenge that lies ahead for the LGBTQ community, Ayaan said that "Education is the biggest challenge. Sensitisation of all government officials, specifically the police, is really important, if they do not understand what the community is,".
He presented a list of demands that they have set for the new year, detailing goals that the CSMR and Namma Pride are looking to achieve for 2022.
1. Inclusion of members of the community into posts such as doctors, medical community professionals, educational institutions, teachers and administration staff.
2. Criminalize all forms of "conversion therapy" including religious, pseudo-medical and psychological.
3. Repeal and revisit Transgender Persons (Protection of Rights) Act, 2019 as incompatible with the trans community's needs and demands and in violation of their autonomy and dignity
4. Implement 100% self-identification of transgender persons, without medical community/ government-mandated processes, in accordance to National Legal Services Authority v. Union of India
5. Provide livelihood and employment opportunities and housing support to transgender persons, implement horizontal reservations as per state policies
6. Civil union rights in the following:
● Marriage, cohabitation
● Adoption and parenting rights
● Life insurance, Medical insurance nominations
● Inheritance, property and financial rights
● Financial/ property investments/ loans
7. Remove homophobic curriculum from MBBS course material and all educational syllabi, revision of all curricula by a panel of LGBTQIA+ activists/ experts
8. Reinstate faculty members and curriculum of NCERT Department of Gender Studies who developed a first-of-its-kind teachers' manual on the inclusion of transgender children in schools; implement study material immediately in line with Supreme Court's verdict of mandatory sensitization on LGBTQIA+ issues in educational institutes
9. Immediately release on bail all political prisoners of anti-CAA protests, Delhi Riots 2020, Bhima Koregaon protest, Kisan Andolan protests, journalists, activists, students and lawyers illegally detained under draconian laws of UAPA, NSA, Sedition, TADA and POTA
10. Stop the communal and hateful Karnataka Anti-Conversion bill to protect the secular fabric of India
11. We stand in solidarity with the people subjected to military violence in Kashmir and the northeast and demand that the Indian state stop these violent acts.
The activities leading up to Pride, such as the Diversity Fair on December 18 and the Garage Sale on December 12, 2021, both of which included stalls from LGBTQIAP+-owned businesses, were all fund-raising events for the Pride March 2021. Pride is crowdfunded via Milap, a crowdsourcing website. This year's budget is one lakh, and it has already been met. The additional money will be saved as an emergency fund in case a third wave occurs, and it will be utilised to provide healthcare to the queer and trans communities in particular.
Summing up this year's pride, Ayaan insisted that their fight will never stop. "We will continue to fight for the liberation of the transgender community. We will continue to fight for equality and civil rights, we will ensure that we educate and sensitize people on our own."