Nobel Prize has been the most eminent but also a very controversial award since it came into existence. It is a system where a select few scientists, writers, economists, and people working toward peace will get phone calls at odd hours informing them that they've received one of the most prestigious awards on Earth.
The fact that this comes just a day after the United Nations and advocacy groups for survivors of clergy sexual abuse are urging Pope Francis to authorize into a Nobel Prize-winning bishop is unfortunate timing.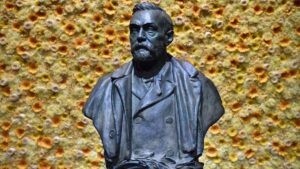 From 1901 to 2015, 573 Nobel Prizes have been given out, including household names like Albert Einstein, Marie Curie, Nelson Mandela, Ernest Hemingway, and the International Committee of the Red Cross.
There once was a Swedish man named Alfred Nobel. He was a chemist and engineer, he invented dynamite, got rich, and — when he died in 1896 — did something unusual. He bequeathed about $260 million to create prizes to reward various scientific and cultural advances produced by people or organizations anywhere in the world. Thus, the Nobel Prizes came into existence.
He wrote that the prize should be given by a committee of five persons chosen by the Norwegian Parliament "to the person who shall have done the most or the best work for fraternity between nations, for the abolition or reduction of standing armies and for the holding and promotion of peace congresses.
No one can really agree on why the Nobel Prizes are a much bigger deal than all the other prizes out there. Perhaps it's because they've been around for more than a century or because the prize roughly $1 million is so large. But at this point, they're definitely one of the most impressive awards around.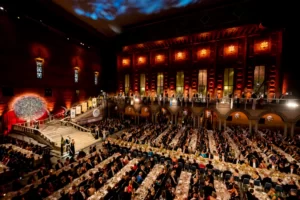 The rule that no more than three people can share a Nobel has made for some good controversies in science, especially in fields that require a lot of collaboration. It's not that uncommon for someone to get left out. The Nobel Prizes are the work of fallible humans and therefore have been accused of their share of Eurocentrism, sexism, and the rest.
Besides, the winners aren't exactly a prize themselves. As Lawrence K Altman, a doctor and writer for The New York Times, quoted Nobel laureate Dr. Michael S Brown of the University of Texas Southwestern Medical Center in Dallas as saying in 2006, "Nobel winners are selected for their discoveries, not their IQs, and most are not geniuses."
The Literature Prize is very often controversial. For example, many widely admired writers like Vladimir Nabokov and James Joyce never won, while some now forgotten authors have.
The Nobel Peace Prize to the European Union was heavily criticized, not least because of the economic pressure it has historically placed on some countries, like Greece, after the economic crisis started in 2009.
In 1974, the Nobel Foundation changed its rules so that awards couldn't be given out posthumously. This rule has created tons of controversy, especially because it often takes decades to determine whether a person's work has had a significant enough impact to be worthy of a Nobel.