Mass protests have been taking place across Myanmar since the military seized control on 1 February. Elected leader Aung San Suu Kyi and members of her National League for Democracy (NLD) party are among those detained. Dozens of protesters have been killed.
As the death toll among Myanmar's protesters rose dramatically last weekend, military air strikes against one of the country's largest rebel groups stoked fears of another problem: Full-fledged civil war.
Myanmar military aircraft carried out three strikes overnight on Sunday into Monday, according to Free Burma Rangers, a humanitarian relief agency that delivers medical and other assistance to villagers. The strikes possibly injured one person but caused no apparent fatalities, a member of the agency said.
Myanmar's military launched air strikes on five areas in Mutraw district, near the border, including a displacement camp, the Karen Women's Organization said. Thai PBS reported about 3,000 had reached Thailand.
The Karen National Union, which controls an area in the southeast along the Thai border, confirmed Monday that about 10,000 residents fled to a safe zone last weekend after the Myanmar military conducted air strikes that killed three people. The fighter jets came out in retaliation for an attack by ethnic Karen rebels on a base of the national army, or Tatmadaw, in which 10 soldiers were killed and another eight were arrested.
The attacks came on the same day at least 114 people were killed in clashes with the military and police in the deadliest weekend since the Feb. 1 coup, sparking condemnation from governments around the world. With the death toll now exceeding 500 over the past two months, the prospect of a wider fight with potentially dozens of armed militias risks even more bloodshed.
Earlier on Sunday, an estimated 3,000 people crossed the river dividing the two countries into Thailand's Mae Hong Son province following two days of aerial attacks.
On Sunday a dozen defense chiefs from North America, Europe and the Asia Pacific jointly condemned the use of lethal force against unarmed people. Then on Monday, Prime Minister Prayuth Chan-Ocha of neighboring Thailand said preparations had begun for an influx of migrants.
"We don't want there to be a mass migration into our areas but we must also keep human rights in mind. As there are violent conflicts in their country it is only normal that there would be migrations," said Prayuth, a former army chief who staged a coup in 2014.
The airstrikes mark an escalation in the increasingly violent crackdown by the Myanmar government against opponents of the February 1 military takeover.
The Security Council is likely to hold closed consultations on the escalating situation in Myanmar, UN diplomats said on Sunday, speaking on condition of anonymity ahead of an official announcement.
The council has condemned the violence and called for a restoration of democracy, but has not yet considered possible sanctions against the military, which would require support or an abstention by Myanmar's neighbour and friend China.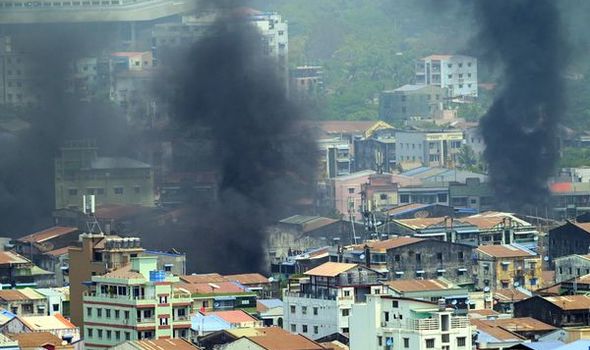 Since independence from Britain in 1948, Myanmar has struggled to build a national identity inclusive of the numerous minority groups in it, fueling resentment against the military – dominated by the Bamar, or ethnic Burmese – and perpetuating some of the longest-running armed conflicts in the world.
References:
Image Sources:
• The Guardian
• Deccan Chronicle
• Daily Express
• Bloomberg
• The Japan Times