At least 22 security personnel were killed, 32 injured and one jawan was reportedly missing in a four-hour-long encounter with Maoist that took place on Saturday afternoon near Jonaguda village which falls under Jagargunda police station area (in Sukma).
This morning, Director General (Naxal Operations) of Chhattisgarh Police Ashok Juneja said the number of deaths have increased to eight; yesterday five security personnel had died in action.
About 30 other personnel were injured in the incident, which took place on Saturday. The gun-battle broke out when a joint team of security forces was out on an anti-Maoist operation. Two Naxalites were also killed in the gunfight.
More than 2,000 personnel from at least five camps in Sukma and Bijapur had gone into the forest around Tarrem in Bijapur district. They were trapped in an ambush while returning from the operation. At around 12 noon, the Maoists laid an ambush, leading to an encounter that lasted for three hours.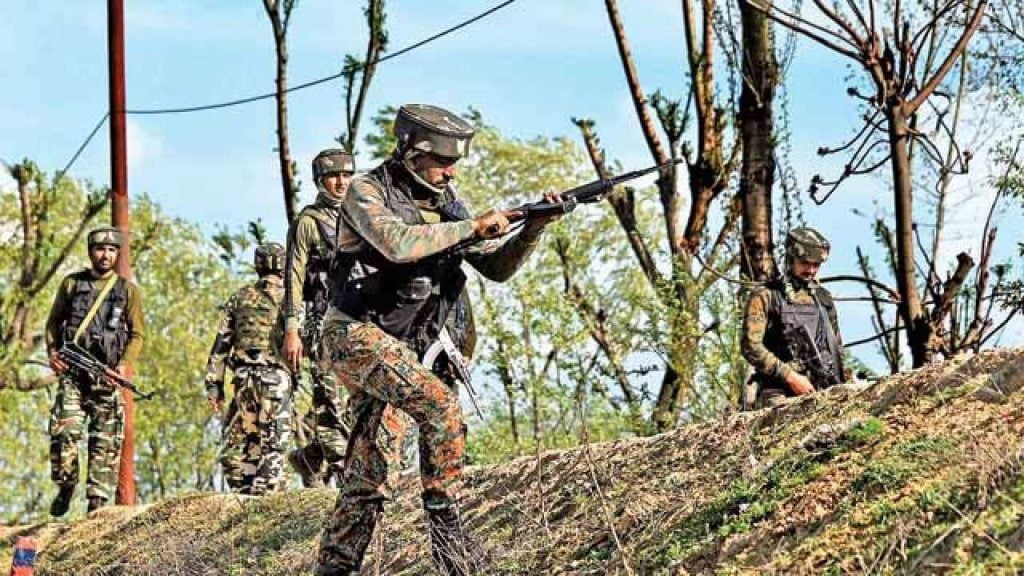 According to initial reports, five security personnel were reported as killed and 30 others received injuries in the gunfight. Several other security personnel were reported to be missing.
A senior police officer from Bastar said "chances of survival of missing jawans are slim, but we are hopeful of finding them alive". Maoists have reportedly suffered a huge loss in the gunfight, but the body of only one woman Maoist could be recovered from the spot amid the heavy exchange of fire.
Today, Home Minister Amit Shah spoke to Chhattisgarh Chief Minister Bhupesh Baghel and took stock of the situation. He also directed Director General of the Central Reserve Police Force (CRPF) Kuldiep Singh to visit Chhattisgarh to asses the situation.
"The Centre and state will fight together and win too," Home Minister Amit Shah told the Chief Minister, as per an official statement. He has assured all necessary help from the Centre.
"I bow to the sacrifices of our brave security personnel martyred while fighting Maoists in Chhattisgarh. Nation will never forget their valour. My condolences are with their families. We will continue our fight against these enemies of peace & progress. May injured recover soon," Mr. Shah had tweeted earlier.
Prime Minister Narendra Modi tweeted last evening: "My thoughts are with the families of those martyred while fighting Maoists in Chhattisgarh. The sacrifices of the brave martyrs will never be forgotten. May the injured recover at the earliest."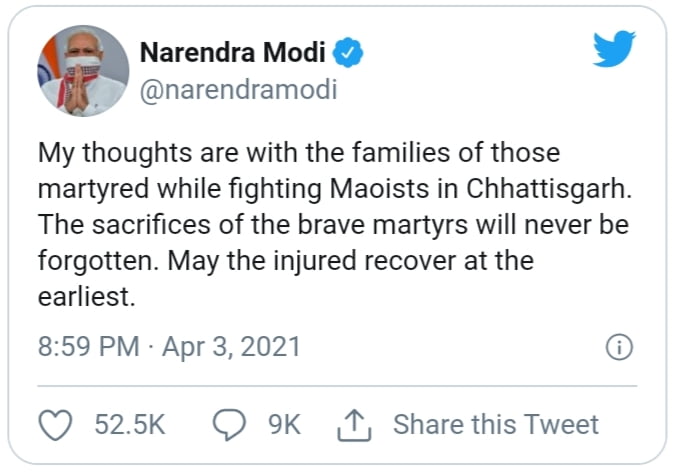 Saturday's encounter comes days after five police personnel were killed and 14 injured after Maoists targeted a bus carrying 27 DRG (District Reserve Guard) troops in Chhattisgarh's Naryanpur district. The bus, which had been travelling from Kadenar to Kanhargaon, was hit by an IED (improvised explosive device).
On Thursday, three Maoists involved in planting explosives to target the security forces were arrested from Chhattisgarh's Sukma district.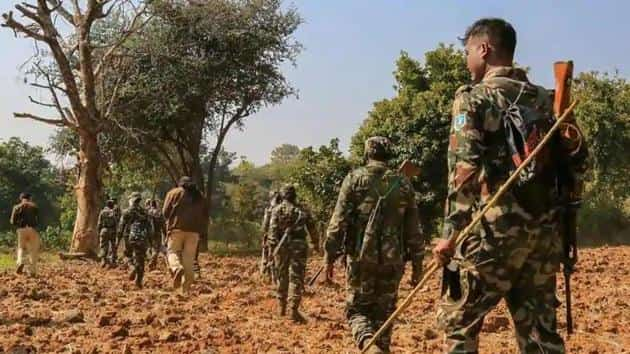 Chhattisgarh chief minister Bhupesh Baghel too condemned the incident and said the martyrdom of the jawans will not go in vain, and the anti-Maoist operation will be intensified, an official statement said.
"Our jawans have displayed exemplary courage by inflicting massive damage on Naxals (in this incident). Operation against Naxals will be intensified," the CM said.
References:
Image Sources:
• DNA India
• Hindustan Times
• Times of India
• Twitter