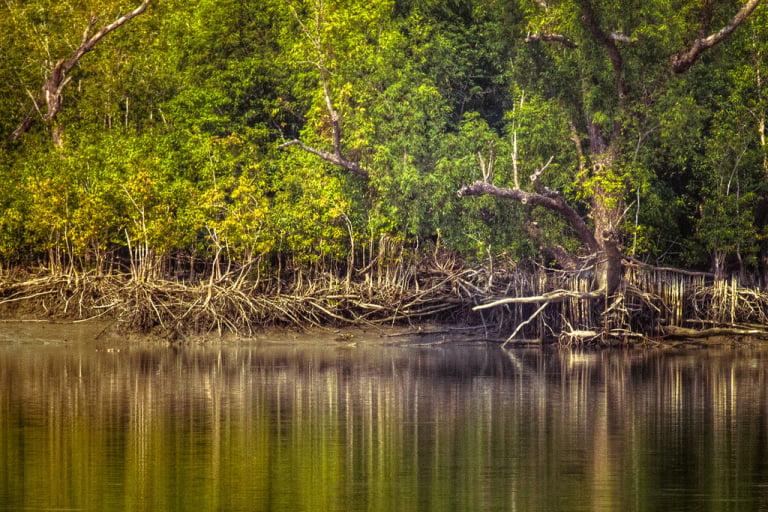 Mangroves are an integral part of our ecosystem. They safeguarded people and the inland against the severe storm surges of the cyclones. It also prevents the loss of lives and property.
The previous month, India witnessed back-to-back cyclones. While cyclone Tauktae formed in the Arabian Sea and affected coastal districts in Kerala, Karnataka, Goa, Maharashtra, and Gujarat, cyclone Yaas formed in the Bay of Bengal and ravaged parts of Odisha and West Bengal.
Moreover, scientists have highlighted the impact of climate change in the intensification and frequency of tropical storms that hit India. Also, they caught our attention to the role played by mangrove forests in reducing the cyclone impact in Odisha, West Bengal, and Mumbai.
On one hand, Mumbai has a mangrove cover of 66 sq km. On the other hand, Odisha and West Bengal boast luxuriant mangrove cover along the Bhitarkanika National Park in Kendrapara district and the Sundarbans respectively.
What are Mangroves?
The word 'mangrove' may refer to the habitat as a whole or the trees and shrubs in the mangrove swamp. Mangroves are flowering trees, belonging to the families Rhizophoraceae, Acanthaceae, Lythraceae, Combretaceae, and Arecaceae.
Mangroves are a special type of vegetation and they are found in the intertidal regions where freshwater and saltwater intermixes, in the bays, estuaries, creeks, and lagoons. They are the salt-tolerant variety of plants, which can survive in harsh conditions. And they are economically and ecologically significant.
What are the benefits of Mangroves?
Mangroves protect coastal areas from Tsunamis storm surges and soil erosions; due to their complex root systems which dissipate sea wave energy. Sediment deposition is a visible feature of Mangroves that arrests coastal erosion and seawater pollution. Mangrove thickets maintain water quality by filtering pollutants and trapping sediments originating from land.
Many fish species and other fauna breeds here. They provide habitat for a diverse array of terrestrial organisms. Also, they are an important source of livelihood (for communities found in and around mangrove forests) that contribute in – Collection of Honey, Tanning, Wax, Fishing. Moreover, they are also addressed as carbon sinks. They store this carbon for thousands of years.
How does Mangroves acts as a protection against cyclonic storms?
Mangrove forests act as natural barriers against storm surge, coastal flooding and sea level rise. Their intricate root system is an add-on benefit as it stabilises the coastline, reducing erosion from storm surges. Together with the tree trunks, they work like speed-breakers to slow down the tides.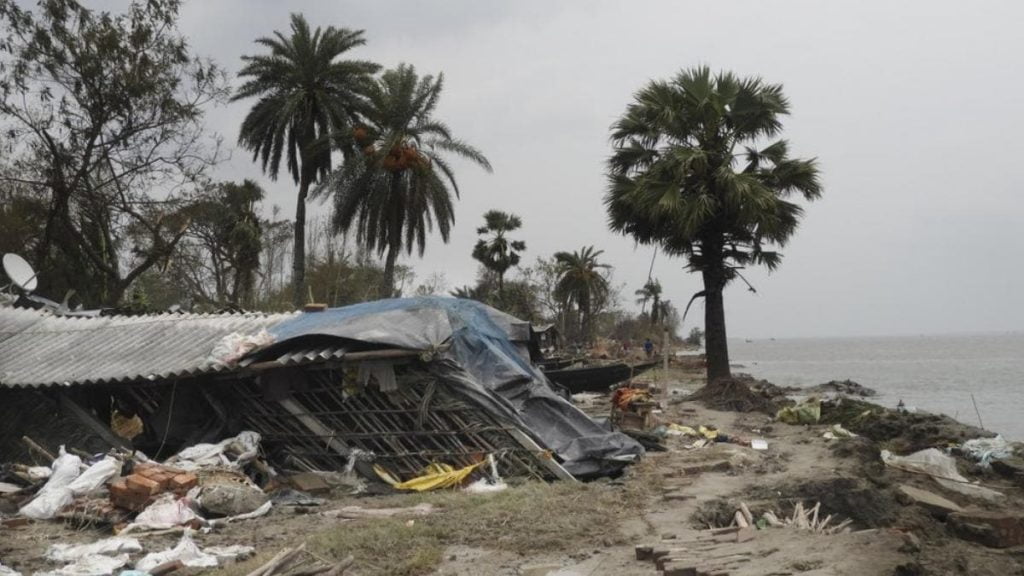 A series of studies in the early 2000s discovered that mangroves with an average height of 6-10 metres could shorten a cyclone's waves by 60%.
Another study of mangroves in Florida in 2013 estimated that a mangrove forest could reduce the effects of a Category 5 storm to the intensity and effects of a Category 3 storm.
Where can we find Mangroves?
Mangroves can be found in over 118 countries and territories in the tropical and subtropical regions of the world. Asia has the largest coverage of the world's mangroves, followed by Africa, North and Central America, Oceania and South America.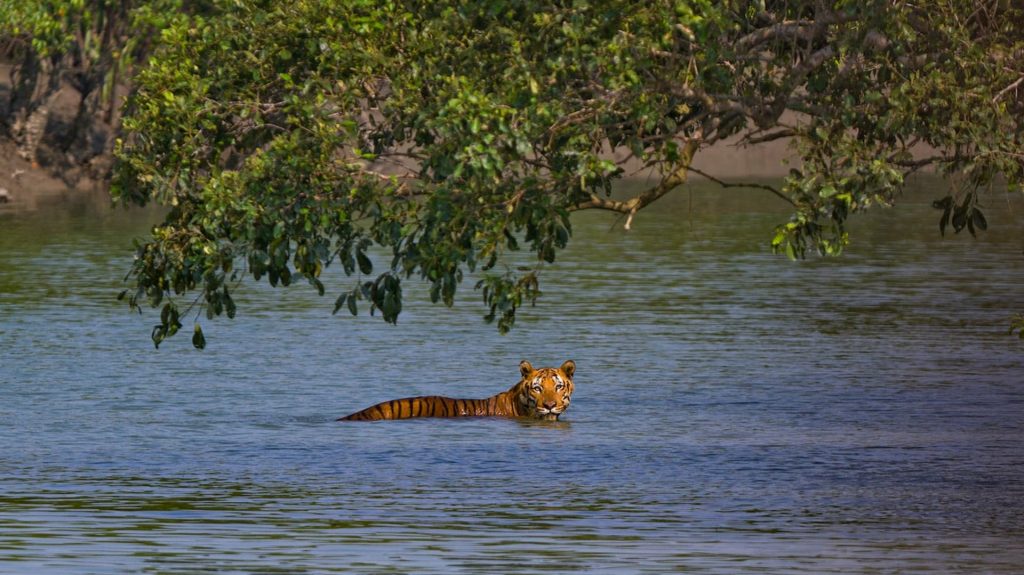 The major mangroves in India are found at:
• Sundarban Groves
• Mahanadi Mangroves
• Krishna Godavari Mangroves
• Mangroves of Gujarat
• Ratnagiri Mangroves
• Goa Mangroves
• Cauvery Deltaic Mangroves
• Krishan-Godavari Mangroves
• Andaman Nicobar Mangroves
It may be noted that the Sundarbans in West Bengal is the largest mangrove region in the world and a UNESCO World Heritage Site. It spans from the Hooghly River in West Bengal to the Baleswar River in Bangladesh.
What are the threats to mangroves?
According to scientists, at least one third of all mangrove forests has been lost during the last few decades. The primary threat to mangroves have been attributed to – coastal development, including construction of shrimp farms, hotels, and other structures.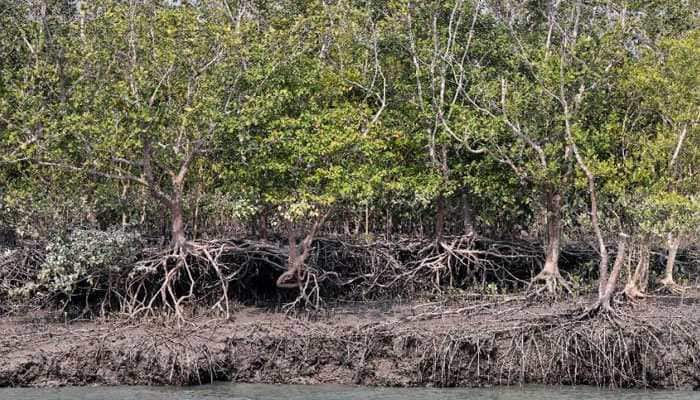 Mangrove forests are cleared to make room for agricultural land and human settlements. Mangrove trees are used for firewood, construction wood, charcoal production, animal fodder, this results in overharvesting. Moreover, overfishing, pollution, and rising sea levels are the few other threats to mangrove forests and their ecosystem.
Conservation of Mangroves
The Andhra Pradesh Government has constituted a seven-member committee for fulfillment of norms required for proposing the Godavari Mangroves, at Coringa, as a World Heritage Site. Also, Andhra Pradesh has established Eco-Development Committees and Van Samrakshan Samithi to implement conservation projects in mangrove areas.
The State Forest Report 2019 mentions the following conservation techniques for Mangroves in Gujarat and Maharashtra:
The state of Gujarat uses direct seed sowing, raised bed plantations, and fishbone channel plantations to restore degraded mangroves.
The state of Maharashtra has been implementing restoration, protection, regeneration, and maintenance techniques to conserve mangroves.
VK Yadav, chief wildlife warden of West Bengal has said "We are planting around 50 million saplings of mangrove species in the Sunderbans to cope with the loss which the delta has suffered during Cyclone Amphan. The tiger population has increased from 88 to 96 in the past one year. A series of measures such as generating jobs though MGNREGA are being taken for the villagers."
References:
Image Sources:
• iStock
• PTI
• DW
• AP
• Flickr
• RoundGlass Sustain