by Divyakshee K.
On December 14, hundreds of Popular Front of India (PFI) activists went on a rampage outside Uppinangady police station demanding the release of people arrested in connection with an assault case in Dakshina Kannada district, injuring nine police officers, including Puttur Deputy Superintendent of Police Gana P. Kumar.
PFI activists began gathering in front of the Mangaluru DK police station on December 14 morning after their colleagues Mohammed Zakaria, Mustafa, and Hamid were called for questioning for the December 6 attack on two fish merchants in the town, according to a statement from the DK police. Mohammed Sinan was apprehended by police on the night of December 13th. They had summoned the others allegedly engaged in the incident based on information provided by him.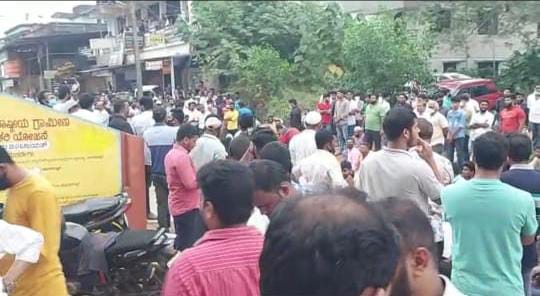 Last week, group conflicts in Uppinangady town escalated into communal riots, according to Superintendent of Police Rishikesh Sonawane. "PFI activists had no business to lay siege to the police station," he told The Hindu, "as there are courts to decide on the police action [of earlier arrests]."
The attack on December 6 was in response to a December 5 attack on a group of people in Ilanthila village near Uppinangady. For the December 5 attack, alleged perpetrators were apprehended by police.
According to the police, despite repeated orders not to gather in front of the police station, PFI members yelled chants demanding the accused's release. PFI activists staged a victory march in front of the police station and Uppinangady town after the police freed Hamid in the afternoon, before reuniting in front of the station to demand the release of the others. They were joined by members from Puttur, Bantwala, and Belthangady, who chanted anti-police chants and allegedly tried to break into the station equipped with sharp weapons. The activists allegedly assaulted Sub-inspector Omana and other female police officers who sought to stop them.
In addition, the organisers decided to hold a nighttime namaz in front of the police station. The police, on the other hand, barred them from doing so. The crowd was eventually dispersed by police using canes.
According to the PFI, a peaceful demonstration was taking place against the arrest of PFI officials, but police responded with a brutal lathi-charge, injuring around 30 people, some of whom had to be rushed to the hospital due to their serious injuries.
The police, alternatively, reported that demonstrators assembled and went on a rampage outside Uppinangady police station, demanding the release of PFI members who had been detained. This riot ended up injuring nine police officers before measures were taken to restrain the arson.
On social media, the police have been harshly criticized, with the hashtag #MangalorePoliceBrutality garnering a lot of popularity. Several images of protestors who were seriously hurt, bleeding out, and being hauled away by ambulances have circulated. To denounce the police's conduct, the PFI has organised a protest on the 15th and a march to the SP's office on the 17th.