Dasara is a particularly amazing time to visit Mysore. Mysore Dasara has a long history dating back to the Vijayanagara dynasty, and it remains a huge magnet for tourists today, drawing in visitors from all ages and backgrounds.
Long Standing History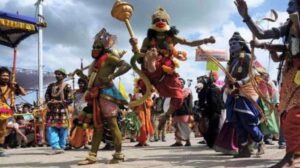 Since the Vijaynagara Dynasty began celebrating Mysore Dasara in the 16th century, it has been done so with splendour and grandeur. Carnivals often feature elaborate costumes, street performers, musical ensembles, military parades, folk tales, and the splendor of ornamented elephants, horses, and camels that are drawn along in the procession.
Jumbo Savari
The magnificent Jumbo Savari is the main attraction at the event. The streets of Mysore are filled with hundreds of elephants draped in gold on the tenth day of Navaratri. One of its leaders bears the duty of carrying the 750 kilogramme idol of the goddess Shri Chamundeshwari Devi.
Food Festival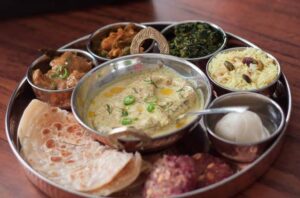 Mysore is the perfect Dasara vacation spot for foodies. Mysore is known for its iconic cuisine and a wide variety of sweets and snacks. To learn about and enjoy Mysore's finest culinary traditions and diversity, visit the food mela.
Illuminated Mysore Palace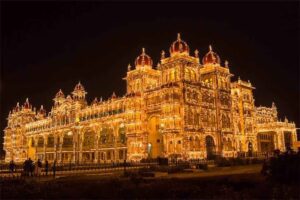 Mysore Palace, which is an integral part of Mysore's culture, is one of the main attractions of the Dasara festivities. Tens of thousands of lights are used to decorate the royal palace, which transforms into a victorious symbol of good triumphing over evil when night falls.
Doll Festival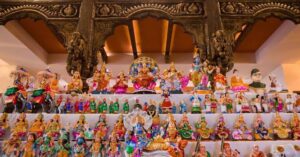 The doll festival has been practiced in Mysore ever since Dasara originated. The doll festival showcases a variety of tiny puppets and miniatures made by range of cultural artisans. Both residents and visitors can enjoy the beautiful multicoloured display.
Chopper Ride
Through an exciting chopper ride, you can take in the aerial view of Mysore Dasara with your loved ones. Nighttime is the best time to fly since you can see Mysore city gleaming with festivities.
Wrestling
Karnataka's traditions have always included wrestling competitions. They date back many years to the Vijayanagara period in Mysore, where it was a top-notch performance for the monarchs and locals. Even today, these competitions are immensely popular.