India has witnessed a multitude of communal disharmony and violence in several of its cities, but should the country be held accountable for all instances of Hindu-Muslim dissonance in the world?
A series of violent and disturbing events unfolded in the ever-so-harmonious city of Leicester in the UK. The starting blocks of the incident were laid down by a T20 match between India and Pakistan in the United Arab Emirates.

As witnessed over time, a match between these two countries created a sense of rivalry and started a power struggle in Leicester between the Hindu and Muslim communities. What followed was the age-old pattern of demonstrations and violence as Hindus in the city paraded wearing masks through a Muslim-dominated area while simultaneously raising religious slogans. Later, a Muslim mob surrounded a Hindu temple and set the saffron flag on fire.
As further agitation broke in the city, community leaders watched in despair. An easy way out for the administration was to blame it all on "outsiders"; an intelligent tactic to keep their city's name clean.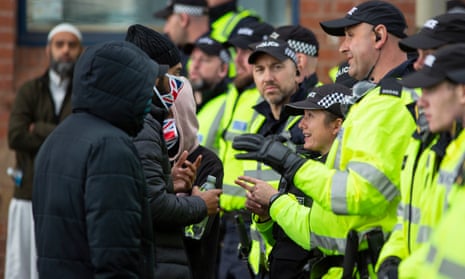 While the city's authorities were busy defending their name, the media took to blaming India and how its communal politics seems to be getting out of hand, quite literally.
The crucial question remains whether India's disturbing communal amalgamation had to be blamed for the mismanagement and violent actions of the people of a diasporic community.
Furthermore, spectators were quick to pick up the term 'Hindutva' and RSS to dump the garbage where they think it belongs. However, evidence from think tanks and Labour Party's India Group suggests that there is no evidence to prove that RSS influenced and perpetrated the violence in Leicester.
While fake news plays its usual role of instigating people, it is unfair for any form of violence in the world to be echoed back to the BJP and Hindutva. This further creates a sense of rage and fear among the Muslim community which later might translate to hate speech and violence.
It also propagates people to believe a narrative that is stirred truly to create friction between two communities. In addition, it helps the actual perpetrators to escape accountability as well as consequences for their actions.
Social media takes the front seat in spreading hateful rumors and misinformation, stimulating communities to pit against each other in times of insecurity. For instance, author Amrit Wilson said, "coach loads of RSS supporters went to Leicester." Such statements tickle communal hatred which further destroys the peaceful environment of an entire city.
While the world watches India burn its plural nature to the ground, not all actions of communal context need to be pinned on the country. As much as it is true that some of these instances find their roots in India, countries need to take upon themselves the complexities that follow a plural community.
Besides, by giving RSS and Hindutva credit for all accounts of violence, the media is giving them the limelight that is uncalled for at such a time. To allow centrist diasporic movements to crystallize, Leicester has to take accountability for the actions of the diverse city, without pointing fingers at a country that is trying its best to cope with its communal strife.