Recently, a group of American scientists discovered a brand-new coronavirus variant in Russian bats that can infect humans.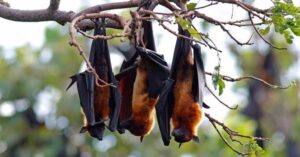 Scientists are now worried that the so-called Khosta-2 virus may be totally immune to every coronavirus vaccine that is currently on the shelf.
A team of researchers lead by Michael Letko found a group of coronaviruses that resembled SARS-COV-2, which was first identified in bats in Russia in 2020.
Scientists claim that Khosta-2 can enter human cells more easily than Khosta-1, another virus discovered in Russian bats.
That being said, Dr. Pragya Yadav of the Indian Council of Medical Research's National Institute of Virology (ICMR-NIV), in Pune, has verified that there hasn't been a single occurrence of Khosta infection in humans recorded as of yet.
"There are no cases of human infection with Khosta viruses have been reported yet. Seifert et al. reported that Khosta-2 could infect cells expressing human ACE2," she said, speaking to ANI.
She didn't completely deny the risk of human infection however, saying that "However, the probability of the Zoonotic spillover of the sarbecoviruses from animals to humans could not be denied like, it happened earlier with SARS-CoV-1 and 2 viruses."
Commenting on India's ability to deal with another situation similar to the COVID-19 pandemic, Dr. Yadav added that  "As an apex virology institute, ICMR-National institute of Virology along with the wide network of Virus Research and Diagnostic Laboratories (VRDLs) will be able to handle public health emergency situation related to the emergence or reemergence of any viral pathogen in India.
We have already exhibited this strength in past as during the times of Zika, Nipah, and Monkeypox viruses, and the COVID-19 pandemic."