Karnataka will witness the arrival of PM Modi on his 2-day visit to inaugurate various schemes and programs in the state. Bengaluru will witness the inauguration of India's first air-conditioned railway station while Konkan railway will celebrate 100 per cent electrification. Moreover, more than 150 Technology Hubs would be launched and he would attend the 8th International Yoga Day celebrations in Mysuru.
PM Modi would lay the foundation stone for several rail and road infrastructure projects in Bengaluru which would effectively boost the mobility and connectivity in the city. Moreover, these projects would help to connect the capital city with its suburbs and satellite townships. He will leave for Mysuru by air to attend a public function at Maharaja's College Ground.
Not only would PM Modi laid the foundation of several rail and road projects, but he would also inaugurate the new campus of DR BR Ambedkar School of Economics (BASE) in Bengaluru.
Citizens of Bengaluru have breathed a sigh of relief due to PM Modi's visit. The roads that were dotted with potholes and broken stretches for several years have gotten a complete makeover. While talking with the Times of India, one citizen told, "Our pleas for the last three years to carry out roadwork fell on deaf ears, but the PM's visit (on Monday) forced civic officials to repair the road overnight. We are thankful to Modi." Moreover, artificial cleaning drives have been undertaken in the city to maintain its beauty.
Here is the traffic advisory as released by the Joint Commissioner of Police, Traffic.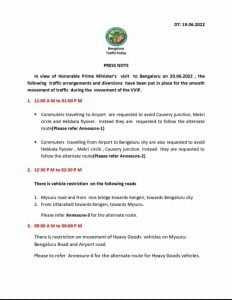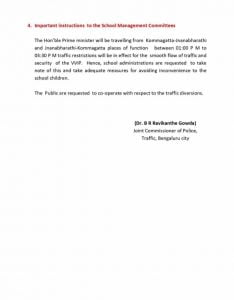 Let's look at what Twitter has to say about his visit.
All the roads of Bangalore University have got a facelift in a record time- painting signs,sidewalks & removal of speed breakers given @narendramodi's visit to BASE. Request @PMOIndia to take 3 days out of his busy schedule to do #Bengaluru rounds to improve our roads 🙏🏽.

— Rukmini Rao (@rukminirao) June 17, 2022
Posters in Bangalore…calling out the person who introduced Yoga to the world…

World didn't know about Yoga till then? pic.twitter.com/jLBOk0vXnZ

— 𝕲𝖆𝖓𝖊𝖘𝖍 | ಗಣೇಶ್ 🚩 (@gganeshhh) June 18, 2022
This is how kannadigas are welcomed @narendramodi last time when he vist Bangalore#KarnatakaWelcomesModiji
pic.twitter.com/WLihj4orXu

— . (@venkey20042) June 20, 2022
Best time to show Bangalore condition to @narendramodi , please tag to @PMOIndia about @BBMPCOMM road conditions.

Hurry.. limited offer 🎉🎉 https://t.co/MYl6Mq6jkD

— Rise UP For Rights 🇮🇳 (@riseupforrights) June 20, 2022
Foundation stone idtare sari. Adu mugiyodu yavaga. Most of these projects might not even see the light of day when the govt changes!!#bangalore #MondayMorning #KarnatakaWelcomesModiji pic.twitter.com/7kxcX7shEw

— Karthik (@sarcaustic_soda) June 20, 2022
Don't know about Bharat, but it's definitely a Bangalore Bandh. https://t.co/TxjzurR7KY pic.twitter.com/e1WCrlqh2L

— Grouchy Maxx (@softgrowl) June 20, 2022
No more expensive can rides , indefinite wait in the traffic and slogging in pollution. Oh super cool leader.#KarnatakaWelcomesModiJi pic.twitter.com/jFGUqXgCJy

— Poonam Singh (@singhpo_onam) June 20, 2022
You are the best pm for India
Thankyou for coming in our state #KarnatakaWelcomesModiJi pic.twitter.com/j1wdVe4uFg

— Kiara (@itz_me_kiara_) June 20, 2022
Welcome the Great leader modi
The people of Karnataka are awaiting for long time#KarnatakaWelcomesModiJi pic.twitter.com/tiiVv1XpuG

— MahiBae ᵛᵃˢᵗᵘⁿⁿᵃ🪓🩸 (@sky_tarakian_07) June 20, 2022
References: The Times of India and The Indian Express.