Kamakshi Subramaniyan, a 94-year-old independent candidate for Chennai Corporation elections from corporation ward 174, has been making headlines recently for all the right reasons, while speaking to the Indian Express and voters at Urur Olcott Kuppam, she expresses her altruistic motive for contesting, she said "All parties take money to get work done. I am 94 years old. What am I going to do with money? Vote for me and together we will bring a change to this place,"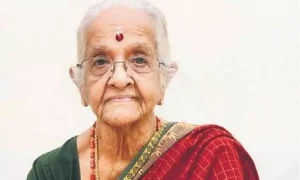 "I have always had an interest in politics and been vocal about fighting for civic issues in Chennai. Since I have lived here for a long time I know exactly what issues we have in this area. Instead of waiting for officials to solve our problems, I thought I could jump into the fray and get the work done myself since it is for our well-being," she said.
She also brought light to local issues that tend to remain unsolved and cold for years, " Encroachment of pavements is a big issue and a great inconvenience for the residents. Road safety is another issue that I wish to address. Fishermen have no facilities to store fish safely and hygienically. I will ensure that we provide them with ice storage boxes," she said
She also has a plan worked out in order to deal with issues that could be solved on the localities level. "On every road, we can form a committee of four residents. It will be their responsibility too to oversee their neighborhood. At the end of the day, we are the ones staying here. Officials will just carry on with their work, Every councilor associated with a party is restricted in some ways and are expected to follow a particular ideology or agenda. But that's not the case with Independent candidates like me," she said while talking about why certain societal and infrastructure issues take a long time to resolve and why she thought she was efficient in that case.
She also spoke to The Quint about youngsters and the responsibility they should carry towards the nation which was inspiring.
#MyReport I "I want to make youngsters ask one question to themselves, 'Why am I just talking and not doing anything? Why am I not entering politics, where I can actually serve the society?" says Kamakshi Subramaniyan. | @smitha_Tk

— The Quint (@TheQuint) February 17, 2022
Fondly known as 'Kamakshi Paati', she is also a  great civic activist under the civic forum she co-founded, 'SPARK' and worked for causes like the restoration of water bodies, repairing stormwater drains in the city, demanding the restoration of the Karl Schmidt Memorial at Elliot's Beach, and many more activities in the interest of the society and environment.
She also spoke about age not being a barrier and she has a support system that helps her out with campaigning for the elections through digital campaigning and in-person campaigning as well.
Source :
Image Credits :