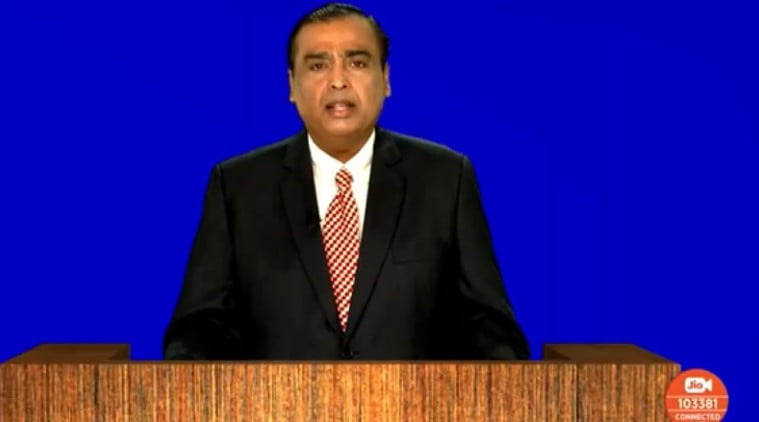 Reliance Industries Limited (RIL) held its first ever online Annual General Meeting (AGM) yesterday (15th July). The Ambanis spoke to the world through live streams and made a series of announcements. These announcements were about Google's investment in Jio, made from scratch 5G solutions, and a bunch of new Jio products like Jio Glass, Jio TVPlus, etc. Mukesh Ambani also spoke about the company's future goals and achievements. Here are some of the key highlights from the AGM
Industry giant Google has planned to invest 33,737 crores in Jio Platforms for a stake of 7.7%. earlier this year Facebook also announced its investment of 43,754 crores in the company for 9.9% stake. These along with the investments made by some more big companies from all over the world has now brought the total investment from financial and strategic investors in the Platforms to 1,52,056 crores.
The business tycoon had earlier announced that they plan to become a debt free company by 2021. But thanks to all the FDI, they have completed this goal well ahead of time. Mr Ambani announced "I am happy to report we have fulfilled the promise of a net – debt free balance sheet well ahead of the timelines we had set for ourselves".
Completion of country's largest rights issue
RIL completed India's largest ever rights issue of rupees 53,124 crores. This was the world's largest Right issue completion by a non – financial institution in a decade. It was completed entirely on a digital platform during the lockdown period. For those of us who don't understand economic jargon, a rights issue is when a company offers more of its shares to current, existing shareholders, usually to raise more capital.
The online grocery mart will cover more than just groceries form here onwards. That includes products from electronics, fashion, pharmaceutical and healthcare markets.
This was the only hardware product from the launch. Weighing just 75 grams this pair of smart glasses is powered by mixed reality. It can be connected to the internet via smartphone cables. It can support 25 apps and audio formats. Virtual meetings, presentation sharing and interaction with 3D and 2D avatars are some of its uses.
The duo will produce smartphones which are very much affordable by the Indian market with a customised android operating system. These phones will be customised for Indian users. This will go with the already existing multiples customised services and features Google has for Indians. The launch date of the phones aren't announced yet.
This new video streaming platform will bring content from more than 12 OTT platforms like Amazon Prime, Netflix, Disney+ Hotstar, and Voot. It will also have different categories like movies, shows, live TV, kids' content and music. The users can just sign into this one app instead of multiple sign ins for multiple platforms. There is also a voice search feature.
It was announced that Jio has created its 5G solutions from scratch. They also aim to provide 100% homegrown technologies to Indians with their world class 5G network. The 5G solutions are now ready and trials will begin once the spectrum becomes available. once the 5G solutions become achieve their goals in India, Jio can also become an exporter of 5G solutions globally. This was dedicated to Modi's Atmanirbhar project.
Plans for the next 3 years
Mr Ambani said that he can see a strong path for Jio to connect over half a billion mobile customers over a billion smart sensors and over 50 million homes and business establishments, in the next 3 years.
RIL also announced how they wish to be carbon free by 2035 due to the climate changes around the world. They stressed upon how the world needs access to clean and affordable energy. These needs should be met as it is a prerequisite for quality of life for all people. While Mr Mukesh Ambani was busy making the country Atmanirbhar, what did the rest of us do? We made memes, we are no less productive, right? Some of these memes truly make us laugh. Do check them out. However, the Jio – Google partnership hasn't been welcomed by the global market. RIL's share prices dipped by 4% post the AGM.
References – https://www.indiatvnews.com/business/news-ril-agm-2020-live-updates-mukesh-ambani-announcement-reliance-jio-5g-network-2021-google-634394
https://tech.hindustantimes.com/tech/news/google-jio-partnership-to-5g-in-india-top-announcements-from-reliance-s-agm-2020-71594810671292.html
https://www.businessinsider.in/business/corporates/news/checkout-mukesh-ambani-reliance-industries-annual-general-meeting-highlights/articleshow/76976243.cms
Picture credits –indianexpress.com