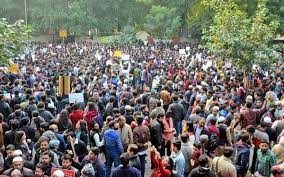 The activists had gathered at the Jantar Mantar [Delhi] to protest against an event on Sunday, 08 August. Jantar Mantar is one of the most prominent sites in the country, and it is barely one kilometer away from the parliament.
There were many clips being circulated of this protest. The clips show people shouting slogans against the Muslim community. One such slogan was " Hindustan mein rehna hoga to Jai Shree ram Kehna Hoga [to stay in India, one must say Jai Shree ram]." alongside the hateful slogans, there were also threats to kill the Muslims.
This protest was supposedly organized by the supreme court lawyer and a former Delhi BJP spokesperson- Ashwani Upadhyay. When questioned, he claimed that he was unaware of the protest. "Neither I was there when this happened nor am I aware nor did I invite these people. This must have happened after I left. Strict action must be taken against those we can identify from the videos," said Ashwani
This all took place in the presence of Narsinghanad Saraswati, a priest with a bad repute, who is known for being involved in riots like these. Gajendra Chauhan, a BJP leader and TV actor was also part of the protest.
An unidentified police officer said that the protest was held without permission. "The protestors were asked to leave after they were seen going towards Jantar Mantar from Parliament Street around 4 pm. When the police tried to detain them, the protesters started running, leading to chaos," said the officer.
The Delhi Police detained several student activists after they gathered near the Jantar Mantar's to protest against hate speech. Those students were detained and taken to the Mandir Marg police station but were later released.
The senior police officer- Deepak Yadav said, " we are looking at all the clips and videos of the protest to identify people. It is a long process."  later the same night, the Delhi police identified Ashwini Upadhyay and three possible suspects. 
picture source:
Reference :